Will Online Democracy Fix the Grammys?
New rules changes may lead more young Recording Academy members to vote—and shift trends in the winners.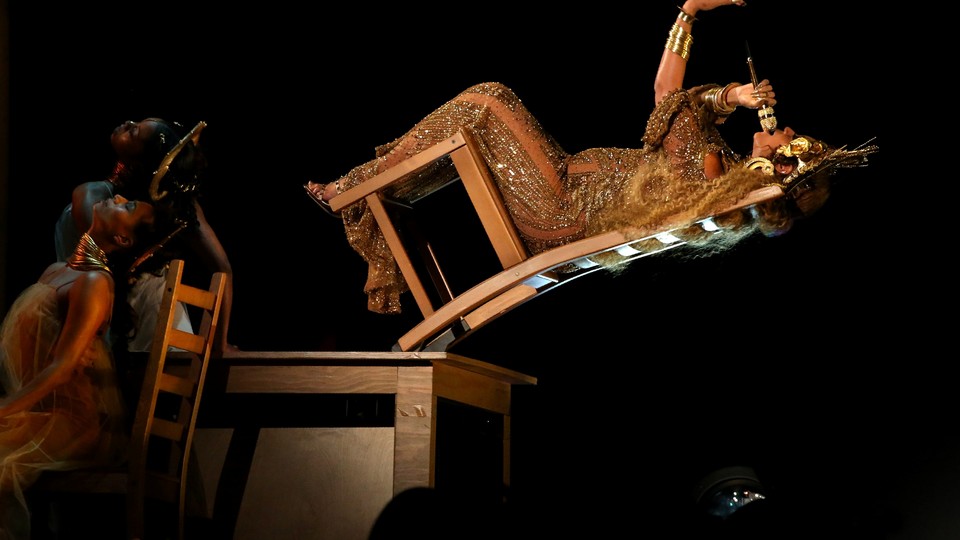 Award shows for art always have their credibility in question, but the Grammys are the major ceremony most clearly experiencing a crisis of coolness. This year's telecast was skipped by a number of stars, some of whom—Frank Ocean, Justin Bieber, Kanye West—indicated either explicitly or through leaks to the press that they were doing so out of a belief that the Grammys are out of touch. The night's top award, Album of the Year, was received with implicit criticism from winner Adele, who broke her trophy in two and said that Beyonce deserved to triumph. "What the fuck does she have to do to win Album of the Year?" the "Hello" singer wondered aloud backstage about the "Formation" singer.
The Adele/Beyoncé moment and various stars' quiet boycotts all stem from a well-documented historical pattern. In its biggest categories, the Grammys have tended to favor musically conservative artists over boundary-pushing ones, and white ones over black ones. That's even though performances by the more musically progressive, and often non-white, artists often create the award show's biggest viral moments and attract viewers.
On Wednesday afternoon, the Grammys announced a few rules tweaks—none radical, but some potentially significant. The changes: Recording Academy members will now be able to vote online; songwriters are now eligible to receive credit in the Album of the Year field; the rap, New Age, and contemporary instrumental fields will have their nomination classes reviewed by special committees of experts; the definition of an "album" has become more inclusive; and different versions of the same song can be submitted for consideration in different categories. Of these, the online voting provision and the formation of the rap committee stand some chance of changing the dynamics that have made the Grammys so contested in the mainstream pop landscape.
Following the February 2017 award show, Grammy president Neil Portnow gave an interview to Pitchfork in which he denied that the Recording Academy had any racial blindspots and placed the onus of inclusivity onto the 13,000 voting members: "It's a democratic vote by majority," he said. But he added in a comparison to the American presidential election, pointing out that many of the people upset with November's outcome didn't vote. "Anybody that is unhappy with the results or even feels that there could be a stronger representation of any genre or ethnic group, bottom line is very simple," he said. "Just become members, join, and vote."
The ability to cast ballots online may lead more people to do just that. "When I met younger voters and talked about the ballots going out in the U.S. mail, I got eye-rolls and sighs,"Bill Freimuth, the Recording Academy's senior vice president of awards, told Billboard this week, adding that online voting will help musicians who are on tour make their voices heard. (The Academy is made up of musicians and industry professionals.)
Indeed, it stands to reason that voting by paper ballot results in disproportionate responses from older Academy members—the millennial generation is not known for its love of the postal service. Expand voting accessibility and you expand the diversity of voters, or at least so goes conventional wisdom with conventional politics. "The Latin Grammys, our sister organization, implemented this last year and they found that voting participation increased significantly," Freimuth told Variety. (Online voting also has a neat bonus, Freimuth added: "on the same site, voters will be able to listen to or watch all of the nominated recordings or videos, or look at the nominees for package design.")
Intertwined with the fraught reputation of the general categories at the Grammys is a perception of out-of-touchness when it comes to rap. "While hip-hop is still a relatively young genre, it still has an informal caste system of artists who are deemed Grammy-worthy, even long past their primes," Jon Caramanica wrote in The New York Times in February. "Elders like Jay Z, Common, and Eminem continue to receive nominations, seemingly irrespective of whether the music they make is commercially or aesthetically successful." Meanwhile, important younger artists such as Future, Young Thug, Vince Staples, and a host of others have been mostly shut out. There have also been racially charged fiascos, like when Macklemore swept the rap categories in 2014—and then apologized to Kendrick Lamar for doing so, à la Adele to Beyonce.
Freimuth has said that nominations in the rap categories—as well as in New Age and contemporary instrumental—will now be influenced by a committee of experts so as to counteract the general voting body's bias towards already-popular artists. The logic would seem to make sense: True devotees know what's actual vital, rather than simply well-known, in their field. But the results of the process will depend heavily on who is on the committee. The Academy has been appointing nomination-review committees for various genres of music since 1989; Freimuth has said the most recent application of the format was for rock and roll. Yet last year's class of nominees for Best Rock Performance was panned as one of the weirdest assortments ever—a sign, it would seem, that relevance cannot be ensured by committee alone.