Five Takeaways From Nadal's French Open Victory
What the dominant Spaniard's record 10th Roland Garros win means for the rest of the season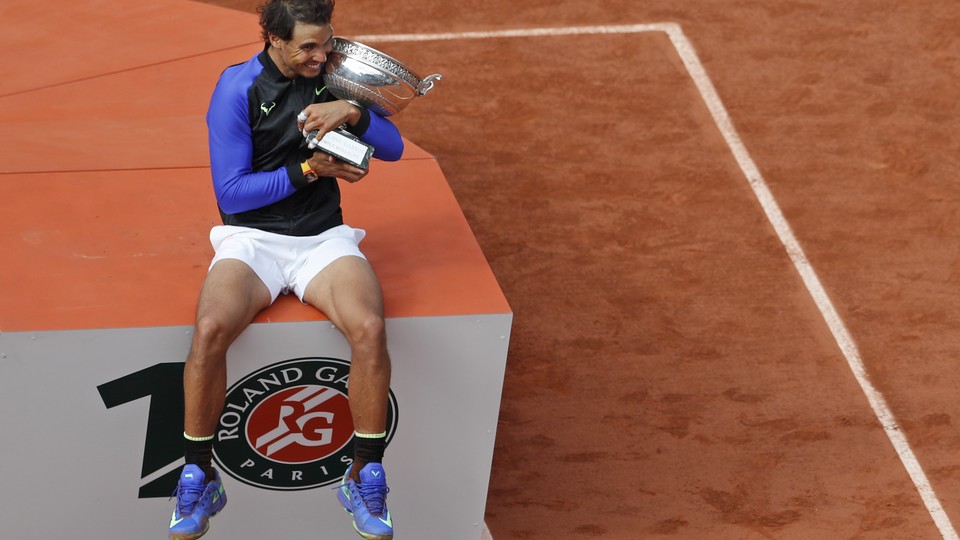 Around this time last year, Rafael Nadal pulled out on the eve of his third-round clash with Marcel Granollers at the French Open, calling a press conference to announce his retirement from the tournament with a nagging left wrist injury. He'd previously won at Roland Garros in 2014, and Nadal had never looked quite the same, struggling with recurring knee issues and back injuries that saw him uncharacteristically losing in early rounds of tournaments and falling drastically down the rankings. It was a fizzling-out that many were proclaiming as the end of Rafa Nadal, a perhaps predictable fate for a player whose defensive style has always been rooted in incredible displays of athleticism. It was dazzling to watch the Spaniard's physical feats for the last decade or so, but the taxing bodily demands of his play were always going to spell the demise of a glittering career. Or so observers thought.
This year has marked a remarkable turnaround for Nadal, who, on Sunday, ended a three-year drought at the majors by clinching a record 10th French Open, and in turn becoming the first player in the Open era to win 10 Grand Slam singles titles at the same tournament. The result never seemed in question, with Nadal brushing off Stan Wawrinka 6-2, 6-3, 6-1. Here, five takeaways from the historic victory, and what it might mean for the rest of the season.
---
The King of Clay's Throne Remains Intact
Nadal's phenomenal record at Roland Garros, where he's lost just two matches against 78 (now 79) wins, wasn't ever under threat on Sunday. Although both Nadal and Wawrinka ran the same distance on court, the Swiss looked like he was mid-marathon just a couple of sets in, visibly sluggish after a tough five-set semi-final against Andy Murray just two days prior. Nadal, on the other hand, hadn't dropped a single set en route to the final: Buzzing with energy as he sent Wawrinka from end to end with his massive signature forehand, he dictated play throughout the match. He continually heaped pressure on Wawrinka's serve, earning him six breaks from a possible 13 break points—Wawrinka threatened Nadal's serve (unsuccessfully) just once all afternoon.
The Swiss player, who is a three-time Grand Slam champion and ranked No. 3 in the world, felt what many others—including countryman Roger Federer—have been made to feel against Nadal on his favorite surface. Wawrinka's frustration resulted in a smashed racket and 29 unforced errors compared to 12 from his bullish opponent, whose movement and timing were flawless. Nadal not only battered baseline winners as expected, he also took 18 of 20 points at the net. He capped a marvelous run in Paris having lost only 35 games all tournament (after Bjorn Borg, the second fewest in the Open era), with 27 winners. Wawrinka simply didn't have a chance against a masterful performance on the clay by the best player to grace the surface. With Sunday's win, Nadal has amassed a total of 15 Grand Slam singles titles, surpassing Pete Sampras and trailing only three behind Federer.
---
Goodbye Uncle Toni
The organizers at Roland Garros were clearly prepared for Nadal's win, marking his decima with much celebratory nostalgia. A special stage was erected on court, massive banners were flown, and an extensive highlight reel showed Nadal falling to the ground on Court Philippe Chatrier in tears over the last 12 years, from his first win as an 18-year-old with luscious hair to his victories over Federer, Novak Djokovic, and others. The most touching part of the ceremony, though, was when Rafa's uncle and longtime coach, Toni, presented his nephew with a commemorative trophy. Toni, who has coached Nadal since he was 3 years old and has been an ever-present sight in the player's box over the years, announced in February that he would no longer accompany his nephew on the tour, and would focus instead on the newly set up Rafa Nadal Academy in Mallorca. This ends one of the sport's most successful and heartwarming partnerships, with Nadal bringing the former French Open champion Carlos Moya on board as coach. Of his uncle, Nadal said in his post-match speech,"He has 10 trophies with me … without him, not one would be possible."
---
What a Short, Strange Year It's Been
It's hard to believe that less than a year after Djokovic's seemingly inextinguishable Grand Slam run, Murray's rise to world No. 1 in the rankings, and Wawrinka's late-career flourish with a U.S. Open win, the first two slams of the season have been clinched by Roger Federer and Rafael Nadal. Federer's remarkable 18th Grand Slam win at the Australian Open against Rafa, and his continuing dominance on hard courts at Indian Wells and Miami (where he again beat Nadal), coupled with Nadal's incredible clay-court season with victories at Monte Carlo, Barcelona, Madrid, and now the French, means the tour thus far has been dominated by two of its oldest and most formidable players. It remains to be seen if the two can continue full-force through a busy summer schedule and two more slams, but fans should enjoy it while it lasts.
---
Who Will Win at Wimbledon?
Roger Federer has clearly plotted out his playing schedule this year with a record eighth Wimbledon in mind, opting out of a usually exhausting Roland Garros, the one tournament where he hasn't had much success anyway, largely due to Rafa's dominance. Nadal's recent run and an added Grand Slam title will undoubtedly give him a big confidence boost going into the grass-court season, where he will be hoping for a repeat of what has been called the greatest match of all time on Wimbledon's Center Court. The Spaniard may also find encouragement in the fact that, on the previous two occasions he's won at Roland Garros without dropping a single set, he's also gone on to win Wimbledon. However, regular threats like Murray, Wawrinka, and Djokovic (who has something to prove after a drastic slump in form), along with younger blood like Dominic Thiem and Milos Raonic, will prove difficult obstacles. And then of course, there's Federer.
---
Over the Hill and Far Away From the Pack
With the top five players in men's tennis all over 30 years old, it's hard to see any room for younger athletes to break through. Nadal's dominant win at age 31 makes him only the third player in history to have won a Grand Slam in each decade of his career—his teens, 20s, and 30s. Wawrinka, 32, was the oldest French Open finalist in 44 years. With his victory in Melbourne earlier this year, Roger Federer, 35, became the second-oldest man to win a Grand Slam singles title. Both Murray and Djokovic turned 30 last month. Tennis fans will undoubtedly hold on to vintage victories like Nadal and Federer's, but thus far it's not entirely clear who will take on the mantle for the next generation. The 23-year-old Thiem, who made quick work of Djokovic in straight sets in the quarter finals at the French, and who ended Nadal's 17-game winning streak right before Roland Garros at the Italian Open, seems the most likely candidate at the moment. Whatever happens over the next five months of tennis, the story of the 2017 season has already been won by two of the oldest, and evidently still hungriest, players in the game.