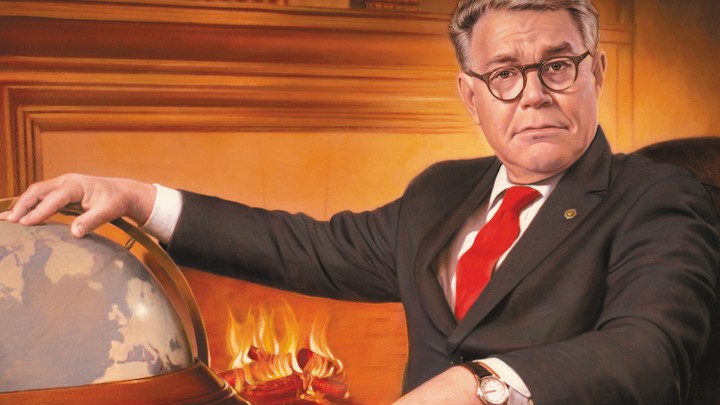 In many ways, Al Franken is the perfect interlocutor for this odd current moment,  with its attendant Kathy Griffin press conferences and presidential gripes at Rosie O'Donnell and Onion headlines come true. When it's hard to distinguish between a real Senate hearing and Saturday Night Live, get you a man who can do both. Franken, a 15-year veteran of the NBC comedy show, and, most recently, a two-term U.S. senator from Minnesota, certainly has some insight into the contemporary era of dysfunction. Or, as he succinctly summarizes it late in Al Franken: Giant of the Senate, his seventh book, "Lately, things have been trending crapshow."
The most remarkable thing about Giant of the Senate, though, is how neatly (and disconcertingly) it fuses two completely disparate genres: polemical comedy and political memoir. Franken, a breezy but authoritative writer, indulges in plenty of the acerbic put-downs that characterized his previous books, which include 1996's Rush Limbaugh Is a Big Fat Idiot and Other Observations, and 2003's Lies and the Lying Liars Who Tell Them: A Fair and Balanced Look at the Right, for which he was famously and unsuccessfully sued by Fox News. But Giant of the Senate also functions efficiently as an autobiography, charting Franken's odd career path from comedy to politics. It's without a doubt one of the most entertaining books ever written by a sitting member of Congress (a notably low bar to clear), but there's still something occasionally jarring about a work that offers both detailed analysis of the process behind the Affordable Care Act and a pithy description of Sen. Ted Cruz as a "world-class butthole."
More than anything, though, Giant of the Senate seems to be an announcement that Franken is back to being funny, after nine years of doing his best straight man act. This was necessary, he explains, to get voters to take him seriously, which he seems to have achieved (he skated to a comfortable reelection in 2014). But it also speaks to how different the landscape of 2017 is. When Franken first ran for Senate, emerging victorious over the incumbent Norm Coleman only after a recount, and with a razor-thin margin of 312 votes, his background as an entertainer was seen as a negative. Now, it's why a handful of commentators have pitched him as the perfect opponent for Donald Trump in 2020.
Franken has denied that he has any interest in running for president, and readers can only take him as his word. But you could easily mistake Giant of the Senate as one of those hefty tomes that precede a bid for office, only with better anecdotes and far less pomp (it's hard to imagine Elizabeth Warren, say, authoring a footnote that starts with, "A few notes about farting"). Franken briefly details his childhood in southern Minnesota as the grandson of German immigrants; meeting his wife, Franni, during his first week at Harvard; and his seemingly effortless path from doing shows at the Comedy Store after college to being hired in 1975 for a new late-night NBC show being put together by a 30-year-old producer named Lorne Michaels. That show, obviously, became SNL, or, as Franken describes it, "a touchstone for generations of overentertained, uninformed Americans."
This isn't an SNL memoir, and though a chapter is titled "Saturday Night Live (The Drug Part)," Franken mostly skates over the loss of first John Belushi, then Chris Farley, to drug abuse. He briefly acknowledges his own recreational cocaine use, and more thoughtfully describes his wife's alcoholism and rehabilitation, which inspired the movie When a Man Loves a Woman, co-written by Franken. But he's much more detailed when it comes to analyzing the politics of SNL, and its goal of rewarding "viewers for knowing stuff about politics without punishing them for not." Franken's own, decidedly liberal beliefs were why he was passed over for anchor of Weekend Update in 1994—a remarkable commitment to impartiality from a satirical comedy show.
The meat of the book, though, is in Franken's run for Senate in 2008, and his subsequent tenure. The marginal nature of his first victory—so close it was contested in court for six months, meaning Franken wasn't sworn in until July 2009—seemed to inspire in him a serious commitment to his new role. Or in other words, no more jokes. The rules: "I could be funny in the office, but only with members of staff, not in meetings with visitors. It was also okay to be funny on the floor with my colleagues, as long as I wasn't loud enough to be picked up by the C-SPAN microphones. And, for God's sake, no physical humor!"
Franken seems to have compensated for this new requisite seriousness by writing every single joke down and saving them for this book. Never is this more obvious than in his chapter about Ted Cruz, which describes the unpopular Texas senator as "an absolutely toxic coworker," "the guy who microwaves fish in the office kitchen," and "the Dwight Schrute of the senate." Franken shows admirable diplomacy when it comes to other Republicans, whom he seems to have forged positive working relationships with, but Cruz is his bête noire, his arch antagonist, his white whale. What sets the other Republican senators apart from Cruz, Franken explains, is that "none of them are sociopaths."
That said, Franken is also intriguingly open when it comes to Barack Obama, whom he describes as "a real hero—one of the best leaders this country has ever had, a man of incredible grace and bountiful intelligence who made real progress for America." As president. Candidate Obama, by contrast, is portrayed as somewhat feckless, offering no support whatsoever to Franken when he was running, promising a fundraiser after Franken was elected that never materialized, and leaving the Democratic Senate with little support when it came to passing the Affordable Care Act. "But again, overall: great president," Franken writes, so smoothly that you can only guess what's left unsaid.
What's emphasized repeatedly instead is how easily Franken takes to his new role. He writes a country song with Orrin Hatch. He joins forces with David Vitter despite being disgusted by the Louisiana senator's personal history ("Google it," a footnote simply says). And, significantly, he explains how Washington got so dysfunctional (it's Republicans' fault, he argues, particularly Rush Limbaugh and Mitch McConnell), and details how lying became an accepted part of the political process (on one side, at least). But he remains, above all, an optimist, dedicated to "busting liars," and even more so in the "depressing" wake of the inauguration of Donald Trump. Given that the book was presumably written while Trump was still a very unlikely candidate, there are only fleeting nods to the 45th president, but the overall message of the book is clear: Franken is far from done. And now that he's allowed to be funny again, it's anyone's guess what that means.
We want to hear what you think about this article. Submit a letter to the editor or write to letters@theatlantic.com.
Sophie Gilbert
is a staff writer at
The Atlantic,
where she covers culture.