Why Don't More People Consider Competitive Cheerleading a Sport?
The rigorous activity is dominated by female athletes—and is growing in legitimacy and popularity.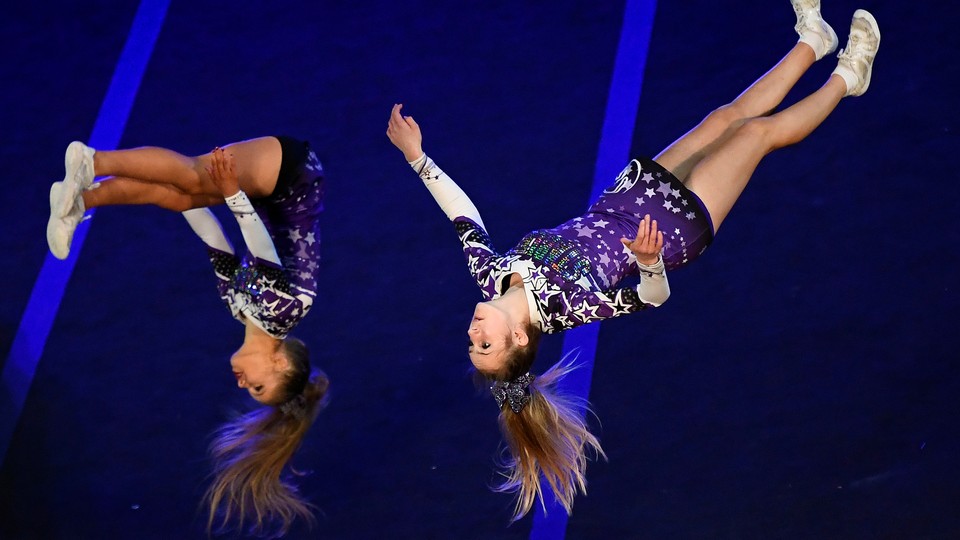 In one episode of the reality-TV show Cheer Squad, four members of a competitive-cheerleading team sit on blue mats at their gym discussing a common problem they face. Their all-girl squad, known as Cheer Sport Great White Sharks, is a two-time world champion—but they have a hard time getting respect for it.
"You know what my biggest pet peeve is with cheer?" 16-year-old Nubs (the team goes by their nicknames) asks the group. "Everyone just doesn't think it's a sport."
"People think we use pom-poms and dance around," her teammate, 17-year-old B.H., chimes in. "That's so different from what we actually do."
"I've been asked, 'Who are you cheering for?' I'm like, 'no, no, no,'" Nubs laments.
During the series, the team is training for the biggest and most prestigious event of the season, the Cheerleading Worlds competition (this year's three-day contest in Orlando, Florida, ended Monday). As the girls hint, but as few viewers might know, squads like the Great White Sharks don't perform at school football or basketball games. That more visible kind of cheer is known as collegiate, or sideline, cheer, where the primary purpose is to support other sports teams. Instead, the Great White Sharks are All Star cheerleaders. Though similar in some ways to their sideline counterpart, there are a couple of crucial differences. Highly trained All Star teams—mainly made up of, but not limited to, 11- to 18-year-olds—belong to private gyms and aren't attached to any school. Their top goal isn't to support another team, but to win competitions, which is one of the main criteria that determines whether an athletic activity is a sport.
And yet, as the Great White Sharks' frustrations indicate, All Star cheer often has a difficult time being taken seriously. Some of this dismissal has to do with the fact that cheer is one of the rare predominantly female sports. Plus, both sideline and competitive cheerleaders maintain a hyper-feminine appearance (heavy makeup, short skirts, bedazzled spandex uniforms, and styled hair) during routines. But people also tend to lump both types of cheer together—despite the fact that All Star cheer has gained traction in recent years as a sport, and schools don't tend to label sideline cheer as such. Though it's still occasionally mistaken for its sideline counterpart, competitive cheer has nonetheless emerged as a powerful rebuttal to the decades-old belief that cheerleading can't be a sport.
Competitive cheer is relatively new compared with its sideline cousin, which has been around since the 1880s but only opened to women in the 1920s. Now, 97 percent of all cheerleaders are women. The national governing body of competitive cheer, the United States All Star Federation (USASF), was founded in 2003 to establish safety regulations and competition standards, and to certify coaches. The next year saw the formation of the world governing body, the International Cheer Union. Competitive cheer's popularity has since exploded: More than 1,000 teams—again made up of mostly young women—competed in February at the 2017 National Cheerleading Association's All Star National Championship.
Though sideline and All Star share some of the same skill sets, they're now performed for nearly reverse purposes: sideline mostly to entertain, with the possibility of competing if a team is talented enough, and All Star mostly to compete, with their historical role as entertainers always in mind. "Collegiate cheer is based on crowd appeal. All Star cheer is based on skill-building," said Kenny Sampson, the host of the podcast Cheer Talk Radio, who has been coaching at All Star gyms for about 15 years, told me.
High schools and colleges, as well as the National Collegiate Athletic Association, don't recognize cheer in general as a sport, indirectly—but powerfully—influencing how All Star cheer is perceived. In 2012, a federal appeals court ruled that schools cannot sanction cheer squads as official athletic programs—the most recent court decision on cheer's standing as a sport. In that particular case, Quinnipiac University tried to eliminate its women's volleyball team in order to fund its competitive-cheer squad, which the judge said was "too underdeveloped and disorganized to be treated as offering genuine varsity athletic opportunities for students." The court cited Title IX, the law that prohibits gender discrimination by educational institutions that receive federal funding.
"[Cheer] does not reach the criteria according to Title IX that every other sport also has to reach for the NCAA to qualify it," explained Deborah Slaner Larkin, Chief of Special Projects at the Women's Sports Foundation, referring to school-based, not All Star, programs. "There is no structure for competition, minimum financial support, and there aren't consistent divisions."
Under Title IX, schools that receive federal funding must give male and female students equal opportunities to play sports, but not necessarily the same sports. So by adding a mostly female cheer squad to its athletic roster, a school can cut another, perhaps more expensive, women's team—as Quinnipiac tried to do. And so for women's sports advocates, the issue often isn't so much that cheer can't be athletic, but that schools may use it as an excuse to exclude women from sports dominated by men.
As a result, unsanctioned sideline cheer squads at schools can't give their female members the same benefits as traditional women's sports teams. If those squads were sanctioned, they'd likely be taking funding away from other teams. Amid all this, All Star cheer has emerged as an appealing third option for young female athletes seeking a more structured, athletically rigorous, and competition-oriented activity. It's also seeing major strides in its broader quest for legitimacy: Last December, cheer received provisional status as an Olympic sport, which is the first step toward its official inclusion in the Games. In other words, this next decade could see members of squads like Great White Sharks facing off on the biggest athletic stage in the world.
All Star cheer has been slowly distinguishing itself from its school-based counterpart for over a decade. Sampson explained that in 2004, for instance, competitive routines still used recognizable "Go Team!"-type chants, which were phased out in the following years. The elements of both sideline and All Star cheer routines remain the same—from pyramids to the familiar pike and spread-eagle jumps—and each uses the same two positions, flyers and bases.
But in All Star cheer, these skills must be mastered at the highest level. All Star cheerleaders must be gymnasts, too, capable of pulling off advanced stunts with impeccable flexibility, balance, and synchronization. "I think it would be very difficult to argue that tumbling, stunting, competitive cheerleading is not a sport," Ellen Staurowsky, a professor of sport management at Drexel University who specializes in gender equity, told me. "There's high risk-taking. They're getting thrown in the air ... It's undeniable that we have very serious athletes that are very serious about competing."
All Star teams have two to three practices a week, each lasting up to three hours, according to Sampson. Some young women have three to five additional hours of classes to build their stunting and tumbling skills. That's nearly 15 hours per week on top of their regular school responsibilities. Which is not to say that sideline cheer isn't challenging—collegiate cheerleaders can be highly skilled and sometimes even compete, but their squads' primary aim is ultimately to root for another team.
Not so with All Star cheer. Peyton Mabry, a 19-year-old student at Texas Christian University, cheered as a flyer with Cheer Athletics, probably the best All Star program in the country. It has won 20 gold medals at Cheerleading Worlds competitions, the most of any gym; this year it won the silver medal in the senior large co-ed division. "You can think of [Worlds] like the Super Bowl of competitive cheerleading," Mabry told me. Like many of her All Star peers, Mabry is a social-media celebrity: She has more than 584,000 combined followers on Instagram and Twitter.
Competitions consist of different teams performing rehearsed routines usually lasting two minutes and 30 seconds before a panel of judges—similar to, say, a gymnastics event. The goal at competition is to ensure that every stunt, tumble sequence, jump, pyramid, and dance move is flawless, which requires precise coordination. "If one person is missing from the team, then a stunt group can't stunt, and the pyramid can't go up. There are three people under me that I have to trust not to drop me," said Kennedy Thames, a flyer with the Rockstar Beatles. Thames is only 16, but she practices three or four times a week and typically participates in 10 competitions a year.
Competitive cheer is not only strenuous, but also dangerous. "It's an adrenaline sport. It's rough," Sampson explained. All Star cheerleaders often say what they do resembles more conventionally male-dominated sports, like football and hockey. "If something goes wrong, someone could end up in the hospital," Sampson said. He added that All Star comes with one serious downside: "It's obscenely expensive. Between private lessons, competition fees, uniforms, and travel, it can be anywhere from $8,000 to $10,000 a year."
That level of expense puts girls who want to cheer in a tough position. They can either join their school squad and potentially miss out on opportunities they might have on an official sports team (like funding, experienced coaches, and practice time). Or they can deal with the exorbitant cost of an All Star gym and make the most of those extensive resources.
Cheer as a whole is still one of the few athletic activities where the majority of teams are women-only (one equivalent might be gymnastics or ice skating, where women are more likely to become famous). But given the uncertain position of sideline cheer, it's easy to see the appeal of a private All Star gym—a space dominated by female athletes that also adheres to the same demanding standards as any traditional sport.
As a result, competitive cheer's popularity continues to grow with participants and spectators alike. There are currently 4.5 million registered athletes worldwide who are part of the International Cheer Union, and the International Olympic Committee's interest in cheer comes in part from its "high youth appeal." Cheer still has two and a half years of provisional status before it's eligible to apply to become an official Olympic entry, which means it wouldn't make its debut until after the 2020 Games in Tokyo. But if the petition is successful, the Olympics will be cheer's biggest opportunity yet to showcase its potential for athleticism—and to defy the outdated notion that it can't be a sport.