Why Didn't Jared and Ivanka Report Their Art Collection?
Is it that they take art so seriously, they don't think of it as money?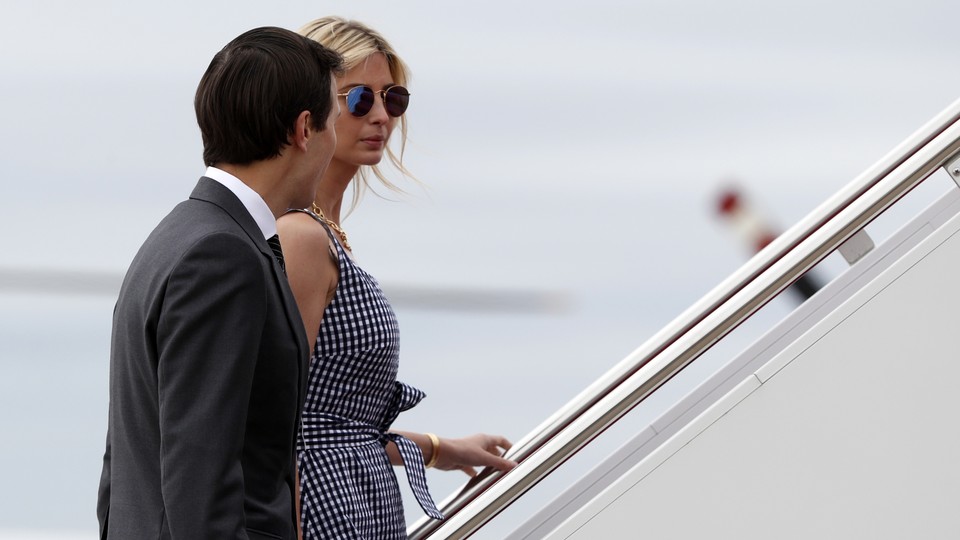 Two weeks ago, Ivanka Trump caught some alone time in Yayoi Kusama's Obliteration Room. Staged at the Hirshhorn Museum and Sculpture Garden in Washington, D.C., the piece is a living room en blanc, a white-out room filled with all-white furniture and personal effects, that visitors are invited to cover over with tiny colorful dot stickers. The piece is mesmerizing, an Instagram sensation; a contemporary art lover like Trump wasn't likely to miss out on the hottest ticket (and snap) in town.
Trump is an art lover, that much is plain. Her own Instagram feed is chock full of images of contemporary art from the Park Avenue condo she and husband Jared Kushner share. Her affection for art—not normally something even her detractors would likely begrudge her—may have worked against her family this week. As reporters at Artnet discovered, Kushner, a senior White House advisor, failed to report the couple's extensive art collection in required financial disclosures.
How much trouble they've landed in is an open question. For federal disclosure purposes, collectibles fall under the category of capital gains. According to the U.S. Office of Government Ethics, senior government officials are only required to disclose collectible items that are "held for investment purposes." (As an OGE spokesperson explains, Ivanka, who has an unpaid job in the administration, would be covered under Kushner's disclosure.) If a senior government figure routinely buys and sells valuable artworks, that person must disclose the income as capital gains. And not just for fine art: The same goes for Star Wars figurines.
As Artnet reports, Trump and Kushner have sold just one artwork from their collection. No doubt it met the $1,000 price threshold: The artworks that followers can find in her Instagram feed are all the work of emerging or blue-chip contemporary art talents. She has (perhaps inadvertently) advertised some of her collection's highlights: a gradient by Alex Israel, paired paintings by Nate Lowman and Dan Colen, an atmosphere by Alex Da Corte. (Much to the chagrin of some of those artists.) Artworks by all of them frequently sell for half a million dollars or more.
One sale hardly meets the frequency limit, however. It may well be the case that, as Ivanka has said in interviews, she and Kushner sincerely love living with art. They aren't alone among collectors in the administration: U.S. Department of Commerce Secretary Wilbur Ross boasts an art collection worth over $50 million, according to his financial disclosures, which report that he receives no income from it. That is, he's not an art investor (or at least he wasn't selling at the time of this disclosure). U.S. Department of Treasury Secretary Steven Mnuchin is, on the other hand: Mnuchin owns a stake in a $14.7 million Willem de Kooning, Untitled III (1978).
Trump and Kushner may not be art investors, as they attest, but they are part of the art world in a way that neither Ross nor Mnuchin is. An art advisor, Alex Marshall, helped the couple to build their collection, Artnet reports; collection consultants are not rare, but they're not for the casual enthusiast, either. Trump pulls artworks in her collection into her brand: Consider, for example, a Christopher Wool painting that served as a handsome backdrop for an Ivanka Trump Mara cocktail bag in an Instagram post she later deleted.
In the rarefied realms in which Trump and Kushner operate, the line between an objet d'art to be appreciated and a commodity to be moved is a fine one. Serious art collectors have garnered the scrutiny of lawmakers in recent years. In 2015, the Senate Finance Committee demanded documentation from 11 private art collections across the nation that would prove they are, in fact, nonprofit art museums—and not just fancy tax shelters, sometimes located on the same property as the collectors' homes.  Last year, soon-to-be-former House Oversight chairman Jason Chaffetz launched a government-wide probe to see if anybody, anywhere, was wasting taxpayer money on art.
Possibly the omission was merely an oversight on the part of Kushner and Trump. (Kushner appears to have made a lot of those.) Or maybe the couple, pure in their pursuit of contemporary experience, would never consider the possibility of gains as the value of their carefully curated and leveraged art collection appreciates, and therefore chose to withhold this information from financial disclosures. The question is an open one: Do Trump and Kushner take art too seriously—or transparency not seriously enough? It's also an easy one.