What Saturday Night Live's Departures Mean for Its Future
Bobby Moynihan, Vanessa Bayer, and Sasheer Zamata all said their goodbyes last weekend—in very different ways.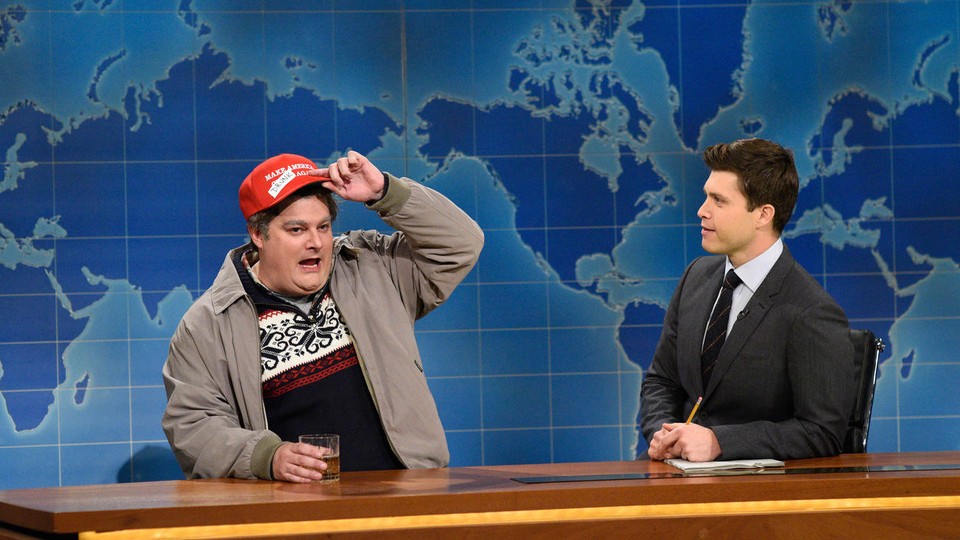 In the past, departing Saturday Night Live cast members have gotten whole sketches devoted to sending them off. Kristen Wiig was serenaded with song and dance from Mick Jagger and the rest of the crew; Bill Hader's Stefon finally married Seth Meyers; Will Ferrell got a series of testimonials. On last weekend's 42nd season finale, the show said goodbye to three cast members with varying tenures and legacies: Bobby Moynihan, Vanessa Bayer, and Sasheer Zamata. The first got a goodbye sketch of sorts, the second a couple of featured roles on her last night, and the third no acknowledgement at all. It was a slightly muddled end to what feels like one of SNL's weaker eras—even as the show breaks ratings records in the age of Donald Trump.
The sendoffs of SNL legends like Wiig, Hader, Fred Armisen (he got a goodbye punk show), and Andy Samberg (a special 100th Digital Short) had a sort of choreography to them—Wiig and Samberg left in 2012, Hader and Armisen in 2013, and Meyers in 2014, slowly closing the book on a remarkable run for the show. The departure of this era's bedrock actors has been messier—Taran Killam and Jay Pharoah were surprisingly axed last year, Bayer reportedly decided not to pick up her contract after seven years, and Zamata, it seems, left more unceremoniously (her departure was only announced after the last episode, rather than before it).
Moynihan is the only one whose time definitively seemed to be up. Though he was never one of the leading stars of the show, he's unquestionably a first-ballot Saturday Night Live hall of famer. His nine years as a cast member is topped by only a handful of others (Meyers, Armisen, Darrell Hammond, Tim Meadows, and the eternal Kenan Thompson), and he originated a pantheon-level character along the way—Drunk Uncle, a Weekend Update mainstay who was fond of uttering vaguely offensive malapropisms as he burped on his sweater and offered his take on the latest news.
But Moynihan was much more than Drunk Uncle (who made a final appearance last weekend but had been semi-retired for a long time). In his early years on the show, he was an exciting, strange addition to the cast who delighted in playing boisterous and outlandish sketch characters. I was a huge fan of his obnoxious Uno Pizzeria waiter Mark Payne ("smells like pepper!"), the sobbing son of Hader's Italian TV personality Vinny Vedecci, and the overzealous flirter Janet Peckinpaugh (who described herself as "a flesh cube").
Later, Moynihan evolved into the show's most reliable hand, a veteran who could effectively improvise if a sketch started out on the wrong foot (witness his ad-libbing as a cast member arrives late to "Space Pants"), and who discovered an adeptness for playing vacuous TV personalities (I think "Mornin' Miami" is one of the best written, best performed sketches in SNL's last decade). Beyond that, he was an obvious and devoted fan of the show who's certain to return as a host someday soon.
But Moynihan, thanks to his long tenure, had feet in both the Wiig/Hader/Samberg era and the newer one defined by Kate McKinnon, Beck Bennett, and Leslie Jones. Bayer was probably one of the latter group's most familiar faces. She was an quick hit in her first season with her Miley Cyrus impression (one that now seems hilariously outdated) and was always called on by SNL to play the uncool: the stuffy mom, the confused straight man, Jacob the Bar Mitzvah Boy. Bayer might have gotten a little boxed in by the end, but she was another reliable part of the firmament. Though she doesn't have a sitcom job lined up as Moynihan does, she undoubtedly has a fruitful career ahead of her.
Zamata's hiring came in the middle of the 2013-2014 season (SNL's 39th). It was a rare panic hire for the show's cool-headed producer Lorne Michaels, in response to frequent and growing criticism about the show's lack of non-white actors, particularly black actresses (there was no one on staff to do a Michelle Obama impression, among many others). Zamata is primarily a stand-up comic (her new special, Pizza Mind on Seeso, is very funny), and stand-ups often struggle to meld with SNL's long-refined approach to making sketch comedy.
Though Zamata did a lot of impressions and was regularly featured on the show, it was almost always as a background player. She rarely appeared as the star of sketches, and never found the kind of recurring characters that define a cast member's time on SNL. A lot of stand-up cast members get chances to present bits of their act as "desk pieces" on Weekend Update (Pete Davidson and Jones do so regularly), but Zamata never did. She may, at some point, offer her take on what it was like to work on the show and why she struggled to break out, but as it is, her four-year tenure remains somewhat inscrutable (it was probably her decision not to announce her departure earlier).
All of these changes leave SNL with some major casting decisions ahead of it. On the one hand, the show's ratings are better than ever, buoyed by the presidential election and many a viral political moment. On the other hand, so much of this season was defined by SNL's guest stars, from Alec Baldwin as Trump to Melissa McCarthy as Sean Spicer. The season finale's guest host, Dwayne Johnson, was accompanied by Baldwin and Tom Hanks for his opening monologue; the episode's most remarked-on moment was probably Hanks reprising his beloved new character "David S. Pumpkins" for a hot second.
Bayer and Moynihan would be crucial parts of several sketches a night; Zamata, though more unheralded, was herself a valuable and seasoned performer, if rarely a star. The show seems desperately in need of new blood, even as McKinnon's star continues to rise: Of the ensemble around her, only Jones and the ever-reliable Thompson are like true standouts. In a way, SNL's latest era seems to be over before it got a chance to really begin. But with ratings as high as they've ever been, it's unclear whether Michaels or NBC will feel much pressure to really shake things up.