Haim Returns With Old Charms—and New Gloss
"Want You Back" sees the rock trio as complex and tuneful as before, but there's a new, not entirely welcome, layer of production.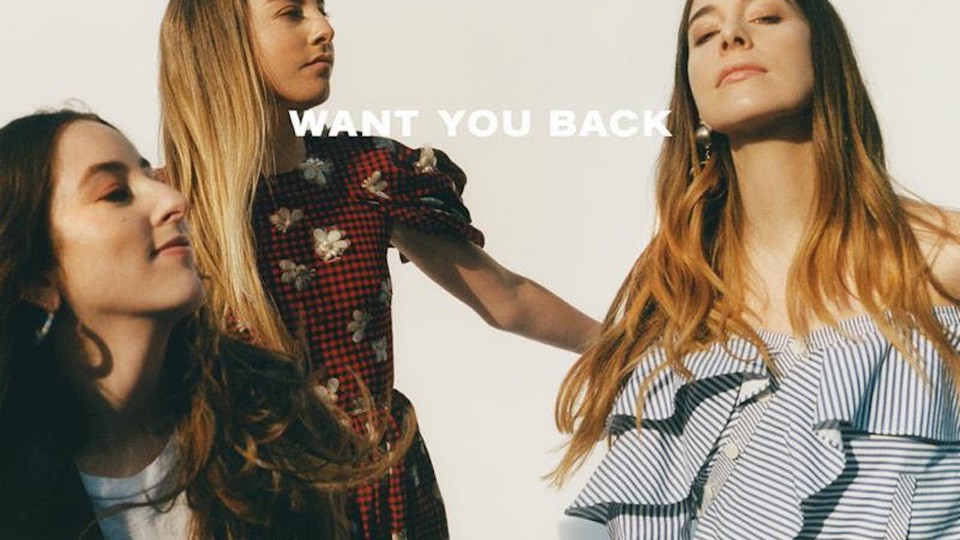 The title "Want You Back" might be a nod from Haim to listeners who, in the four years since the Los Angeles trio released their debut Days Are Gone, have craved the return of the last new rock band that the mythical "everybody" can love. Haim fans—whose ranks include mainstreamers U2, Taylor Swift, and Hillary Clinton but also alt types like Pitchfork and Grimes—wanted them back, and now they have them back. The single released today, from their forthcoming album Something to Tell You (July 7), keeps Haim's remarkably distinct sound intact, though there is something—perhaps worryingly—that's different.
As always, the Haim blend involves '80s and '90s pop radio elements: In "Want You Back" you may hear echoes of Fleetwood Mac, Prince, Wilson Phillips, and, thanks to some quality I can't quite identify, even Def Leppard. But just as important to their act is a sense of spring-loaded complexity, with the three sisters locking together syllables (often in odd, little rapid-fire phrases) and beats (a skittering high hat, a trademark of Days Are Gone, returns here). All this machine really needs to succeed in its task is a memorable vocal phrase to repeat and modulate until it seems as familiar as a folk standard, and they've hit upon one here with a chorus full of yearning and pitter-patter.
The production is bizarre, though. At first, things seem straightforward. In the opening few bars, when Danielle Haim's unadorned singing is joined by piano and acoustic guitar, you get a grand sense of scale and volume. Backup vocals then pepper in extra lyrics—"said it from the beginning / said you'd always see it through"—and the sisters sing together for the first few rounds of the pre-chorus (which is just a less intense rendition of the chorus). But then Ariel Rechtshaid—a buzzy producer who's worked with Madonna and Vampire Weekend and who, fun fact, happens to be dating Danielle—adds a dissonant synth squeal, some bubblegum keys, and more stuff, and more stuff, as the song builds.
It's not only that there's a lot going on, and that Haim songs are bustling enough without extra elements. It's that Rechtshaid's digital stew seems to bubble independently of what the band is doing. Least forgivably, he uses the most over-used gimmick of recent pop music—flagrantly manipulated vocals in the background, existing less for harmony's sake than to evoke a futuristic or whimsical mood—throughout the song, most notably in its closing moment. The band's done playing, but the producer's not done messing around; a helium-inhaled swarm of voices zip by, like the wails of a ghost being exorcised from a room. Maybe this touch has something to do with the lyrical theme of lost love, which is already amply conveyed by the singers. Or maybe Rechtshaid's production is trying to make Haim seem less nostalgic than before. The song sounds retro regardless—and that's a good thing, as time travel is one of the primary pleasures of this band.
In any case, the song's chorus and sense of gathering momentum should deliver the familiar thrill fans were looking for, regardless of the studio gunk. But the fact that the song is so over-produced puts the other new piece of music Haim has released, an unadorned live recording of a slow-building song called "Right Now," in a new light. Haim seem to want the world to know that despite fame—and perhaps despite new tricks—the core of this band remains the same.