Vito Acconci and the Shelf Life of Sensational Art
Artworks that were transgressive in the 1960s might not be acceptable to museum audiences today, thanks to shifting standards about whose voice should be included.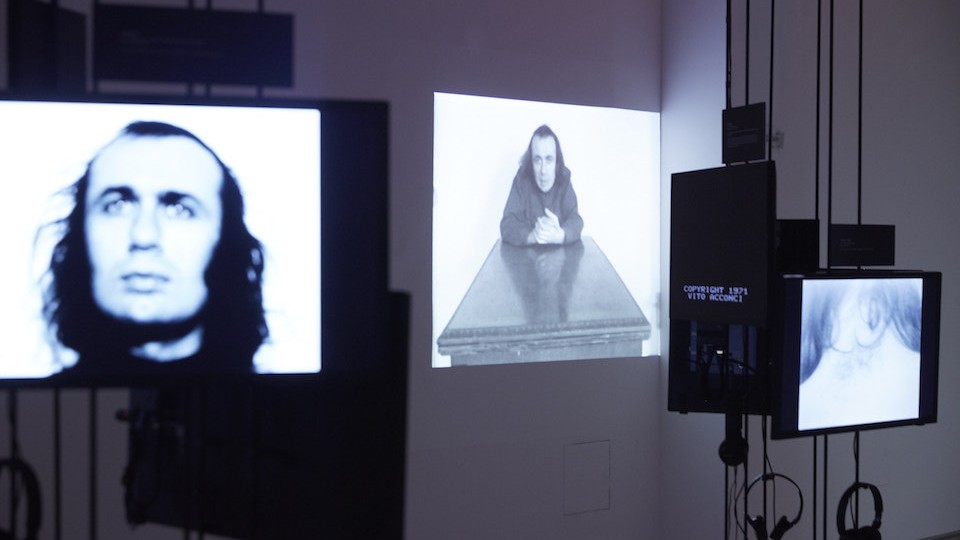 Vito Acconci died last week at the age of 77. He was best known for intense performance-art provocations that skirted interpersonal boundaries: public–private, consensual–nonconsensual, real world–art world. It is hard to imagine a career like his taking the same course today. Some of his works would be almost unthinkable in museums now. Audiences might not be willing to tolerate them.
Acconci was prolific over a short burst, working through a range of ideas and issues in photography, video, and performance between 1968 and 1976. During this eight-year window, the Bronx-born artist reconciled an interest in radical poetry with a Situationist focus on the body. His visual output culminated in spare conceptual works that survive today in video or photo documentation. In the mid-70s, when his growing reputation made his confrontational work more difficult to pull off—works that relied on his being anonymous, a stranger, a weirdo—Acconci abandoned performance, turning to sculptural installation and eventually architectural design. His earlier works influenced Laurie Anderson, Karen Finley, Bruce Nauman, Tracey Emin—perhaps an entire generation of artists.
Following Piece (1969) might be Acconci's best-known work, a staple of post-war art-history textbooks. For a performance that stretched over the fall, the artist selected passersby at random on the streets in New York City and followed them for as long as he was able—sometimes tracking his target for minutes, sometimes following them for hours, from borough to borough, wherever the work took him. With Following Piece, Acconci perverted the notion of public art. His was an unsanctioned artwork in which viewers had no choice about participating, a roving un-safe space.
Creepy work, for sure. And work that, at the time, identified an anxiety for which the public had few labels (such as the broad umbrella of street harassment). Arguably it is not Acconci's most unsettling piece. That distinction might belong to Conversions III (Association, Assistance, Dependence), a 1971 performance in which Acconci, nude and standing, tucks his genitalia between his legs; in video and photos of the performance, a woman, also nude, kneels behind him and takes his penis into her mouth. Other pieces from the Conversions series saw Acconci burn the hair off his body using a candle or mold his chest into breasts, playing at the margins of gender signification. Conversions III, however, apes transgender identity in a startlingly aggressive way. Today there is a label for such a gesture: problematic.
Acconci spoke to difficult truths in his work. But as the uproar surrounding the opening of the Whitney Biennial earlier this spring demonstrates, the speaker is as important as the message. Artists and audiences today are vocal about art that appears to other-ize marginalized communities—or that take up their causes. After the biennial opened, protests greeted one work by Dana Schutz, an abstract depiction of Emmett Till. With Open Casket (2016), Schutz—a celebrated, feminist, white painter—has said she identified with Till's mother, Mamie Till Mobley, and the difficult decision she made to turn Till's funeral into an image for public consumption. Several black artists objected to Schutz's decision and demanded that her (surely sympathetic) work be removed, even blocking it from view at the Whitney. "The subject matter is not Schutz's," wrote one protester, Hannah Black, in a since-deleted post on Facebook.
It is hard to imagine how some of Acconci's work, which addresses consent as both a theme and a medium, would be received as new work by museum audiences today. (Notwithstanding Acconci's successful retrospective at MoMA P.S.1 in 2016, his place in the canon by then long established.) Recent examples of socially transgressive artworks suggest that the answer may be: not so well. The question is not specific to the contours of Acconci's work, but related to a shifting perception of the role that museums play. In a world of steadily streaming images, museums have less authority over the visual realm than they once did. Art institutions are lagging behind, subject to politics hashed out through hashtags.
Last summer, for example, the critic Taylor Renee Aldridge blasted the artist Sanford Biggers for his piece, Laocoön (2015), which she had seen the prior winter at Art Basel Miami Beach, the biggest party on the art-world calendar. The piece, a larger-than-life inflatable resembling Fat Albert lying on its stomach, partially deflated, draws a visual cue from the death of Michael Brown, whose body was left dead on the ground for hours in Ferguson. Aldridge (who, like Biggers, is black) objected to seeing this representation of Brown on her Instagram feed "surrounded by a festive group of gallery goers, sipping wine, taking pictures of the panting body." Aldridge echoes a familiar argument about images of black bodies funneled through social media; Laocoön struck her as one more example of that awful phenomenon.
(Biggers did not take the criticism well, apparently: For a fall 2016 show at the Museum of Contemporary Art Detroit, Biggers included an iteration of Seen (2015), a tiny origami Trojan horse—a folded-up copy of Aldridge's review, the museum's director told me at the time.)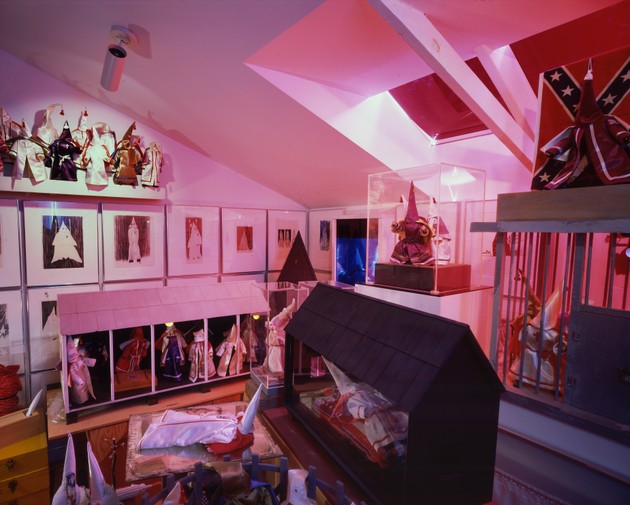 The late William Christenberry frequently drew complaints for his charged depictions of the Ku Klux Klan. His Klan Room Tableau (1962–2007)—recently on view at Maryland Institute College of Art, and otherwise rarely shown—is an installation comprising photos, drawings, and paintings of Klan dragons and wizards. The Washington Post chastised Christenberry for not including the KKK's victims in his work when this room graced a D.C. museum in 2008. Christenberry's world was Tuscaloosa and Hale County, once deep-red pockets of Alabama where racism festered in the open. Documenting it as a young artist meant confronting actual Klan clubhouses. Christenberry rendered Klansmen less tenderly than his Warhol-esque paintings of Tops snuff cans or his Southern Gothic pictures of kudzu claiming abandoned barns. Still, with his work, Christenberry inducted images of racial terrorists into museums and galleries. That his depictions were hardly sympathetic to the KKK misses the adjacent critical objection—that other narratives have gone uncollected.
Since Acconci's day, the dialogue about representation in museums (and in the broader culture) has changed. Yet museums—from the artists they show to their directors and board members, who guide those exhibitions—still overwhelmingly favor white men. Stilted progress by museums comes in the context of a changed conversation about the ownership and consumption of images. While this year's Whitney Biennial, the first to be curated entirely by artists of color (Christopher Y. Lew and Mia Locks), is the most inclusive one so far, it did not escape the charges of institutional racism that have long dogged the art world (and the Whitney Museum of American Art in particular).
Were Acconci's Seedbed (1972) to be included as an entry in one of today's big fairs or festivals, it might fairly be said to be triggering. The piece is an installation: a tilted floor under which the artist huddled, masturbating when visitors entered the room above him. The sound of his activity was broadcast into the gallery via a speaker, a way of alerting viewers to the interaction to which they had unknowingly subscribed. Surely this subject matter was not Acconci's—but rather that of women who have been subjected to this treatment on the street, in public transit, and every place in between.
This is not to discount Acconci's sincere and enormous accomplishments. He identified and explored dark and dangerous corners of the public experience—private experience, too—sometimes in ways that were tender and cerebral without being so menacing, as with Trademarks (1970). (This is to say nothing of his long career in architecture, landscape design, and everything else he made outside of the aforementioned eight-year window.) Nor does the liberal criticism garnered by Schutz, Biggers, and Christenberry invalidate those artists' works. The museum is different from the artwork, however. Many of the shouty arguments about whose First Amendment rights are being trampled any time controversies emerge take art institutions as neutral. Hardly. They are usually the problem.
The museum needs to be subject to public negotiation. The art world is undoubtedly a place of privilege—a sometimes infuriating nexus of spectacle, commodity, glamour, and entertainment. (Catch #metgala2017 for a conversation that feels right at home in the art world.) Within this space, it matters whose story gets told through modern art, not just what is said, and it matters by whom, because the answer has always tilted one way, going back at least as far as Gauguin.
One of the best artworks to follow in the footsteps of Acconci's project is Emma Sulkowicz's Mattress Performance (Carry That Weight) (2014–15). Her effort seized the public imagination. Then a student at Columbia University, Sulkowicz staged a protest over the school's response to her alleged rape as her senior thesis. She dragged her mattress with her everywhere she went on campus, inspiring hundreds of classmates at Columbia and dozens of other university students to join her in solidarity. This was raw work. Still, Sulkowicz's performance turned a public space into a forum for private terror, whether the public wanted it to be or not (and her legion detractors most certainly did not).
Consent, darkness, sensation, sensibility—the old master might have been proud. For the time being, it will be Acconci's performance-as-test-of-public-boundaries that will be taught in schools and shown in galleries, even though this subject matter was never strictly speaking his own. This is perhaps okay, because his work was focused, disciplined, even unprecedented. But going forward, audiences will demand more. Going forward, museums are going to need to make more room.