Unbreakable Kimmy Schmidt Feels a Bit Stuck
Tina Fey's charming Netflix show offers more of the same in Season 3, suggesting the series could use a shake-up.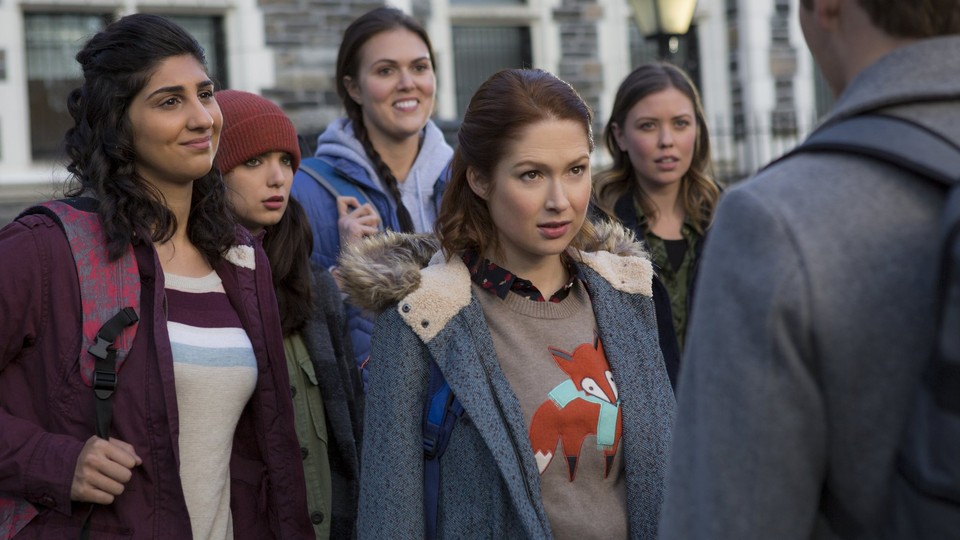 The second season of Unbreakable Kimmy Schmidt was a bravura piece of television. Though its first year on Netflix was actually produced for NBC (coming with all inherent network strictures), the show's second really took advantage of the freer creative environment of streaming TV. It indulged in screwball musical episodes and surprisingly intense plot arcs about trauma and recovery, with its bizarre, emotionally stunted, but morally resolute title character voyaging through New York's ever-growing crisis of income inequality and gentrification. It was maybe the best argument for what Netflix could really offer on TV: a lightly serialized work from an auteur (Tina Fey) that pushed the boundaries of traditional sitcoms.
Season 3 of Unbreakable Kimmy Schmidt, which debuts on Netflix today, offers ... more of the same. After last year's delightful leap forward, the show now appears to be stuck in limbo, hitting a reset button in its first two episodes and then investing in new plots that retread old ground. That's not to say it isn't funny—it remains, like any of Fey's TV work, chock-full of wonderfully written jokes and whip-smart dialogue, and is anchored by one of the most charming ensembles around. But it seems to have lost its focus on its main character, and the arcs that rush up to fill that void feel like unworthy replacements.
In Season 2, Kimmy (Ellie Kemper) worked to get her GED, trying to progress as an adult in the real world after being kidnapped by a cult and spending 15 years in an underground bunker. But the crux of her story revolved around her attempts to deal with her inner rage, by talking to an incompetent drunken therapist (played by Fey herself) and finally seeing her mother (Lisa Kudrow), whom she blamed for her kidnapping. In Season 3, there's little sign that the show is building up to a similarly crucial confrontation (at least, in the six episodes provided to critics).
Kimmy's main arc this year involves her going to college, which gives Fey and her writers plenty of chances to take pot-shots at the performative tolerance and overt, confused liberalism of the younger generation. There's nothing even especially shocking about this material (in a show that's occasionally skirted into somewhat offensive territory), but it's at best only worth a few chuckles: The humor is too broad for a show that largely succeeded in its first two seasons mocking much more particular kinds of New York City bubbles.
Kimmy still lives with aspiring performer Titus Andromedon (Tituss Burgess) in a dingy basement apartment; he has returned from a summer singing on a cruise ship, though there are vague references to some horrifying incident that will surely come to light near the end of the season. Their landlady Lillian (Carol Kane) continues her run for elected office to fight the encroaching forces of gentrification. One of the season's better storylines involves the incursion of a Whole Foods-type store called "Big Naturals" owned by the deadpan Peter Riegert.
Perhaps the most convoluted ongoing drama involves socialite Jacqueline White (Jane Krakowski), the secretly Native American billionaire divorcee who is now embroiled in a fictionalized take on the Snyder family, the owners of the Washington Redskins. David Cross (as Jacqueline's new fiancée) and Josh Charles (as his brother) get plenty of material about their internecine war over the future of the offensively monikered football team, but their machinations are too complex to be very funny. One episode in which Charles's character becomes infatuated with Jacqueline is a particular drag, even though the actor is one of the best in the business at satirizing the privileged, egotistical jock.
Other new exciting guest stars pop by—Laura Dern, Daveed Diggs, Ray Liotta—as do old favorites like Fred Armisen, Amy Sedaris, Jon Hamm, and Fey. But nobody gets much to do, and many characters take a step backward just to keep the status quo from changing too much. Titus's burgeoning relationship with construction worker Mikey (Mike Carlsen) from Season 2 quickly stalls out, largely (it seems) to keep Titus comfortably ensconced as Kimmy's roommate, even though the pair barely do anything together in the first six episodes.
Still, if you're a fan of Unbreakable Kimmy Schmidt, as I am, you won't come out fully disappointed. The show still has its usual wacky appeal, dialed-up performances, and rapid-fire jokes that come and go so quickly that they all but require a rewatch. Jeff Richmond's incredible penchant for parody songwriting continues unabated (there's an extended Lemonade spoof early on), and Kemper's charisma in the lead role remains unassailable. But through the first half of Season 3, there's just the sense that the show could use a shake-up—some dramatic turns to keep its core dynamics interesting. Hopefully its latter half will capitalize on that opportunity.