Jimmy Kimmel's Latest Monologue Gets Personal and Political
The late-night host opened Monday's show with an explanation for why he was off the air last week—because of the immediate surgery his newborn son required.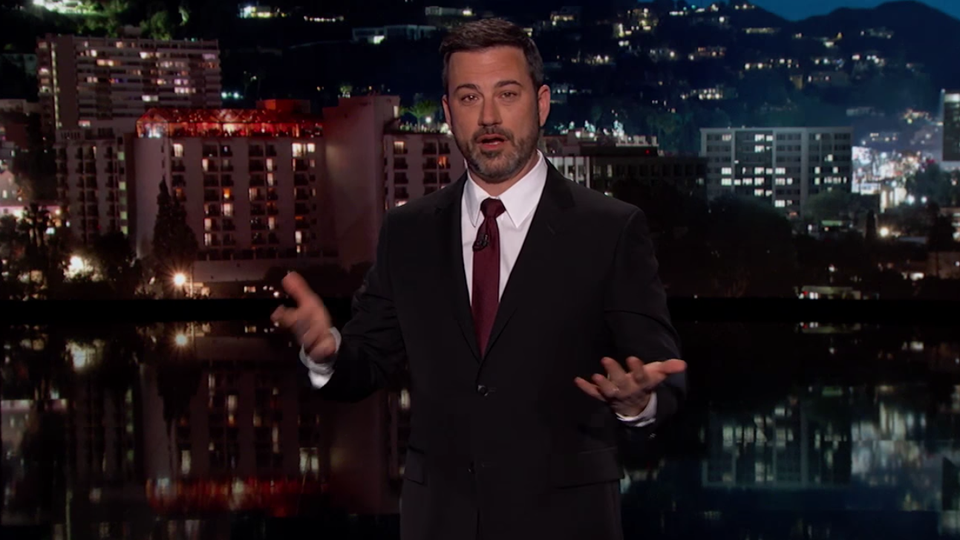 Jimmy Kimmel was already near tears before he said a word on Monday night's Jimmy Kimmel Live—his first episode hosting the late-night show after it went on a mysterious weeklong hiatus. "I have a story to tell about something that happened to our family last week," he said, assuring his viewers that despite his demeanor, his tale has a happy ending. Kimmel's wife Molly McNearney, a co-head writer on the show, gave birth to their second child, a son named William, on April 21. Within hours of William's birth, a nurse noticed symptoms of a congenital heart defect, and he was quickly given open-heart surgery to repair the damage.
William is fine, Kimmel assured his viewers—showing them pictures of his son hooked up to wires in the hospital and then convalescing at home—though he will require another procedure in a few months. But the story of his birth, and the rapid intervention of the medical professionals around him, was a gripping one, the center of a surprising 13-minute opening monologue from Kimmel, who rarely delves into his life for show material.
The story was also notable for Kimmel's generosity of spirit, and his insistence on personally thanking everyone involved with William's delivery. From the nurses who detected William's heart murmur, to the cardiovascular surgeon who drove to the hospital straight from the airport (where he was picking up his mother), to his assembled family members, to the companies that donate to Los Angeles' Children's Hospital—Kimmel wanted everyone to get the kudos they deserved on live television. "Even that son of a bitch Matt Damon sent flowers," he joked, referencing his long-running comedic "feud" with the actor, whom he had playfully ribbed throughout the Oscar ceremony Kimmel hosted in February.
The other reason the clip is so memorable, though, is because of the way he ultimately tied their work to a larger, directly political issue in a manner that felt neither jarring nor nakedly opportunistic. Kimmel pointed out that President Trump's initial budget proposal contained a $6 billion cut to the National Institutes of Health, a 20 percent reduction to the agency responsible for health-related research across the United States. The budget deal reached by Congress actually increases NIH funding by $2 billion, which Kimmel praised, noting that a huge portion (some 40 percent) of NIH research is devoted to children. Then, Kimmel turned his attention to the president's repeated attempt to pass a repeal of the Affordable Care Act.
"We were brought up to believe that we live in the greatest country in the world. But until a few years ago millions of us had no access to health insurance at all," he said. "Before 2014, if you were born with congenital heart disease like my son was, there's a good chance you would never be able to get health insurance because you had a pre-existing condition." Again choking back tears, Kimmel recalled the other sick children at his son's intensive-care unit.
"If your baby is going to die, and it doesn't have to, it shouldn't matter how much money you make ... we all agree on that, right? I mean, we do!" he said. "No parent should ever have to decide if they can afford to save their child's life. It shouldn't happen." Though Kimmel tried to couch his language in broad terms, framing his argument as an apolitical one with "no sides," his point was fairly direct—a repeal of Obamacare would quite possibly do away with its protections for people with pre-existing conditions, an issue that, in Kimmel's belief, should not be up for discussion.
It was overall an unusual moment for Kimmel, who has been hosting Jimmy Kimmel Live! for 14 years now but rarely ventures into personal storytelling or overtly polemical material. Kimmel has always played to a more apolitical, male audience, but since Trump's election has become more comfortable expressing his dismay about the president. This monologue, because of its intimacy, is all the more startling for the forcefulness of its argument about health policy.
It recalled other great moments in late-night history where hosts let their guard down to talk about traumatic events in their own lives. David Letterman, undoubtedly Kimmel's biggest inspiration, gave one of the greatest monologues of his career after surviving emergency open-heart surgery. Craig Ferguson, who hosted The Late Late Show from 2005 to 2014 and was one of late-night's most underrated monologists, was nominated for an Emmy in 2006 after his stirring eulogy for his father. Kimmel's likely to quickly snap back to normal, but moments like this one usually linger for years—and this speech will surely be a big part of his late-night legacy.