The Hope of Chris Cornell
The late Soundgarden singer frequently voiced pain, but also optimism, wit, and a sense of justice.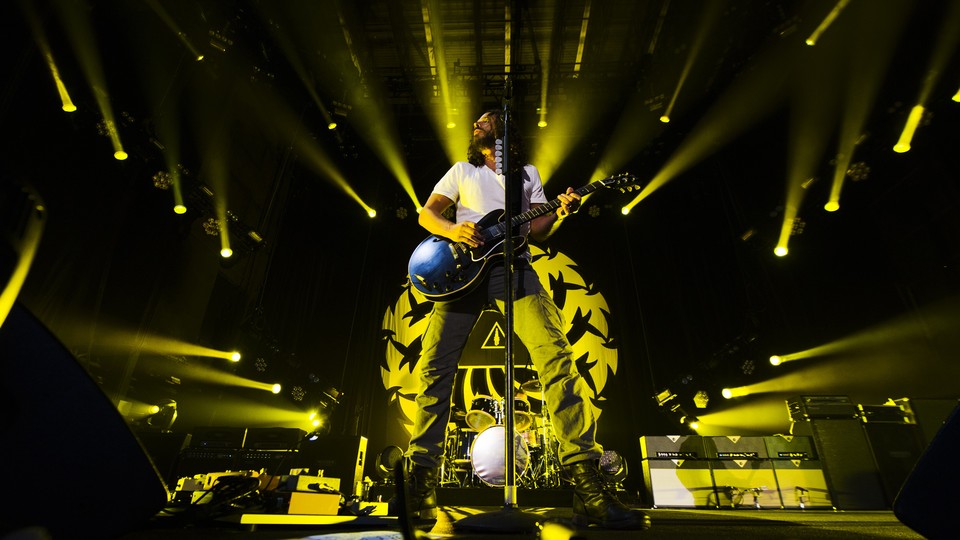 Updated at 1:57 p.m. ET
1994 was the year that Soundgarden's fourth album Superunknown introduced Chris Cornell's distinctive yowl to international audiences with smashes like "Black Hole Sun" and "Spoonman." It was also the year that Kurt Cobain killed himself, the most dramatic in a line of shocking deaths visited upon Seattle's commercially booming music scene. In December of that year, Cornell sat down for an interview with Rolling Stone. He sounded deeply ambivalent about his success and the cost of grunge's success to Seattle's rock community. "You've written more than a few doom-laden song lyrics," the writer Alec Foege asked him. "Is it legitimate to read a songwriter's demise into his lyrics after the fact?"
Cornell replied that when his roommate Andrew Wood, the frontman for Mother Lover Bone and Malfunkshun, died in 1990, he couldn't listen to Wood's songs for years. "His lyrics often seem as though they can tell that story," Cornell said. "But then again, my lyrics often could tell the same one. In terms of seeing everything as a matter of life and death—if that's what you're feeling at the time, then that's what you're going to write. It's sort of a morbid exchange when somebody who is a writer like that dies, and then everyone starts picking through all their lyrics."
It will now be hard to avoid another "morbid exchange" on the occasion of Cornell's death at age 52, though it's worth trying to not make it too morbid: There was powerful light as well as darkness in his catalogue, and Cornell as much as any singer saw how pain and uplift could intertwine. Regardless, he now inevitably will be included in the upsetting list of grunge stars who've died unexpectedly—Wood, Cobain, Staley, Weiland, among others. Cornell performed in Detroit on Wednesday night and by morning was dead in what the medical examiner has ruled a suicide.
When Soundgarden first emerged, Cornell's stunning, high wail and his band's heaving, blues-inflected odysseys brought them comparisons to Led Zeppelin and Black Sabbath. Cornell said in '94 that those bands didn't interest him "even slightly"; his insistence about that softened later, and the final song of his final concert, "Slaves and Bulldozers," featured a snippet from Led Zeppelin's "In My Time of Dying." In any case, his full career proved his eclecticism, with his work ranging from acoustic singer/songwriter material to an amazing Michael Jackson cover to a bizarre 2009 dance album with Timbaland. About the latter effort, which earned him scathing reviews, he told The Guardian, "To me R&B means Aretha Franklin, who is otherworldly." Franklin, as much as anyone, is a good reference point for the abandon, hurt, and hope in Cornell's voice.
As a songwriter he had an impressionistic, literary bent: Soundgarden's biggest smash, "Black Hole Sun," painted a vivid dreamscape that, he said, was mostly just "words for words' sake." He could be an acidic cultural critic, too, with the early single "Big Dumb Sex" crassly sending up love songs (chorus: "I'm gonna fuck / fuck / fuck / fuck you") and the searing, twitchy "Jesus Christ Pose" mocking other rockers for faux-blasphemous posing. Still, Cornell never quite felt he got his due as a poet; after Johnny Cash covered "Rusty Cage" (featuring perfect coinages like "It's gonna be too dark to sleep again"), he recalled, "People were leaving messages on my answering machine telling me how great the lyrics were and they didn't say that about the lyrics when it was the Soundgarden version."
That his words could be so easily overlooked has something to do with the weight of the cultural narratives around grunge. Fairly or not, he was heard through a filter of fatalism. "The Day I Tried to Live" was often perceived as a song about drugs, but Cornell insisted it was actually "a hopeful song" about attempting to thrive in the face of antisocial impulses—even if doing so meant "wallowing in the blood and mud / with all the other pigs." A sense of justice underlay much of his work, and indeed, Cornell deserves recognition as a fine protest singer. "Hunger Strike," the keening ballad he sang with Eddie Vedder as part of the band Temple of the Dog, is as forthright a call to consciousness and equality as you get: "I don't mind stealin' bread from the mouths of decadence / But I can't feed on the powerless when my cup's already overfilled."
Temple of the Dog made for one of a few remarkable Cornell projects outside of Soundgarden. Formed in the 1990, the grunge proto-supergroup (Pearl Jam had yet to be, and Soundgarden was far from stardom) put out its album in honor of Wood, the late rocker and friend of Cornell's. The fact that the band existed specifically for mourning's sake meant that its songs have been reused by various grievers over the years, which gave Cornell mixed feelings. About the song "Say Hello 2 Heaven," he recently told The Independent it's "great that it's become this anthem that makes somebody feel some comfort when they've lost someone, but recently I've become a little more possessive of the idea that this song was actually written for a specific guy and I haven't forgotten that person."
Rage Against the Machine today tweeted out an excellent playlist spanning Cornell's career, and, both fittingly and sacrilegiously, "Say Hello 2 Heaven" sits at the top of it. Later in the lineup comes another song that sounds particularly beautiful in today's unfortunate context. Cornell and Rage's Tom Morello formed the supergroup Audioslave in the 2000s, and it brought Cornell that rare thing for rock stars: a successful second act (or rather third—he did well as a solo artist). Among the band's hits was the pining, airy meditation "Like a Stone," which Cornell said envisioned the afterlife. In this, as in so many times in his career, what might have seemed like a howl of malaise was actually an airing of desire for a better future. The lyrics spoke of praying "like a pagan to anyone who will take me to heaven," and of eternity as a house where the dead can be reunited. "I'll wait for you there," he promised.