The Healthy Nostalgia of Derek Jeter
The New York Yankees recently retired The Captain's number and inducted him into Monument Park—signs of transition that make it easier for fans to move on.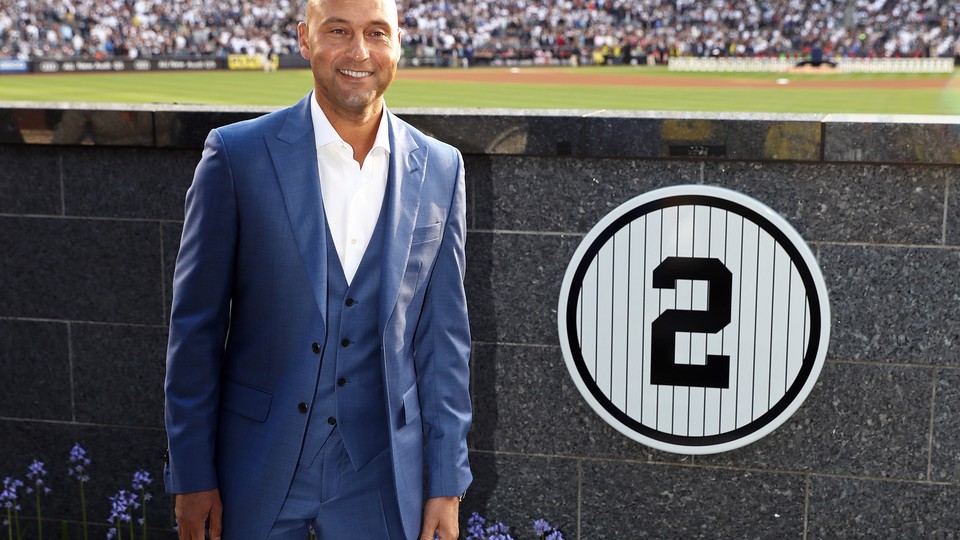 There's something special about spotting that first flash of green grass at a baseball game. As fans emerge from dark, crowded concourses filled with moms squeezing their sons' hands to keep them close and condiment carts covered in knocked-over mustard bottles, there's nothing quite like catching a glance of the diamond for the first time. And as the Yankee faithful made their way toward the ballpark on Sunday, that moment had a little extra sparkle.
My dad, cousin, and I were among the throngs of people who traveled to Yankee Stadium this past weekend to see Derek Jeter honored with a plaque in Monument Park and to have his number retired. Jeter, whose legendary play as the New York Yankees shortstop and unmatched character made him the face of Major League Baseball for most of my life, has kept a relatively low profile since retiring at the end of the 2014 season.
As I walked with my dad and cousin through the Bronx past graffiti portraits of legends like Joe DiMaggio and Reggie Jackson, it felt as though we were making our way toward an old friend we hadn't seen in awhile. That celebration of the past by fans and the Yankee organization cemented the feeling that Jeter is not only part of the ebb and flow of baseball but also of people's lives.
For lifelong Jeter fans like myself, watching a favorite athlete start a new chapter in life can be momentous and even difficult. Which is why professional athletics regularly turn to grand, calculated displays of nostalgia when ushering out icons—whether that's Jeter, Peyton Manning, or Wayne Gretzky—as well as events like Old-Timers' Day and networks like ESPN Classic. Sunday night at Yankee Stadium was a particularly effective example of this tradition: In emphasizing the glory of the past, this comforting ritual of closure offered some real psychological benefits for the team and fans themselves.
This nostalgia is key to helping fans move forward, according to Dr. Krystine Batcho, a psychology professor at Le Moyne College. She told me that what separates nostalgia from derivative feelings like romanticism or homesickness is that it's bittersweet—juxtaposing the comfort of the past with the sad acknowledgment that time marches on. This combination of emotions can be oddly useful: "When you're yearning for something and realizing that it's over, that can allow you to make certain choices," Batcho said. "One choice would be to let go."
That was certainly the case for me and others who gathered on Sunday. As I sat in the upper deck of Yankee Stadium, the magic of the past was palpable, but just out of reach. The montage that played of Jeter's career—a highlight reel of heroic catches, statistical triumphs, and many flairs for the dramatic—was a history lesson in excellence, and raucous cheers boomed from every corner of the stadium as fan favorites like Bernie Williams, Hideki Matsui, and Mariano Rivera took the field to honor The Captain.
"It almost seemed like the night was more for the fans than for Jeter himself," Mark Feinsand, an MLB.com reporter who covered Jeter for 14 years, told me. He said the Sunday event was an extension of how Jeter had sought to deflect attention from himself to the team and the fans throughout his career: "[On Sunday], I felt it was the same thing where he tried to make the night, which was all about him, about everybody else." Feinsand and Jack Curry, an analyst for YES Network who co-wrote a book with Jeter, said the ceremony was as meaningful as expected, considering the Yankees have had a lot of practice honoring legends.
On Sunday, the past quickly melted back into the present. The Houston Astros were in town, and the chairs set out for Jeter's family and friends were quickly cleared away as the stadium readied for the night cap of a double-header. Perhaps complicating fans' attempts to move on that night was the fact that, though Jeter may have retired, he has also recently made strides toward realizing an old dream of his: owning an MLB team. Jeter (along with ex-Florida Governor Jeb Bush) has placed a bid on the Miami Marlins, who are located nearly 1,300 miles away from his new plaque in Monument Park.
Whether the deal will go through is still unclear, and Bush's involvement may be tricky for those who like to keep their politics and sports separate. But Feinsand said he saw this potential association with a different franchise as a new chapter in which Jeter has the chance to prove, once again, that he's a winner. "I think baseball misses him," Ian O'Connor, an ESPN writer and the author of The Captain: The Journey of Derek Jeter, told me in an email. "I think baseball wants him as owner of the Marlins or another team, because it wants to be associated with him. It's good for business."
The undercurrent of all this change is, again, nostalgia—both the collective and deeply individual kind. Jeter's decades-long career encompassed at least one rite of passage for every fan in Yankee Stadium: As for me, he played through my first day of kindergarten, the day I got my driver's license, and the moment my parents pulled away from my dorm freshman year of college.
And so it was fitting in some ways that I was present for one of Jeter's rites of passage: the retiring of his jersey number. Though some current players around the league wear the number two because of Jeter, no future Yankees will. Batcho said retiring the number is a particularly important symbol for a healthy transition into a new Jeter era. "It's an acknowledgement that this person will never be replaced, there's no one else who can ever fill their shoes," she explained. That no one else in pinstripes will ever wear the number two is a declaration that Jeter—and everyone else who had a hand in his career—is irreplaceable.
One of the reasons I idolized Jeter was because he seemed like the living embodiment of Superman. His career was filled with moments that would be cut from Hollywood scripts because they seemed too perfect and cliché to ever possibly be true. His clutch gene melted hopes and dreams into possibilities and eventualities, but it was his everyday hustle that made him an icon. He was the ultimate role model because, as Curry told me, he "played with grit. There are some guys who are great, and they have a little bit of swagger ... Jeter was great, but he also played like a guy who was trying to make sure he kept his roster spot, that he was worried every day that he was going to lose his job."
O'Connor said that while Jeter was in the league, he was nearly universally respected because he embodied the spirit of a ballplayer: He played hard, he was a winner, and he carried himself with dignity on and off the field. Such a grace is rare, especially in what O'Connor described as "the world's noisiest marketplace."
That noisy New York City marketplace embraced Jeter, and there's no question that he'll always be a Yankee—regardless of if he owns part of another team. Ahead of Sunday's festivities, wistful promotional videos, advertisements, and interviews about the former (though, in my mind, only) Yankee captain leveraged that genuine identity. Each was tinged with notes of yearning, because with every impeccably produced "Love Letter" and Budweiser ad were reminders that this is no longer the heyday of Jeter's Yankees.
It's not the late 1990s or early 2000s anymore: George Steinbrenner is gone, the "new" Yankee Stadium is now eight years old, and it's been 16 years since Jeter's after-midnight, walk-off home run earned him the title "Mr. November." Considering how often professional athletics insists on its escapist, red-white-and blue ethos, it's tempting to resent the saccharine tributes from big corporations, including the ones that aired during the Jeter festivities. Though the products these companies are selling may be manufactured, the emotions—for The Captain's biggest fans—are not.
"It's the people remembering a great game that they watched with their father or their brother," Batcho said of the appeal of ceremonies like Jeter's. "So many people of the Boomer generation and the millennial generation can talk about famous games ... it's not so much about whether you were the athlete. It's about, 'We all shared in this together.'"