The Bracing Authenticity of Chris Gethard's Career Suicide
The comedian's one-man show on HBO is something only he could have produced, and it's all the better for that.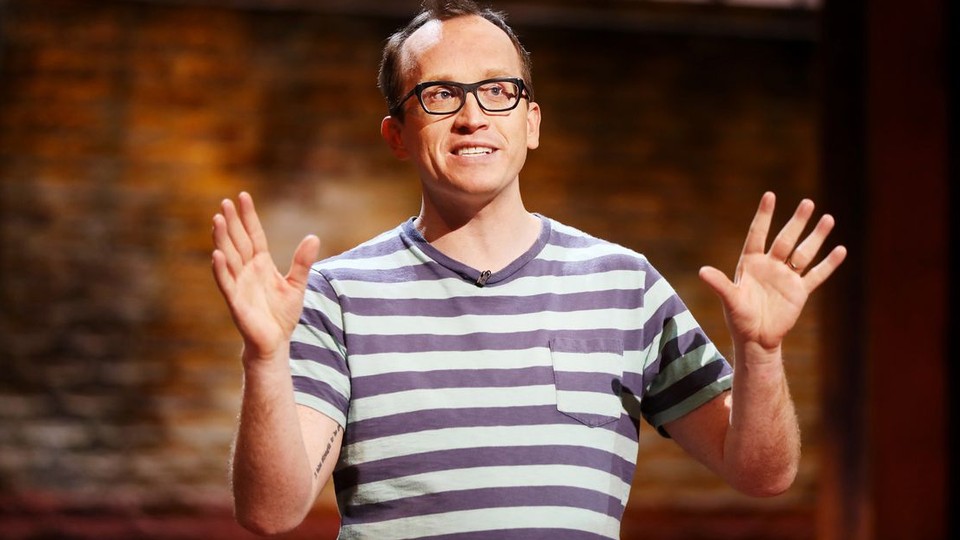 Chris Gethard's biggest gift has always been his authenticity. That might sound like a given for stand-up comedians, considering the job involves standing on stage and talking about themselves, but what Gethard accomplishes in his new HBO special Career Suicide (which premiered Saturday and is available on demand) is no simple task. This is a comedy show driven first and foremost by Gethard's life, his feelings, and his internal monologue during some of his most challenging personal moments. That it can provoke so many laughs is a feat of excellent writing. That it doesn't feel contrived is thanks to his incredible skill as a performer.
I first saw Career Suicide in a very small comedy club when Gethard was still running the material as a more typical hour-long set. Noticed by the comedy mogul Judd Apatow, Gethard's latest hour became a well-reviewed off-Broadway show before being filmed for HBO (Kimberly Senior directed both the show and the TV version). The staging was different each time, as it inched further away from the stand-up realm. Gethard's manner of relating his stories, which revolve around his struggles with clinical depression, has also shifted in fascinating ways, though his adeptness for naked, sometimes brutal, honesty hasn't.
"I hate to say it, but sometimes, people just break," he says portentously near the start of the HBO special, relating a dramatic car crash in his college years that he wasn't sure he wanted to survive. "Welcome to a comedy show!" That's one of the few traditional punchlines in Career Suicide, designed to help let the air out of the room as Gethard invites the audience into his at times fragile mental state.
The show largely does well to steer clear of using those easy outs to defuse the tension; if Career Suicide were more finely calibrated, then its effect would be immediately blunted. The same would be true if Gethard tried to frame his experiences with depression as wildly improbable or unusual. Instead, this show is trying to flesh out the impact of a common illness, the various ways it can be dealt with, and the crises that can evolve if it isn't. Gethard is helping people understand a still under-discussed ailment, one that makes audiences uncomfortable partly because it's so frustratingly hard to reckon with.
That's why authenticity is so key to Gethard's success. Late in the special, he describes performing at a comedy show during a particularly difficult time in his life, and reacting angrily to a joke made by another performer (whose identity is an amusing mystery for viewers to solve). The performer went to confront him offstage afterward, then immediately backed off when he saw Gethard's face and realized something deeper was going on. In telling this story, Gethard doesn't act out the emotional pain of the moment, but he doesn't have to because of the sheer intimacy of the recollection. Throughout Career Suicide, Gethard looks like he could be a second away from choking up, though he never loses his composure.
Essentially, this is a one-man show that comes off as neither practiced nor scripted, a collection of anecdotes that appear to spill out of Gethard as naturally as they might during a therapy session (and his unconventional therapist is one of Career Suicide's best unseen, oft-mentioned characters). As a stand-up comedy set, it was more driven by the audience (as stand-up sets tend to). As an off-Broadway show, it was perhaps too austere at times, with each lighting change that accompanied its storytelling transitions seeming a little forced.
On HBO, Career Suicide has found a perfect medium, mimicking the look of many one-hour specials (it actually runs 90 minutes, but doesn't drag) while proceeding at a slightly more measured rhythm. There are no cuts to audience members in hysterics. But there are viewers sitting in couches onstage whom Gethard will wander toward to relate certain memories; these quiet moments of participation come across as compassionate, rather than confrontational.
It's worth noting that Career Suicide is also extremely funny, even as it subverts some of the regular cadences of the stand-up special. Gethard rose to fame first as an improv performer and then as the host of his own anarchic talk show on public access (it has now moved to TruTV for an upcoming third season). That program thrives on the sense that anything can happen, and part of the joy of watching it is seeing Gethard react earnestly to its surprising on-air twists, be it with fury, frustration, disappointment, or glee. He's brought that genuineness to a format—the comedy special—that can be quite restrictive, transforming Career Suicide into something much more akin to an open, casual conversation with an old friend.