Sarah Silverman Gets Introspective With A Speck of Dust
With her days of shocking punchlines behind her, the stand-up comedian has come out with an assured new Netflix special.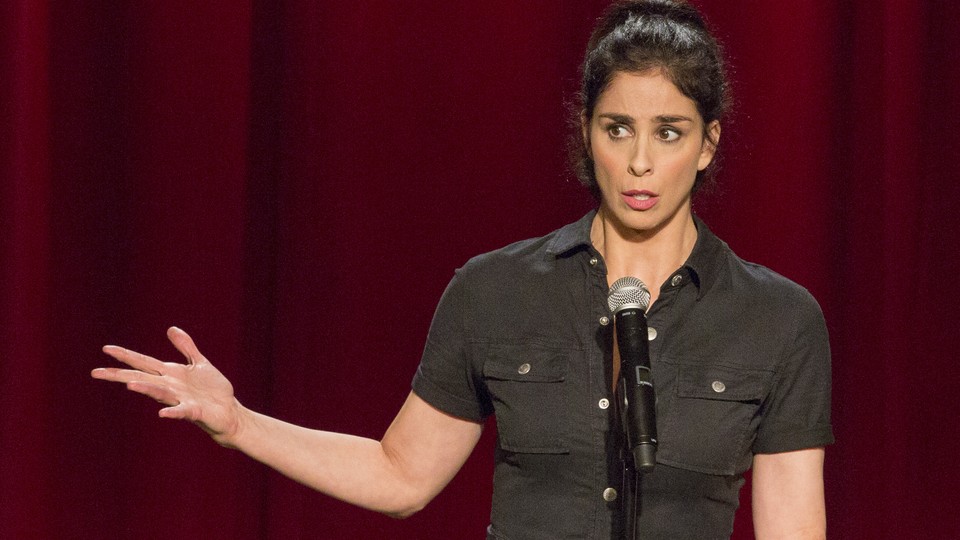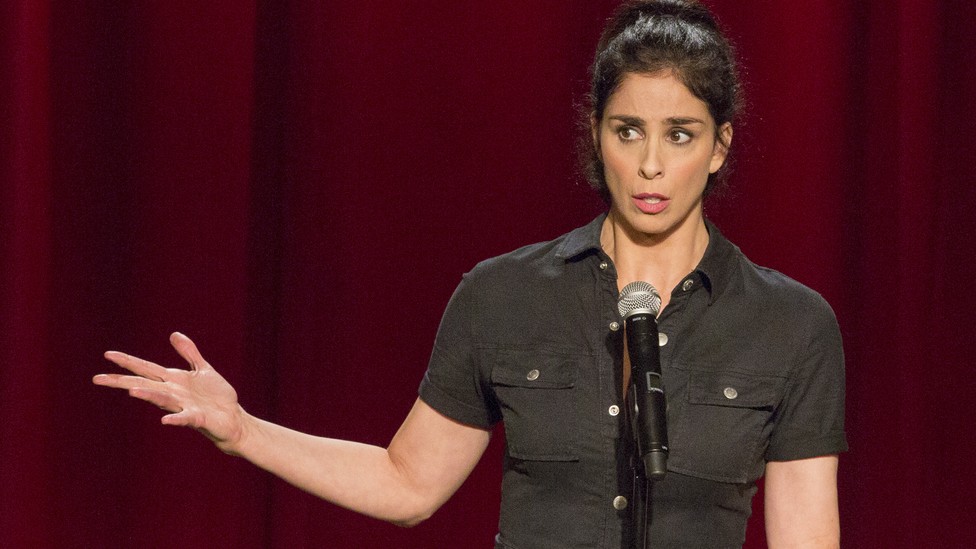 In her heyday, Sarah Silverman was one of the edgiest stand-up comics in America. When her first special, Jesus Is Magic, came out in 2005, every review focused on how scandalous and transgressive it was; the writers seemed stunned to witness a comedian (a female one, at that!) kidding about the Holocaust, rape, AIDS, and disabilities on stage. That hype, of course, almost immediately built into a backlash that never fully faded away: Silverman has always been a comedian most defined by the outrageousness of her jokes, even though she's long since stopped leading with shock value.
Silverman's newest Netflix special A Speck of Dust, which dropped on the streaming service Tuesday, features a comedian who has in some ways left her 2005-era reputation behind. What stands out isn't the audacity of her jokes, but how relaxed and conversational she is, and the endless well of charm she draws from. Silverman's jokes still vary from risqué to hilariously graphic, but that just feels like part of the wallpaper in 2017. It's easy to be gross and even easier to offend, but Silverman has endured as a comedic mainstay because she can do both without seeming like she's trying to just to get a rise out of viewers. A Speck of Dust is not her best material, but it might be her most assured.
Silverman's apex, her Jesus Is Magic phase, seems part of a now-dated conversation about the wave of female comedians leaning into explicit humor, and it's an approach she herself started to leave behind not long after that special's release. Her Comedy Central show The Sarah Silverman Program (which aired from 2007 to 2010) played on her somewhat child-like onstage persona and subverted it. She was cast as a woman so hopelessly immature that the ensemble around her functioned as a support system, and what little plot existed was driven by her impulsive foolishness.
Silverman is a surprisingly gifted actress, a quality many stand-ups lack. Both of her attempts at follow-ups to The Sarah Silverman Program weren't picked up to series, but her failed NBC pilot is one of the best I've seen in years that didn't make it to air, and one that missed the Netflix original series boom (where it would have thrived) by only a year or two. She also shot an HBO pilot alongside Patti LuPone and Topher Grace that wasn't picked up by the network, while giving strong guest turns in dramas like Masters of Sex and The Good Wife.
Silverman's stand-up work was sidelined during her sitcom years, until she returned with her 2013 HBO special We Are Miracles, which won an Emmy. That hour leaned on her typically searing commentary, but contained one moment of startling self-awareness, in which Silverman told a long anecdote about a study on 9/11 widows, then paused and told the crowd she'd made the entire thing up, jokingly holding them responsible for egging her material in that direction. It was a welcome pivot for Silverman—an examination of why she likes to push buttons, rather than the act of button-pushing itself.
A Speck of Dust is a quieter, more intimate hour that largely follows that introspective vibe. Silverman is rarely personal in a meaningful way; though her jokes might be about life experiences, they're often exaggerated or invented for comic effect. In A Speck of Dust, she talks about a recent life-threatening medical incident, the death of her beloved dog Duck, and the surrealism of shooting network TV shows like The Good Wife (which ends with an impression of the actor Josh Charles exiting a scene that provoked the biggest laugh of the hour for me).
A Speck of Dust still has plenty of explicit scatological and sexual observations, but those jokes rarely land more than a chuckle, even from the gathered audience (who are close enough to Silverman that she can engage in conversation with them, which she does on multiple occasions). There's less knowing irony, and much more thoughtfulness—to the point that she halts a story mid-sentence to deconstruct her delivery, riffing on a specific anecdote about a squirrel she included with jovial ease. That wasn't a hallmark of Silverman's joke-filled earlier work, which leaned on gasp-inducing punchlines. Her new approach may be less likely to draw headlines, but it is refreshing in its subtle confidence.