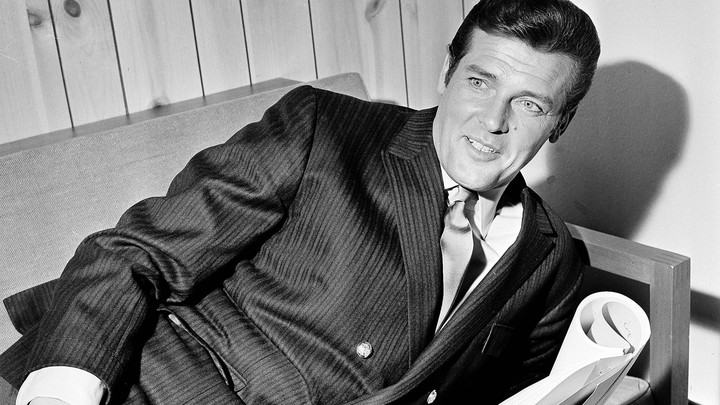 If the only work of Roger Moore's you've encountered is his 12-year stint playing the British super-spy James Bond, rest assured you're not missing much. This isn't as callous as it sounds: Moore, who died on Tuesday at the age of 89, was the first person to assert that his range as an actor was limited, and that he shaped his characters into himself rather than the other way around. "My James Bond wasn't any different to my Saint, or my Persuaders or anything else I've done," he told The Telegraph last year, referring to the two television shows that preceded Bond. "I've just made everything that I play look like me and sound like me."
So his Simon Templar—honey-smooth and jauntily eyebrowed, hair lacquered into submission—was much the same as his Ivanhoe. Even when Moore accepted a role on the fourth season of Maverick, the most quintessentially American show imaginable, he retained his English accent, and the show was left to weakly posture that his Texan character had simply picked up some British mannerisms after a few years overseas. An American accent for Roger Moore? Preposterous.
Moore, then, was a movie star in the old mold. No method-acting antics or extreme diets for this former knitwear model (he did, reluctantly, lose a few pounds and cut his hair when he was first cast as 007). A Roger Moore character doesn't exude physical menace at his enemies so much as witheringly reduce them into puddles of regret with his disdain and his impeccable tailoring. Daniel Craig, Moore once told an interviewer, "looks like a killer. Whereas I look like a decrepit lover." It was this wry gift for self-deprecation, and a refusal to take himself too seriously, that made Moore one of the most enduring, endearing actors of the 20th century. In fully owning his limitations, he only made his uniquely debonair charm more indelible.
Consider his Bond. If Sean Connery's 007 was a louche and sexually predatory brawler (who, it should be noted, first pioneered the RompHim), and Timothy Dalton was a monotonal frown in a tuxedo, Moore's Bond was a tall, graceful, distinctly sommelier-like Bond whose primary skills were unflappability and skiing. He wasn't entirely convincing as a seducer (Chris Klimek has neatly summed up "his terrifying, accordion-lipped kissing method"), but only because, like a male lion, he often seemed too lazy to aggressively pursue women. Watch this supercut of Moore's seven appearances as Bond and you'll observe how minutely his expression shifts from blank detachment to blank concern to blank amusement. As Moore himself told Maureen Dowd, he mostly saw acting as being prepared to "get up early, say your lines, and not trip over the furniture."
And yet, for several generations of Bond fans, Moore's 007 was the one to beat. He had the gadgets. He had the most manifestly bizarre locations (everywhere from an underwater superlair to outer space). He had the totally incomprehensible scenes with Margaret Thatcher impersonators. And, crucially, he had the ability to pull off all the above without diminishing his dignity. One of his favorite quips was that he was too cheap as an actor to be replaced, but that undermines how adept he was at making even the most flagrantly ludicrous plots (megalomaniacs gassing the whole planet, megalomaniacs drowning all of Silicon Valley, megalomaniacs sparking nuclear war and establishing new colonies underwater) engaging. As A. O. Scott wrote Tuesday, "He knew exactly how silly these endeavors were, but he was committed to them all the same."
Moore brought this same fusion of winking irony and self-satire to his post-Bond roles, after a five-year break from acting following A View to a Kill. In 1997's Spice World, a shouting, cotton-candy glitterbomb of a movie, Moore mocked his Bond days by playing the enigmatic, smoking jacket-sporting, martini-shaking, cat-stroking head of a record label. In 2002's Boat Trip, Moore's rapaciously sexual character, Lloyd Faversham, attempted to seduce Horatio Sanz's character at the breakfast table by offering him a bite of "my sausage." The movie was universally panned and lambasted for homophobia, but Roger Ebert praised Moore as "the one ray of wit in the entire film ... a homosexual man who calmly wanders through the plot dispensing sanity, as when, at the bar, he listens to the music and sighs, 'Why do they always play Liza?'"
It's this dogged consistency, rather than a particular talent for transformation, that defined Moore's career as an actor, as well as a genial attitude toward reporters and fans. Regardless of the vehicle, or whether his co-star was David Niven or Melanie C, Moore's output and temperament remained reliable. Since the news of his death broke, many have remembered him as a kind and witty person, a UNICEF ambassador, a generous friend, and a consummate gentleman. Reviewing his autobiography in 2008, the Telegraph noted that "little, if any, dirt is dished; Moore is clearly a very nice man who prefers to nurse resentments privately. And if, on the one hand this makes his memoirs a little short of drama … what we do get is the amused voice of an endlessly cheering actor who was always very much better than either he or his critics ever thought."
We want to hear what you think about this article. Submit a letter to the editor or write to letters@theatlantic.com.
Sophie Gilbert
is a staff writer at
The Atlantic,
where she covers culture.