Roger Ailes's (Other) Legacy
Remembering the founder of Fox News also demands remembering the many women in his orbit—women who refused to be silent.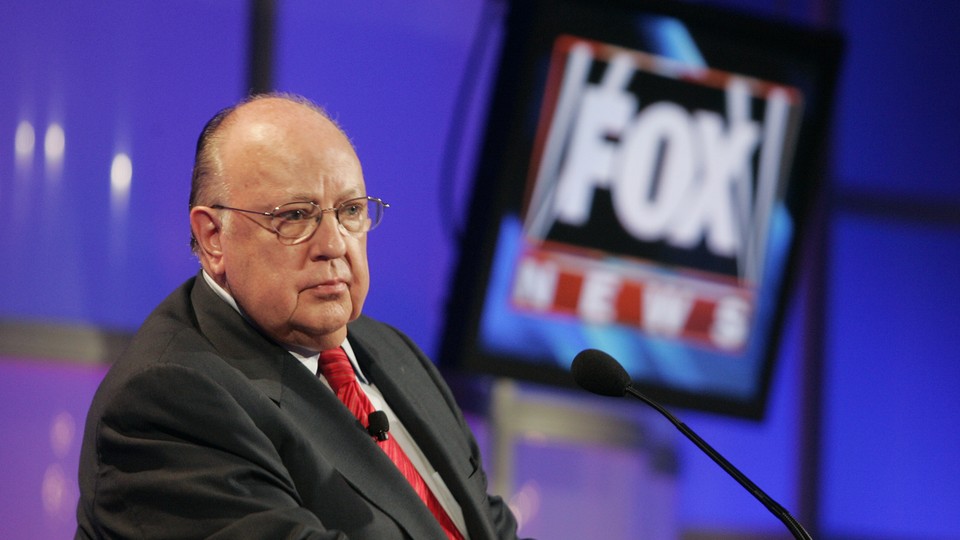 Karem Alsina, a makeup artist formerly employed by Fox News, recently shared a memory of her time at the network with New York Magazine's Gabriel Sherman. The women anchors of Fox, Alsina recalled, would sometimes come to see her before they went to private meetings with Roger Ailes—the man who, until last year, was Fox's chairman and CEO. "They would say, 'I'm going to see Roger, gotta look beautiful!'" Alsina recalled. She also recalled this: "One of them came back down after a meeting, and the makeup on her nose and chin was gone."
Ailes, who died this week at the age of 77, leaves a lasting legacy in American politics. He founded Fox News. Fox News, in turn, changed everything. Politics as entertainment; news that is stridently partisan and unapologetically populist; the careers of, among so many others, Megyn Kelly and Bill O'Reilly and Carlsons both Gretchen and Tucker; the presidency of Donald J. Trump—Ailes was responsible, in some way, for all of that. He leaves behind a political environment, and a nation, that have been permanently altered under his vision.
Ailes has another legacy, though, and it's the one Karem Alsina suggested when she recalled her time preparing the women to meet with their boss: Ailes's alleged pattern of sexual harassment—and, you could also argue, psychological manipulation—of his employees. He was accused of it by more than two dozen women, some anonymous, some named, some through lawsuits, some through testimony to the media. The allegations included not just direct harassment, but also surveillance, smear campaigns, hush money, and a general culture of misogyny at the network that claimed to be the only source of "fair & balanced" news in a nation rife with liberalism. Ailes vehemently denied the allegations. But there were so many women. They had so many stories—all unique, yet all troublingly similar. In July of 2016, under pressure from Rupert Murdoch and, more notably, Murdoch's sons, Ailes resigned. He received $40 million from Fox as part of his exit agreement.
This, too, is part of Ailes's legacy. Not just the alleged harassment, but the fact that we know of that alleged harassment. His legacy now includes the women—women who spoke. Women who resisted. Women who fought back.
Shelley Ross, a former producer at Fox, recalled a lunch Ailes took her to the day after she accepted her job with the network. During it, she claims, Ailes asked her, "When did you first discover you were sexy?" When she replied that "I am finding this conversation very embarrassing," her new boss persisted. "He continued to explain," she recalls, "how much he believed in loyalty and how much he believed the best expression of that loyalty comes in the form of a 'sexual alliance.'"
Gretchen Carlson, for her part, using a trick Ailes himself had used on employees and external reporters, recorded her boss telling her things like, "I think you and I should have had a sexual relationship a long time ago, and then you'd be good and better and I'd be good and better" and "I'm sure you can do sweet nothings when you want to."
Andrea Tantaros, a Fox host until 2016, recalled Ailes telling her that her body "looked good" and that "I bet you look good in a bikini." He also told her, she said, that the reason for her recent breakup with a long-term boyfriend was that "You use men."
Megyn Kelly, in her memoir, wrote that "I would be called into Roger's office, he would shut the door, and over the next hour or two, he would engage in a kind of cat-and-mouse game with me—veering between obviously inappropriate sexually charged comments (e.g., about the 'very sexy bras' I must have and how he'd like to see me in them) and legitimate professional advice."
Other women at Fox remembered Ailes asking them a litany of personal questions, ostensibly to expose vulnerabilities that he might exploit later on. "He asked, 'Am I in a relationship?'" one woman recalled. "'What are my familial ties?' It was all to see how stable or unstable I was."
"Roger had made sure I knew the stakes, telling me: 'I don't like to fight, but when I do, I fight to kill.' The message could not have been clearer: 'If you tell anyone, I will destroy you.'"
"He asked me to turn around so he can see my ass," one Fox contributor remembered.
"He told me that if he was thinking of hiring a woman, he'd ask himself if he would fuck her, and if he would, then he'd hire her to be on-camera."
"I was nervous about going into his office, concerned he might start in again. Sure enough he did. And then he crossed a new line — trying to grab me repeatedly and kiss me on the lips."
"He hated her and would tell people that she was 'a crazy, vindictive bitch.'"
What's striking about the stories is the way they merged manipulation with harassment of a more physical strain, the way they played on dynamics of power and rank to diminish the women in Ailes's orbit. What's even more striking, though, is the simple fact that the stories were revealed in the first place. Ailes, in another time, in another environment, in another place, might have succeeded in harassing and threatening and manipulating women, with no consequence or accountability. He might have, in the manner of a Scooby-Doo villain, gotten away with it, too.
But Ailes, in the end, had aged into a new context—one in which women have access to recording devices, and in which, through the internet, women have access to each others' stories, and in which, in general, women have had enough. Secrets, now, have a way of getting out. The sins of the past have a way of becoming the scandals of the present. Women today have more ways than ever of fighting back. They will not be silent, or silenced. That, too, is Ailes's legacy.