What Protest Songs Sound Like in the Trump Era
The first 100 days of the new administration have seen a boom in political music—though not all of it has invoked the president's name.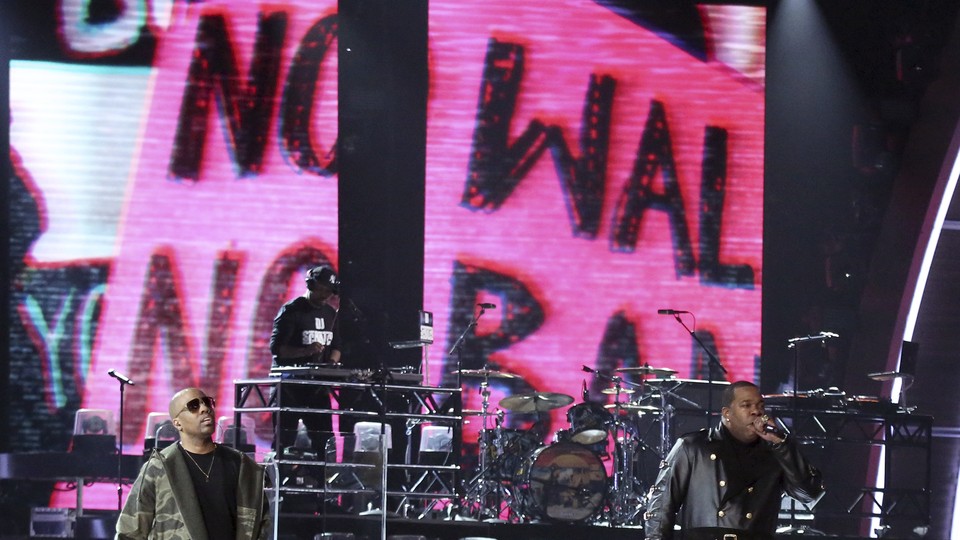 "Requiem for 2016." "Burn Your Money." "I Know YOU Know You're Evil." Glancing down the list of tracks released for "Our First 100 Days," a daily song project by and for those unhappy during Donald Trump's early months in office, and the titles would seem to promise pointed speeches or singalongs. Is it a let-down, then, that all of the song names above are for instrumentals? As the relaxed breakbeats of one such instrumental, "Vacuum Life" by the Sylvan Esso spinoff Made of Oak, boomed from my speakers, I told a friend who had just walked in that I was listening to a compilation of songs against Trump. "Maybe the chords are spelling out something about the electoral college," he cracked.
Though the left-leaning music world has stayed active and loud since Trump has taken office, its recent efforts often break with common expectations about what "political music" is—as, to an extent, such efforts always have. When recently asked about the state of protest music, Joan Baez replied, "People are waiting for a 'We Shall Overcome,' they're waiting for another 'Blowin' in the Wind' and 'Imagine.' Hasn't been written yet." She's right that people often wish for a new smash anthem of uplift, resistance, and unity, and she's right that there isn't one, quite yet, for the Trump era. But the call for new protest music is nevertheless being answered in ways large and small under one of the most disliked incoming administrations in American history.
Last year's presidential campaign spurred plenty of well-publicized anti-Trump sounds, from the mobilization of pop stars for Hillary Clinton to indie rock's Trump-taunting "30 Days, 30 Songs" project to YG and Nipsey Hussle's popular diss track "FDT (Fuck Donald Trump)" to Fiona Apple's lewd ditty for the Women's March. A slew of albums recorded during election season but released afterward have drawn attention for speaking to liberal angst:  A Tribe Called Quest's righteous celebration We Got It from Here ... Thank You 4 Your Service, Run the Jewels's profane protest Run the Jewels 3, Gorillaz's doomsday party Humanz. Katy Perry has gotten nebulously woke; Lady Gaga at the Super Bowl went for nebulously unifying. On Inauguration Day, Quasi's Battle Hymns compilation had lo-fi rock luminaries singing sly resistance slogans; check out Mac McCaughan's "Happy New Year (Prince Can't Die Again)" for a particularly catchy example.
The "Our First 100 Days" project has particularly stood out for demonstrating the range of forms "political music" can take. Hosted by the independent music platform Bandcamp and organized by the indie-label powerhouse Secretly Group and the nonprofit Revolutions Per Minute, it delivered a new song for each of Trump's first 100 days in office to subscribers who'd paid $30. Proceeds went to The People's Climate Movement, abortion-rights advocates All Above All, the immigration nonprofit Cosecha, and the LGBTQ organization Southerners on New Ground. Content-wise, it wasn't 100 anti-Trump songs per se. Many of the bands involved contributed demos, remixes, or older unreleased material whose thematic tie to current events was loose or non-existent.
But the crop of 2017-specific songs that arrived through the effort didn't play coy. Sean Watkins's strummy and sad "Kool Aid" aired "a collective what the hell," harshly questioned Trump's supporters, and featured clips of the president on such topics as "2 Corinthians." Glen Hansard affixed Woody Guthrie's "Vigilante Man" with a new verse about the president's wall-building efforts and affection for extra-legal force. Tim Heidecker deadpanned about the comeback of Cold War anxieties for "Trump Talkin' Nukes." Into It, Over It spun a narrative about watching election results last year the same day the band visited a concentration camp in Germany.
But just as fascinating was the way that the context of politics could give vaguer songs a new air of specificity. PWR BTTM's "Vacation" sounds like it's a tale of drinking to forget an ex, but it now could be about drinking to forget the headlines. Mas Ysa's bustling bedroom-electronica piece "Face" addresses a tough-talking liar in another personal story with possibly political overtones. The aforementioned instrumentals, especially Tilman Robinson and Luke Howard's "Requiem for 2016" and Strand of Oaks's "I Know YOU Know You're Evil," summon the dread their titles imply. EMA's "Stand With You (Song for Ghostship)," written to mourn the deadly Oakland concert-venue fire of December, has the refrain, "you shouldn't have to decide between being safe and being free." My favorite of the batch might be Bill Fay's "Shame," whose wistful, engulfing piano rock meditates on wide-scale sin: "You could cry forever / For the crimes of mankind against anyone."
Cover songs have also demonstrated how old messages can be given new charge in the political moment. "Our First 100 Days" finished with Phosphorescent redoing Woody Gurthrie's "This Land Is Your Land," an egalitarian cry so continually resonant that even Lady Gaga thought to use it at the Super Bowl. Okkervil River's take on Washington Phillips's 1927 gospel blues song "Denomination Blues" was a reminder of the long-running strain of protest in spiritual—especially black spiritual—music. Briana Marela gave Leonard Cohen's "There Is a War" a serene update, re-surfacing Cohen's reminder of an eternal battle between the rich and poor. More surprising than any of those: Mitski turning One Direction's "Fireproof" into a roar of resilience, and How to Dress Well injecting near-defeated fragility into Sheryl Crowe's "Strong Enough."
Hip-hop has, meanwhile, continued processing the world with its inherently political lens. Kendrick Lamar's new album is partly a clapback at Fox News types who condemn the genre, but it's also a document of Trump-era liberal self-doubt and complicity. Snoop Dogg's cartoonish video with a Trump-esque clown did what it seems pop culture can accomplish with this president more than any other: provoke a response. Another rap video, Kodak Black's "Tunnel Vision," one of the most popular of the year, made an even more unflinching statement: In it, a white man in a "Make America Hate Again" hat attacks a black man, who then starts to strangle him with an American flag.
The older icons of political music haven't been silent either. Bruce Springsteen showed up on Joe Grushecky's "That's What Makes Us Great," delivering the straightforward rallying call that some pundits have craved: "Love conquers hate," Springsteen and Grushecky bellow over galloping guitar and drums that could easily slot after "Born in the USA" in an arena set. Joan Baez, too, attempted to provide the great protest song she says is still needed. Her new track "Nasty Man" is wistful in mood but blistering in its condemnation of "a man gone wrong," "a future dictator," with "dangerous pathological disorders." Four million people have viewed it on Facebook.
But have any of these efforts broken through in a significant way? Are any reshaping discourse, inspiring new marches, getting widely bumper-stickered? These might be the wrong questions. Now as much as ever, music is tribal; now as much as ever, music is best suited for expressing that which can't be said. Bandcamp-users perhaps aren't being persuaded toward a new viewpoint by "Trump's Talkin' Nukes" but they could be getting some solace and, perhaps, energy from it. Kodak Black's video isn't meant to get Trump's base to think again—it's meant to get across the musician's viewpoint to his listeners, and it does so effectively. To the extent that concrete gains that activists might desire can be achieved through music, it is happening through efforts like the "7-Inches for Planned Parenthood" series, which is enlisting musicians, comedians, and visual artists to raise money for an organization threatened by Trump's agenda.
The recent Trump-inspired song that's been in my head the most has been Entrance's "Not Gonna Say Your Name," both for its effectiveness on its own and for the way it sort of sums up music's often less-than-straightforward role in resistance efforts. Mostly in a cappella, the Los Angeles psych-rock singer Guy Blakeslee reads the riot act against Trump and vows to continue opposing him. "I'm sick of your name, I've heard it enough / I'd rather not hear it anymore / But you're wrong if you think we can look the other way," he sings, setting up the conceit of addressing the president without naming him. Not all anti-Trump songs take this approach, of course. But many share the conviction that music can address issues in ways that aren't as explicit as a protest sign.