Nick Cave Is Still Looking for Redemption
The musician's new compilation album Lovely Creatures reveals a longstanding fascination with fables of doom and salvation.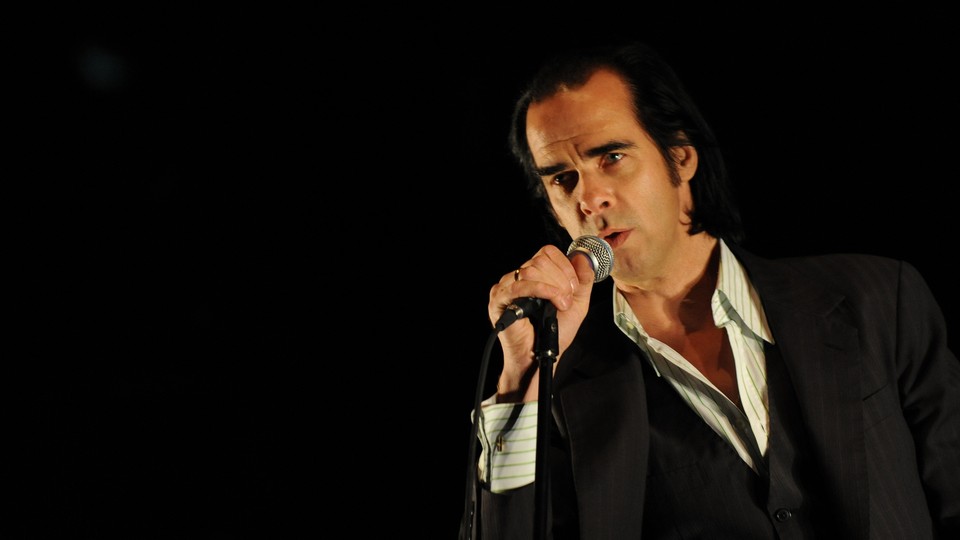 For someone who's been relentlessly pegged as a doom-and-gloom merchant for the majority of his lengthy career, Nick Cave perseveres. As early as the '70s, when he sang blatantly about suicide with his first group The Boys Next Door, the Australian-born bandleader has trawled the darkest depths of the human soul, first with the post-punk gang The Birthday Party and then, since 1983, with his longest-running concern, Nick Cave and the Bad Seeds. With a voice like the moan of the wind through tombstones, he's spent decades evoking an atmosphere of decadence, profanity, and damnation. In his 21st-century side project Grinderman, he even trafficked in garage-rock sleaze.
But if one thing is spelled out on Lovely Creatures—a new, career-spanning collection of Bad Seeds songs out Friday—it's that Cave's artistic survival has had just as much to do with redemption. The 21-track set (although a longer deluxe version is also available) covers his output from 1984 to 2014. The songs on Lovely Creatures aren't sequenced chronologically, but listening to them in order of release reveals Cave's impressive arc as an artist. As a well-curated whole, they also offer a comprehensive overview of the Bad Seeds' violent highs and delicate lulls.
The 59-year-old Cave grew up a choirboy in Australia. By his teenage years, he was a juvenile delinquent. His father died in a car accident when he was 19, and soon after he turned to heroin. It would be too simple to draw a line through these events and connect them to the transgressive subject matter he settled into by the time he moved to London with the rest of The Birthday Party in 1980. Yet that band's lurching, abrasive music suggest how haunted Cave was. He began honing his hellish croon when the Bad Seeds rose from the ashes of the Birthday Party in 1983. Rather than funneling punk aggression, his new ensemble drew from a deeper wellspring. Everything from folk to gospel to blues seeped into the Bad Seeds' sound, filtered through an orchestral flair for drama and a deconstructionist's sense of experimentalism.
That gleeful mutation of song structure rears its head on 1984's "From Her to Eternity," the first track on Lovely Creatures. With the then-recent recruit Blixa Bargeld of Germany's preeminent industrial-noise collective Einstürzende Neubauten in tow, Cave and his Bad Seeds craft a one-note paean to sexual obsession wrapped in nerve-shredding claustrophobia. "I know it must sound absurd / But I can hear the most melancholy sound I ever heard," Cave gibbers as he listens to the possessed woman in the apartment above him, a demon eavesdropping on the world of the living. In his twisted scenario, "absurd" and "melancholy" are vast understatements. As the tension builds to a frenzy of frustrated lust, bursts of static punctuate the drone like escaping steam.
The psychosexual energy of the Bad Seeds' early work gets redirected into even more harrowing avenues on Lovely Creatures songs such as 1985's "Tupelo" and 1988's "The Mercy Seat." In the former, the birth of Elvis Presley is given a mythological spin, as if he's the second coming of some dark savior born "on a concrete floor" and in "a cradle of straw" in Mississippi. The song's bluesy pulse is nowhere to be found in "The Mercy Seat," a feverish account of a convicted killer in the electric chair who experiences visions of biblical grandeur. Over spiraling violin and the heartbeat of a drum rhythm, Cave chants about "A throne from which I'm told / All history will unfold." One of his signature songs, it was covered by Johnny Cash in 2000, proving just how elemental and universal its meditation on justice, vengeance, and spiritual revelation has become.
Moving into the '90s, Cave gradually grew more intimate in his storytelling. From thunderous jeremiads concerning heaven and hell, he zoomed in on matters of the heart, bending his gift for metaphor inward. A good chunk of Lovely Creatures sums up this transition. "The Ship Song," released in 1990, is a keyboard-drenched plea for a lover to "come sail your ships around me." Even Cave's voice, previously an implement of menace, takes on a forlorn and inviting tone. From a bonfire to a simmer, Cave assumes the skin of a classic singer-songwriter in the vein of Leonard Cohen.
Lovely Creatures' shadows deepen on the pensive "Straight to You"—but the longing and loneliness give way to absolution. Cave still found time for the perverse sensuality of "Loverman" and its spine-tingling couplet, "There's a devil waiting outside your door / And he's bucking and braying and pawing at the floor." But by the time 1997 rolled around, a time when Cave was reeling from the breakup of his romantic relationship with fellow alternative-rock icon PJ Harvey, he was delivering piano ballads like "Into My Arms," a song that blends tenderness, gentle blasphemy, and the ache of broken love.
Cave's transformation from post-punk bogeyman to timeless songsmith couldn't have happened at a better time. While his contemporaries—Bono, Morrissey, Robert Smith of the Cure—settled into a comfortable middle age around the turn of the millennium, Cave again pushed the boundaries of his music. "Love Letter" from 2001 is Lovely Creatures' unabashedly sweetest song, as well as Cave's most emotive vocal, a Sinatra-level lament suffused with rainy-day strings and softly tickled ivories. He still rocked—2004's "Nature Boy" races along with romantic abandon—but he shifted toward a more cinematic style.
Cave and his fellow Bad Seed Warren Ellis also began scoring films, including the 2009 adaptation of Cormac McCarthy's The Road, and Cave even started writing for the screen, penning the script for 2005's The Proposition. Songs from the Bad Seeds' past popped up in movies too, including Harry Potter and the Deathly Hallows—Part 1, which featured the morbid, beautifully strummed "O Children," one of Lovely Creatures' most compelling tracks.
The use of Cave's quintessential song by the BBC show Peaky Blinders, however, has breathed the most life into a Bad Seeds classic. "Red Right Hand" was originally released in 1994, and its employment as a TV theme hasn't diminished its power. The song is the centerpiece of Lovely Creatures, a slinky, Faustian fable that's more than a little reminiscent of Tom Waits. "He's a god, he's a man / He's a ghost, he's a guru," Cave coolly snarls, and as is so often the case with his protagonists, it's hard not to imagine these diabolical figures looking an awful lot like Cave.
The Bad Seeds witnessed the departure of two of their most prominent members, Bargeld and multi-instrumentalist Mick Harvey, in the 21st century. This spurred Cave to all but reinvent the band with his main collaborator Ellis in time for 2013's Push the Sky Away. Three tracks from the album appear on Lovely Creatures. Of them, "Higgs Boson Blues" is the most stunning. Clocking in at almost eight minutes, it's a study in minimalist Americana with a European backdrop, a Neil Young-like dirge that ties the uncertain reality of particle physics to the ancient mysteries of love, faith, and death. Oh, and in the process, he manages to namecheck Miley Cyrus and Hannah Montana.
Death hovers palpably over the Bad Seeds' early work, but feels more like a literary device by the time Push the Sky Away rolls around. It's as if Cave, after so many years of grimly reaping the fruits of his ghoulish image, had decided to let death fade to the background in favor of life's rich palette. That changed tragically in 2015. In July of that year, Cave's son Arthur fell from a cliff and died near the family's home in England. Cave's struggle with the ensuing grief is documented on a pair of releases from 2016, the documentary One More Time With Feeling and the album Skeleton Tree—the latter being a staggering work that defines loss on cosmic terms.
Nothing from Skeleton Tree made it onto Lovely Creatures, which makes sense, seeing as how the studio album came out just eight months ago. Still, the new collection forms a vivid mosaic of the artist, even without his latest, most confessional material. In a way, it's a reminder of the broad range of Cave's voice, lyricism, and themes. Sure, he sings of debauchery and decay, of temptations and end times. But as heard throughout Lovely Creatures, the choirboy in him may still yearn for some kind of salvation—even if it's more artistic than religious. "The more I write, the more detailed and elaborate the world becomes," he says in 20,000 Days on Earth, a 2014 documentary about his life and creative process. As dark as Cave's music has often been over the years, it's just as apt to illuminate.