'Throw It in Their Faces': Artists Grapple With North Carolina's 'Bathroom Bill'
While some musicians have boycotted the state, Mykki Blanco, Michael Stipe, and Talib Kweli are among those using Moogfest as an opportunity for protest.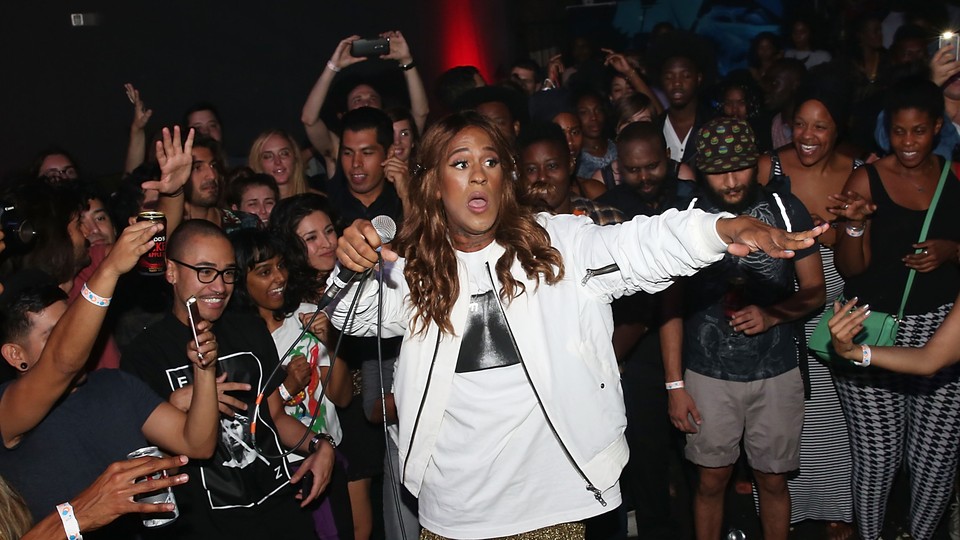 DURHAM, N.C.—How do you throw a festival devoted to futurism and progressive music in a state that's a poster child for socially conservative policies?
That question faced the organizers of Moogfest, an annual four-day gathering, this year. The festival relocated to Durham, an increasingly hip city with a growing tech scene, last year after stints in New York City and Asheville, North Carolina. The location had long been set when the North Carolina General Assembly met in March and hastily passed H.B. 2, commonly known as the "bathroom bill," overturning local LGBT non-discrimination ordinances and mandating that transgender people use the bathroom corresponding to the sex on their birth certificate.
Within hours of last year's festival concluding, Moogfest announced it would return to Durham, but H.B. 2 loomed over the 2017 festival. So did the Donald Trump campaign, which not only included the candidate's aspersions toward Hispanics, Muslims, and other groups, but also the increasingly strident and open white-nationalist community that emerged during the race. The campaign, of course, culminated in Trump's election. The president won North Carolina, but was trounced in Durham, as well as in nearby Raleigh.
So Moogfest embraced the moment in its planning for 2017 festival, which runs through Sunday—its organizers made protest a central theme. The theme runs throughout the festival, but is most prominent in a special "protest stage," which will feature artists including Talib Kweli, the Syrian wedding-singer-turned-international-dance-star Omar Souleyman, and the British DJ Bearcat.
Another figure on the stage will be the gender-bending rapper Mykki Blanco, who grew up as Michael Quattlebaum Jr. in Raleigh, which along with Durham and Chapel Hill is often referred to as the Research Triangle.
"Growing up in the Triangle, you realize that the Triangle is this bubble, okay," Blanco told me from Lisbon this week. Still, "you kind of just assume the rest of the state is that way too. To be quite honest, I think the bathroom bill … was surprising to everyone, because North Carolina has always had this image of at least having more gentility. That's the kind of behavior you would have expected from South Carolina, or from Mississippi. All of a sudden on the national news North Carolina was looking like Alabama in 1965, you know what I mean?"
That sense led many musicians to join major companies as well as the NBA and NCAA in boycotting North Carolina. High-profile acts, from Bruce Springsteen to Ringo Starr, announced they would not play scheduled dates in the state. For local artists, a brief spiel denouncing the law and Governor Pat McCrory, the Republican who signed the H.B. 2, became practically obligatory. (Since the November election, when McCrory was voted out of office, Trump has been subbed in as an object of derision.)
The boycott is a time-honored tactic for artists, but it remains a controversial one. A pair of Raleigh writers organized an effort called "North Carolina Needs You," which sought to convince artists to come to the Old North State as a way of drawing attention to the law, suggesting they instead donate proceeds of performances to progressive nonprofits. Laura Jane Grace, the transgender lead singer of Against Me!, burned her birth certificate during a performance at Motorco, the same venue that will host Moogfest's protest stage.
Michael Stipe, the former frontman of R.E.M., is, like Blanco, an openly queer artist. And like Blanco, he is a Southerner, from Athens, Georgia. Stipe said he was skeptical of boycotts in part because of conversations with a friend who grew up in Apartheid-era South Africa.
"No one would come and play South Africa because of apartheid," Stipe said. "What they were left with were these really cheesy, shitty—it was really bad bands, only bad acts. As a teenager and someone who also shares my political views and attitude, it was really unfair to her and to her friends that they were not able to experience these—the whole punk rock movement was something that they experienced pre-internet, just as almost cargo cult."
At Moogfest, Stipe is premiering his first solo composition, a multimedia work that serves as eulogy to his friend Jeremy Ayers, a one-time member of Andy Warhol's Factory crowd who was an animating force of the Athens scene. Stipe filmed Ayers and three other friends dancing to a basic beat in an empty studio. He then went back and edited down the footage and composed music to match the ups and downs of their performances. After Ayers's death late last year, but long after agreeing to premiere the installation at Moogfest, he decided to use a single, sometimes rough, camera angle.
"There were some awkward camera moves, there are moments where he kind of falls off the screen, there are moments where he comes back in, he doesn't quite know what to do," Stipe said. "He's kind of laughing at me, or with me. He's a little bored at one point. He catches his breath at one point. There are all these very human moments in there."
Stipe said he never hesitated about putting the show on in North Carolina. "I feel quite the opposite," he said. A close friend of Stipe's was offered a teaching job in the state shortly after the bill passed, he said. "I kind of sat down with him and said, 'Are you sure you want to do this?' And his attitude was, 'Well, who better than me to be there?' You can't boycott an entire state full of people because some of its leaders have absurd policies or ideas of what should or should not be."
Blanco said he felt the same way.
"Of course it makes me want to perform in North Carolina even more," he said. "It's like, yeah, throw it in their faces. You're not going to bring us back 30, 40 years ago."
Still, the idea of a protest stage has vexed some observers, who worry that's window-dressing. Writing in Indy Week, the local alternative newspaper, in February, Allison Hussey wondered skeptically, "Is Moogfest trying to join the corporate masses seeking to cash in on bleeding hearts, or is the festival genuinely committed to effecting change in its home state?"
The local tie-in may have lost some of its urgency, at least on the surface, in March, when, just over a year after H.B. 2 passed, the General Assembly repealed the law in part. The deal between Governor Roy Cooper, a Democrat, and Republican leaders in the legislature was enough to convince the NCAA, among others, to bring events back to the state. But activists both in North Carolina and outside were disgusted with the agreement, which, among other things, prevents cities from passing new LGBT anti-discrimination regulations until 2020.
"I don't think you can compromise on civil rights. You can't compromise on people's dignity," Grayson Haver Currin, a founder of North Carolina Needs You, told me at the time.
The idea of a protest stage is, of course, rather abstract: How cohesive a theme can protest really be, especially when the targets of that protest are more implied than stated? And does it matter how the artists performing there see themselves? Talib Kweli, for example, is outspoken on sociopolitical issues. Souleyman, by his very presence as a Syrian in America at this moment, is political, but he does not speak about politics. Blanco straddles the divide.
"To be honest, I think I am not a political artist," he said. "Because of everything that I was about when I first came until now, my identity politics have defined the messages that I have tried to use my platform to communicate as political."
Indeed, my colleague Spencer Kornhaber recently wrote that the very act of a man performing in woman's clothing is an act of protest today: "The early months of the Trump presidency have seen drag flourish as a form of political critique."
The fact of being political simply by existing once grated on Blanco, he said.
"I used to feel really angsty because I felt it was really unfair that I couldn't just be carefree and that I couldn't just make music and have people not tie it to me being a queer artist, or to think that every single thing I do is trying to make a statement," he said. But Blanco believes he's paved the way for genderqueer artists in the future, and says the things that made him taboo are now, he says, mainstream. Gay marriage is the law of the land. Transgender rights are a major national topic of conversation. The use of nontraditional pronouns hardly raises an eyebrow in most settings. Now Blanco doesn't stress so much about how his actions are viewed.
"Now, I don't really care anymore," he says. That's a form of protest too.