Michael Jackson's Final Tragedy, Told Gently
Lifetime's Searching for Neverland mourns the exploitation of the King of Pop before his death—but there's an uncomfortable irony to the project.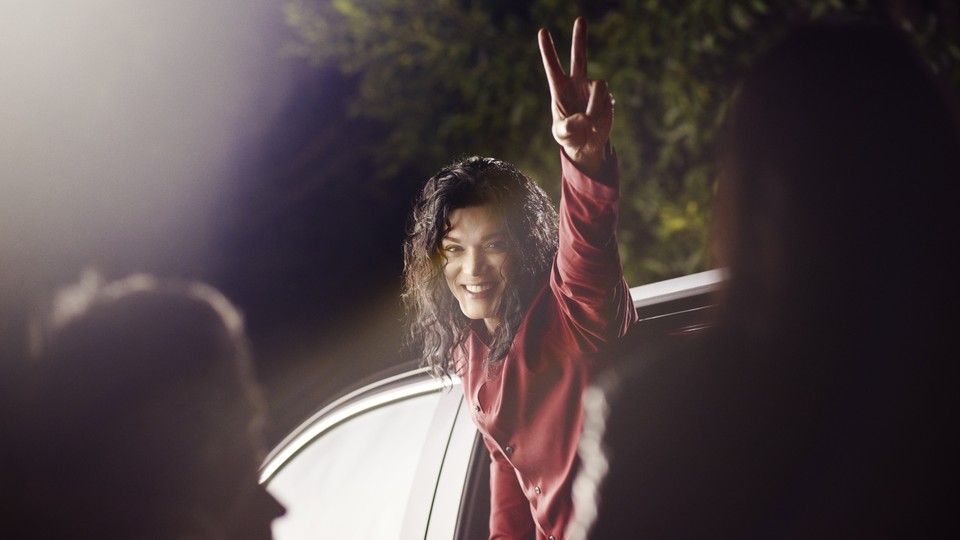 With an event as seismic and salable as Michael Jackson's death, the eight-year anniversary also means it's time to rev-up for the 10th-anniversary—which is to say that the next few years will see a stream of new and unauthorized Jackson-related content. The controversial Sky Arts TV episode in which Joseph Fiennes was set to play one of the most famous black people to ever live, canceled in January, was just the start of what is sure to be a fraught era. In the pipeline: a Netflix animated movie about Jackson's pet chimpanzee and a film about a Muslim cleric obsessed with Jackson. This Monday brings Lifetime's Searching for Neverland, a scripted biopic that portrays Jackson's final years while demonstrating the tensions that necessarily surround all such projects.
Based on the memoir written by Jackson's bodyguards Bill Whitfield and Javon Beard, Searching for Neverland stars Navi, a Jackson impersonator so dead-on that the King of Pop allegedly used him as a body double from time to time. As is typical for Lifetime biopics—the network has portrayed Britney Spears, Whitney Houston, and the cast of Saved by the Bell in recent years—the subject (or in this case, his estate) has not sanctioned the project. As is also typical, the movie (directed by the TV veteran Dianne Houston) is a visually workmanlike, episodically structured look at the perils of fame that will offend few but enrapture only devoted fans.
The story begins in 2006, with Jackson and his three children returning to the U.S. from Bahrain, where they'd been staying following his acquittal from child-molestation charges. The move to Las Vegas, we're told in title cards, was in hopes of landing a casino-concert residency for him. Before we meet Jackson we meet Whitfield, a single dad in the private-security industry who is determined that future gigs won't take away from time spent with his daughter. This goal will not be met. The shrouded skinny man he escorts from the airport turns out to be Jackson, who then hires him on the spot as permanent bodyguard—one of only two full-time staff members, the other being the nanny.
Jackson's world as portrayed here is intensely cloistered. In flash-forwards to depositions of Whitfield and his eventual back-up Beard after Jackson's death, investigators ask the bodyguards what people were regularly in the star's life. The answer: almost no one other than his staff, his mom, his kids, and the fans assembled outside the gate. Other Jackson family members materialize only occasionally in the film, demanding money or unwanted audiences with the artist. Friends, we're told, were sufficiently scared off by Jackson's scandals that he couldn't get anyone to show up for his daughter's birthday. And public excursions were nearly impossible: Jackson's use of code names and masks when leaving the house come to seem less like eccentricities than necessities, given the stressful scenes at the mall and on the street of fans and paparazzi swarming with violent intensity.
The title of the film refers to Jackson's belief that Neverland, his famed theme-park-like ranch, had been "tainted by evil" thanks to his legal saga. "We can't ever go back to Neverland," he's seen telling his kids, who repeatedly beg that they all return "home." Jackson wanted to find them a new and better home, and eventually viewers see him fall in love with a sprawling $55 million Las Vegas property that he imagines turning into "Wonderland." The dream wasn't to be: Though the pop star was rich on paper, he had little control over his finances, according to Whitfield and Beard. Jackson's manager Raymone Bain, and later his new confidante Michael Amir Williams, are presented as self-interested manipulators, ignoring Jackson's request that his bodyguards be paid promptly and hassling him to sign contracts for strenuous gigs that he doesn't want to do. It gets to the point where the Jacksons are crashing in the modest suburban New Jersey house of a friend; Jackson, Whitfield says, was more or less homeless.
The exact contours of the events leading up to Jackson's death are left hazy here: Whitfield and Beard say they were marginalized by Williams in the final months, and the infamous Dr. Conrad Murray, eventually charged with involuntary manslaughter in Jackson's death, appears only in one brief scene. The stated aim of the movie isn't to portray Jackson's demise but rather to humanize him as a father and man, which it does dutifully in scenes of familial movie nights, squirt-gun fights, and birthday parties. Navi does look the part, and he plays Jackson with the otherworldly earnestness that fans admired in him (though he sometimes sounds like he's cycling through accents). Whitfield and Beard stick around even as they stop being paid, and though their frustrations mount, they continue to profess loyalty to Jackson. The closest the film gets to criticism of the star himself is a lengthy and striking scene of him, clearly addled by substances, going on an extravagant shopping spree at FAO Schwarz even as his guards are owed backpay.
Jackson's estate has issued a statement distancing itself from the movie, but all involved have insisted the point of the film is to bolster his legacy. "I didn't do this project from a business point of view," Navi has said. "I do this project from my heart, from a Michael Jackson fan's point of view." The actor Chad Coleman, who plays Bill Whitfield: "There's nothing salacious here. … this project is something that I believe will allow his fans to be able to properly grieve the man." They seem earnest in their avowals to do right by Jackson, and Searching for Neverland is indeed a gentle portrayal, propping up Jackson's image as a devoted family man ill-equipped to survive the demands of fame. Nevertheless, the irony of this project and others like it is unmissable. Jackson's life was commodity, whether he wanted it to always be or not. Searching for Neverland mourns the exploitation of him in his final years; its very existence also, necessarily, exploits his final years.