Johnny Depp Can't Escape His Own Superstardom
Facing reported financial problems and allegations of abuse, the once-bankable star now seems stuck in franchise hell with no obvious exit.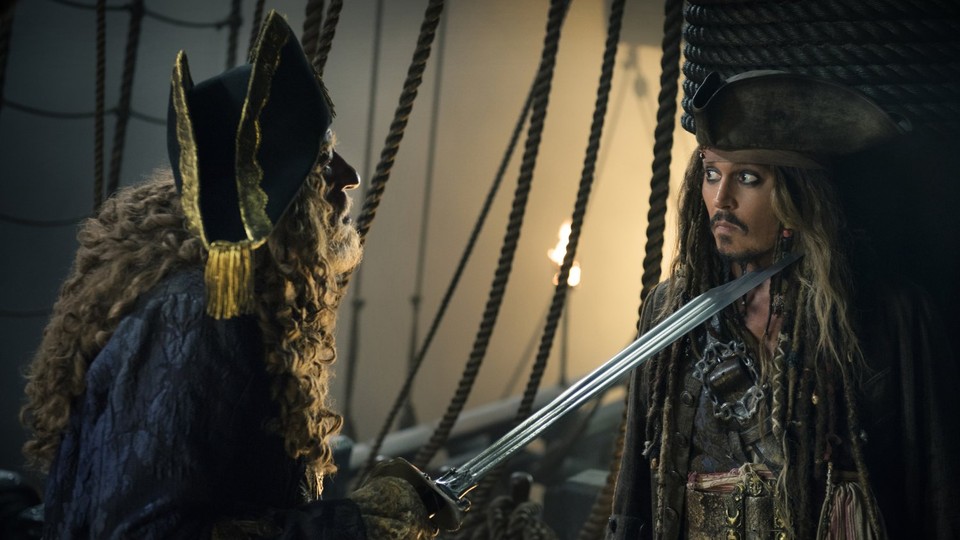 When Johnny Depp sailed onscreen in 2003's Pirates of the Caribbean: The Curse of the Black Pearl as Captain Jack Sparrow (to this day, a memorable superhero entrance), it was his first-ever appearance in a summer blockbuster. He'd been in surprise wintertime hits (Edward Scissorhands, Sleepy Hollow), well-regarded Oscar players (Donnie Brasco, Chocolat), and, of course, many a cult classic (Fear and Loathing in Las Vegas, Ed Wood). But the idea of Depp headlining a big-budget, mainstream franchise film was alarming enough to Disney's then-studio head Michael Eisner that he protested, on seeing early footage, that Depp was "ruining the movie!"
Fourteen years later, Disney is serving up a fifth Pirates of the Caribbean, this time subtitled Dead Men Tell No Tales, budgeted at a cool $230 million. Since bursting into international superstardom with the first Pirates, Depp has become increasingly reliant on mega-budgeted action films and broad comedies. At the same time, his public profile has collapsed after his now ex-wife Amber Heard accused him of domestic violence during their divorce, and stories emerged of the mega-budgeted lifestyle that had somehow mired Depp in deep financial trouble despite his movie earnings.
It seems that Depp is stuck in an endless cycle of trying to recapture the delight that came with his entrance in that first Pirates of the Caribbean, cashing gigantic studio paychecks to keep whatever financial demons he has at bay, and looking for the next big hit to propel him back into the hearts of the viewing public. Despite negative reviews (including one from The Atlantic's own Christopher Orr), Pirates' success is basically assured due to the franchise's huge popularity overseas—the last entry, 2011's On Stranger Tides, was similarly derided but made $1 billion worldwide (more than 75 percent of it internationally).
As a result there will, at least for the next few years, still be the opportunity for Depp to cash in as much as he wants. But with each tentpole movie, he gets further and further away from the idiosyncratic charm that helped him make him stand out in the first place. Beyond that, he seems to have entirely lost his grasp on what made him such a magnetic screen presence in the first place. In the original Pirates, he found an angle (18th-century pirate-as-rock star) that felt fresh, funny, and inventive. In the fifth, released Friday, he seems completely disconnected from the performance, hitting his marks and saying his lines (and wearing his iconic costume) with all the energy of someone waiting to clock out for the day.
After the unexpected success of Pirates (it was a word-of-mouth sensation that opened big and dominated the entire moviegoing summer in 2003), Depp continued to mix smaller indie work into his repertoire even as his stardom grew. He was helped by the fact that he'd been a part of the Hollywood churn for some 15 years, getting his big break on the TV show 21 Jump Street and collaborating with directors like John Waters (Cry-Baby), Jim Jarmusch (Dead Man), and, of course, Tim Burton (with whom he has made eight films). Before Pirates, he had only seen one film make more than $100 million—Sleepy Hollow in 1999.
As a marquee idol, Depp saw even his smaller projects (the thriller Secret Window, the dark musical Sweeney Todd) become hits, racked up three Oscar nominations, and made two family-friendly films with Burton (Charlie and the Chocolate Factory and Alice and Wonderland) that were worldwide smashes. Though his first return to the Pirates franchise (Dead Man's Chest in 2006) got mixed reviews, it still earned a fortune, while Depp's performance as J.M. Barrie in Finding Neverland received critical acclaim. Films like Public Enemies (2009), a collaboration with the director Michael Mann in which Depp played the notorious John Dillinger, felt like the perfect way to translate his superstardom into something interesting.
Depp broke up with his longtime partner Vanessa Paradis in 2012, and then embarked on a relationship with Heard, his co-star in 2011's The Rum Diary; they would marry in 2015 and break up a little more than a year later after a reportedly tempestuous romance. Depp contested Heard's allegations of verbal and physical abuse during their divorce, but shocking pictures showing Heard's injuries from an alleged domestic incident were then published in People Magazine. Depp nonetheless pressed on, publicly denying all of Heard's accusations and signing on for several major film franchises, perhaps in an effort to dig himself out of his widely reported financial hole.
Along with Pirates, he's now a part of the Harry Potter universe, revealed as the villainous Gellert Grindelwald at the end of Fantastic Beasts and Where to Find Them (a sequel, in which he will star rather than just cameo, begins filming in July). He's a part of Universal Studios' planned "Dark Universe," a conglomeration of monster pictures beginning this June with The Mummy (Depp will play The Invisible Man). He recently made Alice Through the Looking Glass, a sequel to Alice in Wonderland, reprising his role as the Mad Hatter, but it was a critical and commercial bomb. The same went for his 2015 comedy Mortdecai, which tried to invent a new persona for Depp to subvert (this time, the upper-class British toff).
As long as Disney is willing to commit another $250 million-plus, there will be a sixth Pirates film (and Depp will assuredly be involved); there are plans, too, for more Fantastic Beasts beyond the second. Each of these films brings a multi-million dollar paycheck, but also pulls Depp away from the independent, quirky spirit that defined him as a performer for so many years. At the moment, Depp might benefit from keeping a low profile, biding his time and finding the kind of original project that could actually capture moviegoer attention rather than offer a series of diminishing returns. But whether because of financial necessity or the actor's workaholic drive, that possibility seems more remote than ever.