Is Trump Breaking Saturday Night Live?
The show's latest episode featured a lot of little jokes—but very few big ones.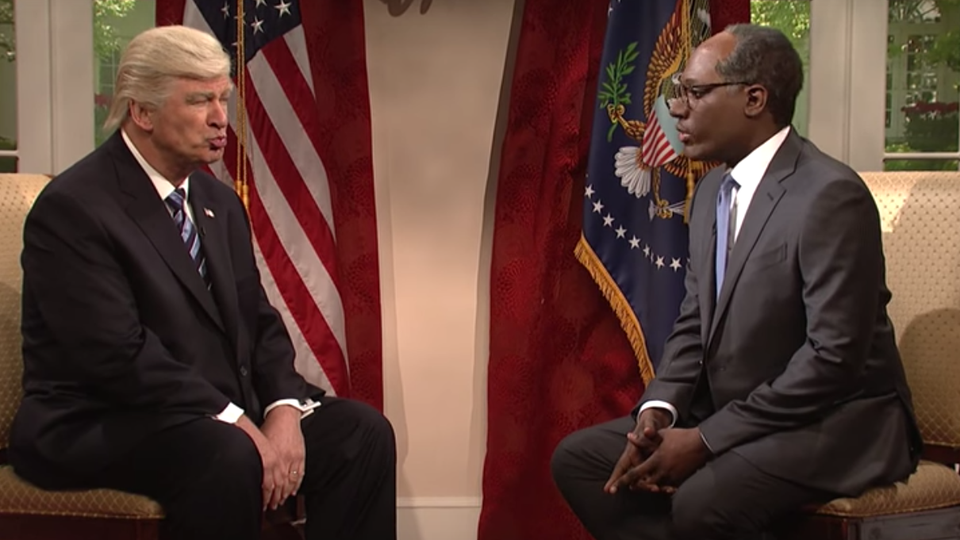 The cold open of this week's episode of Saturday Night Live featured a reimagining of the interview that Donald Trump gave last week to NBC's Lester Holt. Here is an incomplete list of the news items and general observations SNL referenced in that sketch:
- the loyalty oath that the newly inaugurated President Trump
is reported to have demanded
of then-FBI director James Comey, shortly after the former's inauguration
- the
viral eye roll
Anderson Cooper gave, this week, to Kellyanne Conway
- President Trump's seeming admission, during his
actual interview with Holt
, that he fired Comey because of Comey's Russia investigation—which might seem to open him up to obstruction of justice charges
- the "bonkers" candidates who are under consideration to replace Comey
- Judge Judy
- the unfavorable "optics" of Trump's meeting with the Russian ambassador, Sergey Kislyak, the day after he fired Comey
- Paul Ryan's seeming eagerness to do the bidding of President Trump
- historians' and other commentators' comparisons of President Trump to President Nixon
- the recent back-benching of Kellyanne Conway
- Trump's assertion, in an interview with
The Economist
, that he
coined
the longstanding economic phrase "priming the pump"
- Trump's obsession with having won the election
- Trump's having lost the popular vote
- Trump's having bragged, before an appearance on
Access Hollywood
, about sexual assault
- Trump's tendency to breathe heavily into microphones when giving speeches and interviews
- Trump's tendency, according to
SNL
, to "sit on every chair like it's a toilet"
It was … a lot. It was essentially a play-by-play recitation of the week's actual news events, with some light editing. The result was occasionally funny, but much more often overwhelming. There was one exceptional moment in the segment: "Nothing matters? Absolutely nothing matters anymore?" Michael Che/Lester Holt asked Alec Baldwin/Donald Trump, after the president seemed to admit to having obstructed justice during his interview (and after the journalist realized that the revelation would likely have no consequences). And it was a great line: smart, sharp, eviscerating. But it came in the middle of what amounted to a work of comedic stenography. "Every single day is something nuts," Che/Holt told Baldwin/Trump, at the end of their interview. "Your presidency is like the craziest show on TV, and it's on 24 hours a day, and we can't keep up."
He's right: It is hard to keep up. But satire at its best can keep up—or, more specifically, it is capable of zooming out to find the deeper jokes and truths that are lurking within the news. The best satire can both see the forest for the trees and find creative ways to make fun of the forest. But while SNL is certainly capable of that panoramic vision—absolutely nothing matters anymore is both clarifying and morosely funny—much more often, the show loses itself among all the trees. It, like so many in the media and in the country, seems to be having trouble keeping up.
Take the other tentpole sketch of this week's SNL: show host Melissa McCarthy's much-anticipated return as presidential press secretary Sean Spicer. That McCarthy would be the host on Saturday was especially fortuitously timed, given how much news the press secretary himself managed to make last week. And McCarthy offered up her typical, comically combative interpretation of Spicer in a sketch that revolved around the rumors that have been circulating this week, in Washington and elsewhere, that Trump might fire the press secretary.
Here, though, is an incomplete list of the news items and general observations SNL referenced in that sketch: Steve Bannon; Vladimir Putin; Spicer's repeatedly being sent out to lie to the press on behalf of the president; the Bible; the scene from The Godfather II in which Michael gives Fredo the kiss of death; the joke made by Stephen Colbert the week before, about Trump and Putin, that led to calls to take him off the air; the president's observation that "when you're a star, they let you do it"; the dietary choices of the New York Times reporter Glenn Thrush; the fashion choices of the White House deputy press secretary Sarah Huckabee Sanders; a small detail from a Washington Post story about the firing of James Comey, which noted that Spicer had hidden from reporters among bushes on the White House grounds; a nod to the time the press secretary tweeted out what seemed to be his Twitter password; a nod, via that crescendo'ed kiss between "Trump" and "Spicer," to Politico's reporting that the president, who seems to value both swagger and maleness, was enraged at the idea of his press secretary being portrayed by a woman.
It was all, again, a lot. And it was all, again, strikingly stenographic. There were a few good jokes in there, certainly—a Spiced-up McCarthy, glaring at reporters from within a row of plastic hedges, is automatically hilarious—but did they offer much beyond empty laughs? Not really. Instead, SNL offered up a mix of deep cuts (one of the dolls "Spicer" used while describing U.S./Russia relations with a set of Russian nesting dolls was painted to resemble Slimer—a nod to McCarthy's having starred in last summer's reboot of Ghostbusters) and jokes that were, on the flip side, not deep at all: Spicer aiming a fire extinguisher at the crotch of a White House correspondent, yelling "liar, liar, pants on fire." Spicer telling Thrush, "You stink Glenn, you stink. You stink bad." Huckabee Sanders introducing herself to the reporters she is briefing by saying, "My father is Mike Huckabee and my mother is a big Southern hamburger." The Orbit-loving Spicer eyeing a hunk of pre-chewed gum on a New York City street, lifting it to his mouth, and popping it in.
A lot, once more … and also not a lot at all. The cliché about Trump, in the world of comedy, is that the president makes true satire extremely difficult: What can comedians add, observation-wise, to this man who is, in so many ways, larger than life? And the cliché about Trump, too, in the world of the news media, is that the president makes journalism itself extremely difficult: There is so much news, so many contradictions, so much chaos.
SNL, as both a comedy show and a distiller of news for the American public, seems to be succumbing to those two challenges at once. It's deriving a lot of its humor from simply repeating what Trump has said and done, through the puckered mouth of Alec Baldwin. It's often simply summing up the news, rather than finding new truths about it. And it's often simply repeating the low-stakes lols of the Internet: the Spicer-in-the-bushes meme, the gif of the eye-rolling Anderson Cooper, etc. The cold open of last week's SNL, an episode that was otherwise noteworthy for the amount of time it spent featuring its host, Chris Pine, in song, was a deep cut of a decidedly media-centric variety: It featured "Joe Scarborough and Mika Brzezinski"—the pair, in real life, had just announced their engagement—flirting on the set of Morning Joe.
Lol? Kind of? But also: It could have been so much more. Last year, Malcolm Gladwell made an argument against the kind of satire that Saturday Night Live practices. He pointed to Tina Fey's famous portrayal of Sarah Palin. He called it "toothless." His argument wasn't fully convincing, in the end—some have attributed the outcome of the 2008 election in part to the SNL-shaped public perception of John McCain's running mate—but its message was salient nonetheless: There's more to comedy than good imitation. There's more to satire than simple stenography. Many Americans are looking to late-night shows, fairly or not, to help them make sense of the world; in that environment, jokes about the president's tendency to "sit on every chair like it's a toilet" may be good for a "heh," but they're not going to do much beyond that. As Colin Jost remarked, at the start of SNL's most recent "Weekend Update": "I know we think this every week, but this week was crazy." It was. But we already knew that.