Pussy, the First Trump-Era Novel, Is a Brutal Satire
The author Howard Jacobson, whose new book is a fairy tale inspired by the 45th president, calls writers to arms.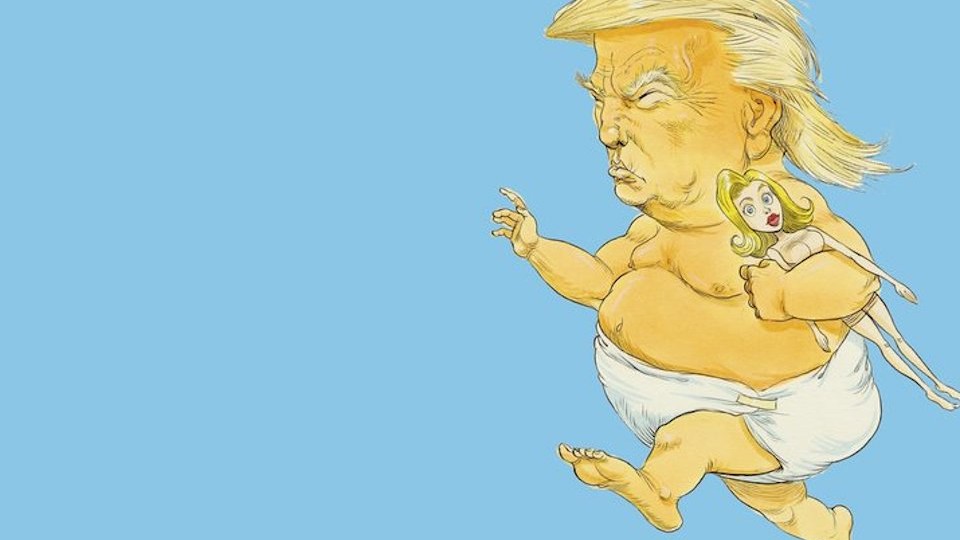 For the British author Howard Jacobson, there was only one word that would function as the title of his newest book, a fantastical satire about a truculent, egomaniacal, moronic, and entirely charmless child who ascends to a position of enormous power. Pussy is the story of Fracassus, the second child and heir apparent to the "walled Republic of Urbs-Ludus." His father, the Grand Duke, is one of the winners of a political hierarchy in which developers occupy the highest ranks of society, their towering skyscrapers obliterating daylight for the masses who live at ground level. Over the course of the book, Fracassus's parents and tutors attempt to groom him for adulthood, despite the fact that he's virulently opposed to learning anything new, and convinced of his own perfection.
Jacobson began work on Pussy, a distinctly Swiftian kind of parody, within mere hours of the news that Donald Trump had been elected President of the United States. In the wake of Brexit, Jacobson had been brooding over the idea of writing about the failures of democracy, and such a decisive victory for populism in the U.S. compelled him to write what he describes as "an odd little fable" digesting the news. What alarmed him the most about Trump, Jacobson says, wasn't even Trump himself, but how determined so many people were to see greatness and virtue in him. "It's the mystery," he says, "of how people are able to see something when there's nothing there."
Jacobson won the Man Booker Prize in 2010 for his novel The Finkler Question, about a radio producer who becomes obsessed with wanting to be Jewish. His most recent book before Pussy was 2016's Shylock Is My Name, a modern retelling of The Merchant of Venice. He lives in London and spoke with me by phone. The interview has been edited and condensed.
---
Sophie Gilbert: The title of the book is such a loaded word. What made you choose it?
Howard Jacobson: I knew it was going be called Pussy within about three minutes. It just seemed to be that there was nothing else I could call it. I normally take a long time finding titles. I finish the book and go into sweats for months afterwards trying to think of them. I work on a mezzanine floor in our apartment, and I remember shouting down to my wife, not even two hours after I'd started writing, "I'm writing, I'm working, and I've got the title!" And I shouted the title down, and our house was very quiet, very still. She wasn't sure. My agent said, "People aren't going to want to buy it, and shops aren't going to want to stock it." I said, "I don't care. I don't know if this book's any good, but I do know it's got to be this title."
I actually imagined that all across the English-speaking world, other novelists were writing books similar to this, getting it off their chests, out of their systems, writing about words. This has been as much a war about words and language as anything else. And I thought they'd all be calling it Pussy, because what Trump said was so memorably inept. That empty boasting, that famous moment, was so interesting because it's not how men talk. I don't know much about locker rooms, but I know what it's like to be with a bunch of men talking vulgarly about women, I can't pretend I don't. But not like that. It was so childish. You almost want to say, this is a man who's had no experience with women at all. That naive quality he gave the word—I thought, I've got to have that.
Gilbert: When did you become aware that Trump was on the horizon?
Jacobson: I was in America in April last year for Shylock Is My Name, mainly in Washington, New York, and Boston. And at night, when you're through, you haven't got the strength for anything but settling back in the hotel and watching television. And I watched Trump every night. I became Trump's intimate. My wife and I just stared at the television, and thought, is this comedy, is this tragedy, what is this? We assumed it was comedy because this fool of a man, the most foolish person we'd seen in our entire lives, was somehow commanding the attention of the whole world. I kept saying to myself, why am I watching this? And I think that question's in Pussy at some point, the idea of the anti-charisma factor. You watch because you can't understand why you're watching. You watch because it's as though nothingness suddenly has its own power.
Gilbert: The book, to me, seems less an indictment of Fracassus, or Trump, than of the culture that produced him.
Jacobson: This book, whatever it is—this satire, this fable, this parable—it's all sorts of things really. I decided I was never going to make up my mind what it was and I was just going to do it. And maybe that's a sin against the aesthetics of satire but I didn't mind at the time. I wrote it like a diary, day by day, as things dawned on me about the significance of what had happened. People keep saying you can't satirize Trump because he's beyond satire, but it's not difficult to just let him out and let him walk upon the stage and say his own words. But that wasn't my first interest. The thing that interested me much more than Trump himself was, how does this come about?
The night of the election, I went to bed having thought, I'm not staying up to watch, it's not necessary. And I woke up in the middle of the night with the sensation of a goblin sitting on my chest. Something malevolent, something malign, was sitting on me, stopping me from breathing. My wife and I looked at each other, and we said, either someone in the family has died or something terrible has happened. And we turned on the radio. I started writing within four hours of it being announced that he'd won the election.
Gilbert: Why a fairy tale? I read that you first wrote a fairy tale at university.
Jacobson: You're probably too young to remember, but [in 1959] there was a famous academic argument between the critic F.R. Leavis, who was my teacher, and the sage and novelist C.P. Snow. I don't heroize people but I heroized F.R. Leavis, whom I'd gone to Cambridge to be taught by. When the whole world attacked Leavis for attacking Snow, I thought, I have to defend him. I put out this pamphlet with some friends called "The Ogre of Downing College." There wasn't time to do a serious study. But I was studying, at the time, Swift, and Dryden, and Dr. Johnson, who remains one of my favorite writers, and I loved Rasselas, which wasn't quite a satire, but it was a moral fable. I quite fancied inhabiting that moral vein in which you can high-mindedly make large declarations about the meaning of life, and half laugh at yourself for being so high-minded, which is what Dr. Johnson is very good at. And so I did that at the time, laughing at myself for being so high-minded about F.R. Leavis but at the same time wanting to defend him for what seemed to me absolutely unfair attacks on him. And with Pussy, that just seemed to be, again without really thinking about it, the mode that I fell into.
One thing I knew I was not going to write, because I don't know enough, was something that Philip Roth might have written, or Gore Vidal, or Norman Mailer. No doubt these books are being written now all across America, these grand novels that investigate what's brought American politics, the Republican party, to this pass. I knew I couldn't do that, and the reason for making this a fable was that I didn't want it to be set in America, and I don't feel I've written a book about America. I call it Urbs-Ludus. It's a trivial place that—it seems to me, as an incorrigible moralist—we all inhabit, in which we overvalue money and high buildings and casinos and vulgarity and triviality and celebrity and all the rest of it. Those are my targets, really.
Gilbert: The process of following Fracassus through childhood and young adulthood seems like a kind of interrogation of where someone like Trump comes from. Was that your intention?
Jacobson: Yes. I saw a criticism of the book somewhere where someone was asking why I'd given Trump a dynasty, when it's Hillary [Clinton] who's got the dynasty. But it's not the same. The kind of dynasty he comes from is the dynasty of money, and money put to brutal and vulgar ends, at least from the little I know about his father as a builder and a landlord with a bad reputation. It seemed to me that that's part of what his father would have bequeathed to him, and would explain why he knows so little about anything else. And his mother, she's just invented out of nowhere, and that's really the other part of his inheritance, which is culturelessness, and the world of celebrity. I grew quite fond of her in a way, writing about her. But she's lost in her world, reading children's books.
I wanted to suggest a culturally disinherited man. You said something earlier about how maybe I feel warmer to Fracassus than I do to the culture [that produced him], and you might be right, because I'm not sure I'd say this about Trump, but Fracassus hasn't got a chance. He's born disinherited. Nothing can be passed down to him from the world from which he's grown, his mother, father, or the circumambient culture, nothing.
Gilbert: You mentioned a hesitation with regard to tackling American politics. Did you have any concerns about tackling a figure who's so extremely American?
Jacobson: Well, yes. I was also conscious of the fact that Americans might very well say, "Thank you very much, we don't need you telling us." But I don't feel I'm doing something specifically American. This disinheritance I'm describing is very much a contemporary disinheritance in England as well. People said and believed terrible things during our Brexit debates. Although nothing I saw resembled that moment in Nevada where Trump said, "I love the uneducated!" I thought that was an extraordinary, seminal moment. They all cheered, cheered their own uneducatedness.
In the hands of a different leader that could have been a moment where he said, "I love you all, I don't scorn you for being uneducated, I don't have any of Hillary's contempt, you're not deplorables. I love you, whoever you are, but I don't want you to be uneducated, and I will see to it under my presidency that you will be educated." But he loved the state of their uneducatedness, he revered it. He himself is pugnaciously, aggressively uneducated. He hates education, he is the enemy of it, and he wants the people to feel that way, and to whip them up into this aggressive, philistine hatred of anyone who knows anything.
It reminded me of all the writers that America has produced who said this was going to happen. From Melville onwards, from H.L. Mencken to Ambrose Bierce and Sinclair Lewis and all those novelists and essayists who said American democracy has such vigor and strengths that it could end up being its own worst enemy. There's that famous quote that everybody has been using since Trump has been in power, that Mencken quote about how one day the American public will have its will and will adorn the White House with a downright moron. As if this has been coming, and it's part admiration and part fear of what the sheer power of American democracy, its numbers, its capacity for aggression could do.
Gilbert: In this moment you're talking about, where knowledge is often seen as something to disdain, do you feel like artists have a responsibility to respond?
Jacobson: To my surprise, I do want to say that, yes, because I've always argued that a painter or musician or novelist or artist has no responsibility to anything except his work. I've never particularly liked reading political books. If this were just politics, if this were just a war going on over here between the Tories and Labour or over there between the Democrats and Republicans about how to govern a country, then I'd say let artists go their own way. But it's not. It's a cultural phenomenon that's going on. This suspicion of knowledge, this suspicion of understanding and wisdom. And particularly this misuse of language.
This is something that should concern writers—when we lose respect for words, when we think words don't matter, when we say it doesn't matter how Trump talks, that a leader isn't obliged to be an orator or poet, when we don't grasp the importance of language, and what language leads us to, and what language protects, and how language helps us to think and how without words we have nowhere to go. You can't form an idea unless you've got the words to form an idea with. I'm not saying we should all be writing whatever it is I've written or versions of it, but it is a kind of call to arms. What's happening here, in America, in Poland, in France, and maybe Germany, is a concern for all of us if we care about what art is for. Not to be fancy, not to be elitist, not because we want our leaders to be particularly articulate. We just want to feel that they have the language to escape from bigotry. Because if you don't have the words then you're stuck.
I was fascinated, all those weeks I spent watching Trump, how often the narrowness of his language mirrored or created a shrinkage of national horizons. How often he'd whip the crowds up to say slogans of smallness and confinement. "Lock her up." "Build the wall." Making America this tiny, fortified place. America First. Making America great again, as if to keep the world out. The world and all its fresh ideas and everything that's new and exhilarating and the wind of change that should blow through the world—block it out, wall ourselves up. That for me goes with a small vocabulary. A narrow, confining vocabulary. Which itself creates narrow, confining views of things. And so you stop there with your own bigotry, your own prejudices.
Gilbert: It does seem like people are heeding this call. There's your book, there's Ali Smith's Autumn, and Salman Rushdie's new book. It feels like this could, conversely, be an intriguing moment for art.
Jacobson: I think so. It might be that after a period in which there hasn't been quite so much in the external world of politics for artists to address, suddenly there is. There's a danger in getting excited about this though. I remember when at first we were discovering what had been happening in Czechoslovakia and Eastern Europe, when glasnost happened and the walls came down I remember lots of people saying, if you've got a dictatorship it's very good for art because it creates something for you to kick against. But I'd much rather not have a dictatorship in the first place.
I don't think any of us in America or England can talk about dictatorships just yet, but you don't know what may come. And a dictatorship of the proletariat is also frightening, which is very much what Pussy is about. In England, the big catchphrase here now is "the will of the people." And if you dare say anything that reflects ill on the Brexit decisions and things, then you're not trusting the will of the people. It's such nonsense, this idea that the will of the people is sacrosanct. Nobody who's thought about politics or democracy over the thousands of years that people have been thinking about democracy hasn't come up against the fact that the people will often be wrong. And what do you do when they are? You can't just say, "Well, it's the will of the people."
I did want to think about that in Pussy, so I begin with a little Swiftian thing about how difficult it is to give people advice or warning. And throughout my little book really, it's the people who are the object of the satire.