Better, Slower, Safer Pitching
Throwing is one of baseball's most physically demanding tasks. But the Houston Astros' Dallas Keuchel has mastered a less flashy yet more sustainable style.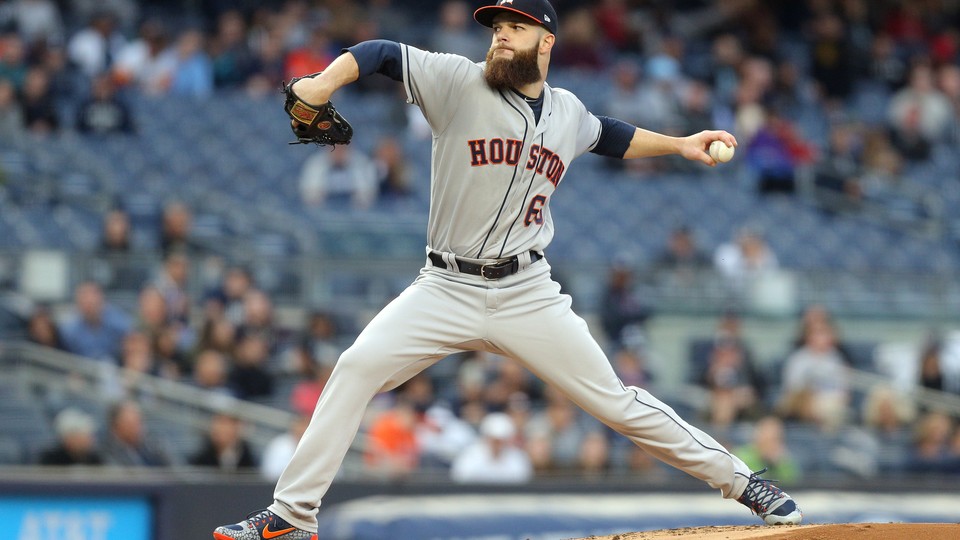 On April 30, the New York Mets' Noah Syndergaard reached a milestone in the life cycle of a young superstar pitcher. He had already played in the World Series and received Cy Young Award votes. He had a catchy nickname—"Thor," after his burly build and flowing hair—and a devoted following. That afternoon, feeling a pain in his side, Syndergaard left his start against the Washington Nationals. He had torn a muscle; he now occupies a spot on the 60-day disabled list.
An injury like Syndergaard's, increasingly, is not the exception but the rule in baseball. Pitchers today throw harder than ever before (Thor's hammer of a fastball clocks in at 98 miles an hour on average), at the cost of increased risk to every tendon, ligament, and muscle involved in their motions. "Shoulder problems, elbow problems, they're all the same," wrote Jeff Passan in 2016's The Arm, a study of the modern rash of pitching injuries. "All the function of men pushing themselves to do something the body never intended it to do."
The "something" Passan refers to is pitching in general, the inherently taxing act of throwing baseballs overhand, but the risks mount for harder, more muscular throwers. Among the most valuable commodities in contemporary baseball, then, are the rare aces who can shut down offenses without rearing back, who dominate but don't strain themselves. These players remind seasoned fans of a bygone era, inducing weak ground balls instead of chasing today's almighty strikeout. Chief among them right now is Dallas Keuchel of the Houston Astros, the best pitcher on the team with baseball's best record. He throws soft, gets outs, and, for the most part, stays healthy. He is a throwback, but he solves a modern problem.
On the mound, Keuchel is Syndergaard's opposite. Where Syndergaard intimidates as he readies himself, staring hard at the batter, Keuchel seems happy to watch and wait. Instead of long hair, Keuchel has a Trappist's beard, and when he finally delivers a pitch, he uses an unstressed delivery: lifted knee, quick step, left arm sailing over the top. Little League coaches could point to him as a model, and analysts swoon. "The guy has mastered his mechanics," said the MLB Network analyst and Hall of Fame pitcher John Smoltz ahead of Keuchel's start last Thursday against the New York Yankees.
Keuchel's pitches, too, distinguish themselves. Today's standard fastball is blistering but wire-straight, its objective not to duck under a bat but to blaze past it. Keuchel's, by contrast, seems sentient. It goes slowly—88 miles per hour is plenty of zip, for him—but warps itself mid-flight. It darts left or right; it drops. Instead of swinging and missing, hitters often do something even more frustrating: knock the ball meekly into the grass, where a Houston infielder needs only to collect it and send it to first for the out.
To a certain type of baseball fan, Keuchel's approach is commendable on an aesthetic basis alone. It exemplifies the difference between throwing, which any California or Texas teenager blessed with a big arm can do, and pitching. In that outing against the Yankees, Keuchel worked six innings and allowed only one run, lulling hitters with a blend of soft fastballs and even softer changeups. The Astros improved to 24-11, and Keuchel earned his sixth win of the season. "He was outstanding," Smoltz said afterward, with a colleague's admiration. It was not the sort of performance that would lead SportsCenter later in the evening, as Keuchel didn't threaten the strikeout record or get close to a no-hitter. What set it apart was that it wasn't mind-blowing, but sustainable.
This sustainability sits at the core of Keuchel's worth to the Astros and, potentially, the sport. All pitchers carry risk, and Keuchel did miss the last month of his 2016 campaign with lingering shoulder inflammation, but even his injuries are old-fashioned. He needed nothing more than a winter's rest—no surgery, no arduous rehab—to be ready for Spring Training. His Zen-like approach to pitching comes complete with a wellness component. The tears and strains that interrupt other careers for full seasons at a time have, to this point, avoided him.
If pitchers like Keuchel are the what's-old-is-new-again answer to ongoing injury woes, the question naturally follows: where to find them? This is where it gets tricky. Finding the next Keuchel may be as tough as hitting a homer off of the current one. The talents of someone like Syndergaard—or his high-octane New York teammate Matt Harvey, or the Washington Nationals' Stephen Strasburg, significant injury victims all—are obvious at the early stages of development. These players throw their tremendous fastballs in high school and college and get selected in the first round of the MLB draft.
Keuchel, on the other hand, emerged from the University of Arkansas as a mystery, or an afterthought. He was picked in the seventh round of the 2009 draft and spent his first two seasons as a Major Leaguer, in 2012 and 2013, as a below-average starter and middling reliever on lousy, rebuilding Houston teams. Only with experience did he learn to locate and sequence pitches, to tamper with the vision and balance and expectation of a batter. In his third year, Keuchel won a Gold Glove award for his ever-ready defense; this was a sign, maybe, of the considered nature of the dominance to come. In 2015, he won a Cy Young Award and led the Astros to their first postseason appearance since 2005. "I have steadily improved over the years," he said at the time, a fittingly understated boast.
An evolution like Keuchel's is almost impossible to forecast—much less so, at least, than the out-of-the-gate brilliance of pedigreed flamethrowers. An understanding of angle and a latent gift for the patterns of pitching are less visible in highlight reels than a 100 mile-per-hour heater. But those obvious gifts come with drawbacks, namely the likelihood that they'll unthread the very bodies that produce them. Keuchel, meanwhile, is the cornerstone of a World Series contender. Where the next Keuchel comes from is of no concern to the Astros. They have theirs. He does his clever thing, and he's a safe bet to keep doing it.