House of Cards Season 5, Episode 5: The Live-Binge Review
Team Underwood cajoles Congress nine weeks after the election.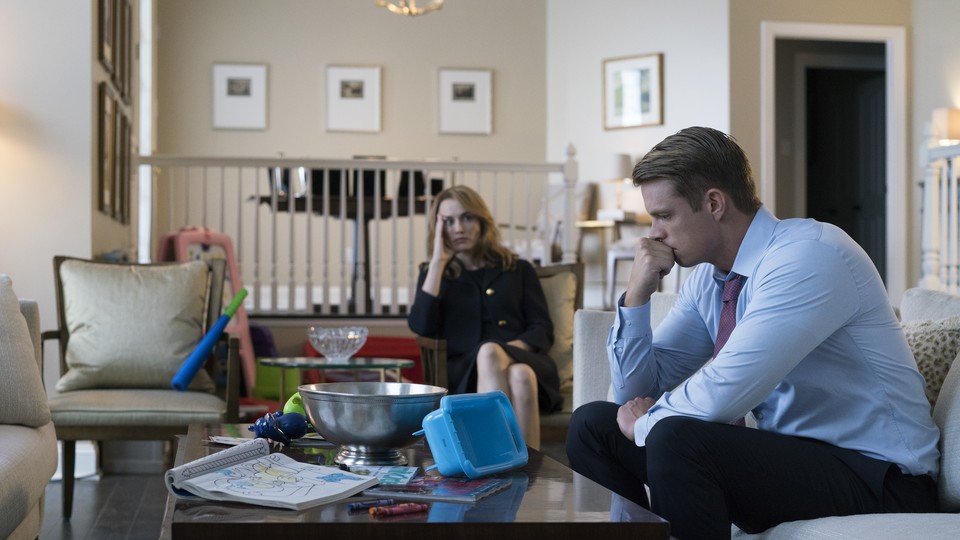 As in previous years, I'm binge-reviewing the latest season of Netflix's House of Cards, the TV show that helped popularize the idea of "binge watching" when it premiered in 2013. Don't read farther than you've watched. (The whole series will appear here.)
Episode 5 (Chapter 57)
Uh oh, Claire's looking into the camera again. Was the ad she filmed at the very beginning of the season some formal foreshadowing after all? Is her lenseward glimpse at the end of this episode another hint of Frank-like monologues to come from the new acting president? In any case, her gasp-worthy scene with Donald Blythe made clear that she is just as nasty as her husband is, contrary to the VP's faux-compliment: "You're not like him." She'll torch a man's legacy to his face and insult his "dumb dead wife." She'll smirk casually when he replies with a variant on "see you next Tuesday." And she'll risk the notion of a split ticket in the White House as a route for her to take ultimate power.
That closing moment with her in the presidential quarters seemed to indicate that her intimidation of Blythe worked and she was selected as veep, placing her temporarily as commander-in-chief while the House remains deadlocked. If that plot development wasn't entirely clear, blame the structure of the episode, which didn't quite spell out the succession rules until very late. Still, it was a fittingly sneaky end for an installment centered on skullduggery and strained trust.
Just count the clashes between supposed allies. Claire and Tom Yates's relationship has become increasingly resentful and stalker-y. Frank had friction with Doug, the man whose murderous past may be coming back to haunt him—and who, as a result of said past, will not tolerate having his loyalty questioned. Doug is clashing with LeAnn, a somewhat gentler but still highly capable frenemy who's whipping congressional votes with him. LeAnn, for her part, is trying to wrangle Aidan Macallan, the computers guru on the lam who is threatening to leak damning information on the Underwoods if the manhunt for him isn't called off. And Seth is receiving information from a reporter that could take down his rival Doug. It makes sense that Team Underwood is being tested so much: The Underwoods are testing their country like never before.
Will Conway is having his own version of these kinds of struggles as he stews in frustration at having won the election but still being denied the presidency. The scene of him seething at his wife was shocking in its display of heretofore unseen harshness: "These people, Usher and Marshall, they're hired hands—they can't be trusted. But you, my darling, my love … " Joel Kinnaman has thus far played Will as genial and focused, but he's now putting on a much more unsettling performance as the character faces mental-health issues as well as political ones. Mark Usher, the turtlenecked campaign operative who's new to this season, remains a perplexing presence. But the more interesting Will-adjacent character to watch is Hannah, Claire's Republican analog, openly hungry for the White House as she tries to protect her unraveling husband.
The episode opening, in which Frank sassily toured national monuments while updating the viewer on the state of the union nine weeks since the botched election, was classic campy Cards. But after the last installment's dark indication of a descent into dictatorship, the rest of this episode merely simmered rather than crackled. Significant amounts of time were taken up with what seem like character-development subplots, such as Doug's tryst with Laura Moretti, the widow of the man denied a liver transplant thanks to Doug last season. The wheeling-and-dealing with regards to the House and Senate vote felt standard-issue—yet more vote trading and blackmail and bribes on this show—though the unreadable progressive congressman Alex Romero did add a hint more mystery.
Most inexplicably, one of the series's most dubious ongoing motifs, Frank's obsession with his Confederate soldier ancestor, got pride of place with the war reenactor Eric Rawlings making a visit to the White House. Frank seemed genuinely jolted when he learned the story of Augustus Underwood's demise was fabricated. But he obviously took careful note of the detail that his great-great-great-grandfather didn't die when people thought he did. Perhaps Frank even had that resurrection tale in mind when told the House had failed to select a new president: "Still alive," he replied.
Previously: Season 5, Episode 4
Next Up: Season 5, Episode 6