Harry Styles Dons the Costume of Classic Rock
The One Direction singer's solo debut is earning him new respect for a dutiful nostalgia trip.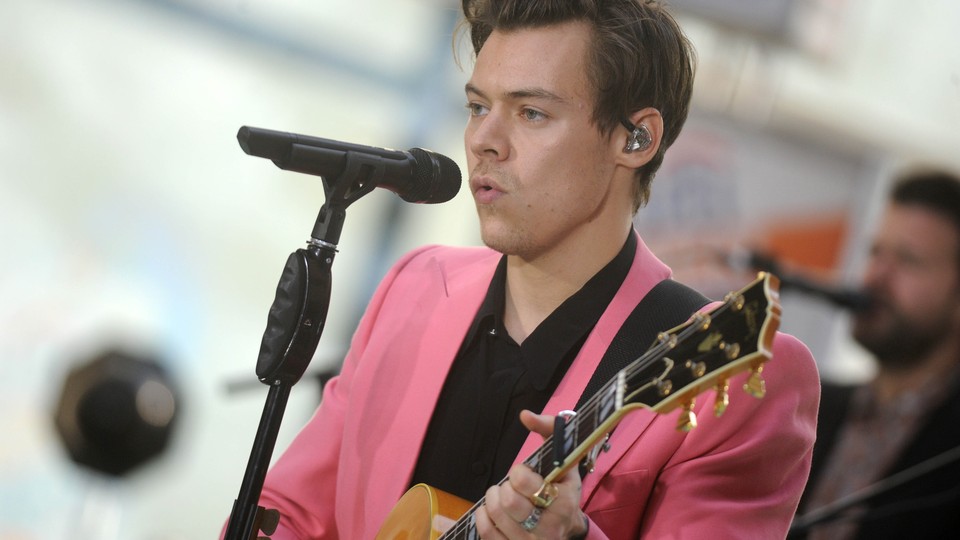 In the recent Rolling Stone cover story on Harry Styles, the ur-rock-reporter Cameron Crowe describes the Jamaican studio where the One Direction member's solo album was recorded as "something like a Caribbean version of Big Pink," referring to the house where Bob Dylan and The Band once collaborated. Another studio Styles used reminds Crowe of the house in The Beatles's Help! It's repeatedly mentioned that Styles grew up listening to Pink Floyd's Dark Side of the Moon. Also of note: Styles dines near Laurel Canyon. He wears sunglasses like Kurt Cobain's. He once gave a carrot cake to Stevie Nicks. Crowe even writes that Styles was born "in true classic-rock form, on a Tuesday Afternoon."
That last line reads as a joke on the emerging narrative that Styles is the second coming of every Boomer-approved guitar god in one. Styles and his team have encouraged these comparisons, with the 23-year-old dressing like Mick Jagger and rewriting Roger Waters lyrics. One result of these efforts is his solo debut Harry Styles, an album whose narrative and whose reference points are more interesting than its songs. Another result is new acclaim or, at least, adult attention. Styles getting a Rolling Stone cover is an achievement One Direction itself never enjoyed, as Maria Sherman notes in Monday's Vulture piece headlined "It's Time to Take Harry Styles Seriously."
One Direction always seemed in touch with rock of their parents' and grandparents' generation, but their approach was cheeky, almost sacrilegious. Songs of theirs could make the listener do a double-take as they subjected, say, the groove of Fleetwood Mac's "Dreams" to the bubblegum machine that quantizes rhythms and polishes melodies into ringtones. Styles now takes a purer approach, in large part thanks to producer Jeff Bhasker and a team of session musicians helping him achieve a remarkable depth of sound. With the whiff of One Direction's artificial flavoring gone, one can better imagine Styles crouched over a guitar in a burnt-out hotel room for the slow songs and leading a band at Max's Kansas City for the fast ones.
Somewhat surprisingly, there's more slow than fast here. The opener "Meet Me in the Hallway" is a psychedelic mood piece, "Two Ghosts" is classic country made for a prom's last dance, the finger-picked ballad "Sweet Creature" requests and has received "Blackbird" comparisons, "Ever Since New York" strums at arena scale, and "From the Dining Table" makes for a despairing, lonely coda. Even one of the rowdier songs, "Woman," features a sour vibe that might short-circuit attempts to shimmy to it. Another rocker, "Only Angel," opens with a lengthy celestial swell that's, frankly, more arresting than the stage-dive bait that ensues. Keeping things mellow may not earn him a song of the summer, but it allows Styles's talents and arrangements to be showcased. It's hard not to be impressed as he spins fragile webs of emotion and then yowls like a jungle cat, or when the guitar makes you think of, say, Bob Weir.
But being impressed isn't the same as being moved. Harry Styles's tracklist is less memorable for its tunes per se than the older, more memorable tunes they bring to mind. The melodic drabness isn't helped by the lyrics, which affix macho cliches to cryptic relationship references meant to bait tabloids and fans: Is the "angel" who's also "a devil in between the sheets" actually Victoria's Secret Angel, and Styles ex, Kendall Jenner? Though the album is littered with substance references ("Holland Tunnel for a nose, it's always backed up"), a friend of Styles's told Crowe "there is more chance of me going to Mars next week than there is of Harry having some sort of addiction." Mazel tov for that, but wouldn't almost anything else be better for lyrical grist than drugs as an empty genre signifier?
Not everything is weightless tribute, fortunately. "Sign of the Times," an epic cliff dive of a lead single, stands out in its catchiness. So does "Ever Since New York," which has a big, wistful chorus that doesn't so much recall classic rock as a recent classic-rock recycler: Fleet Foxes. On that note, the more time you spend with the album the more you might remember that an aughts radio star playing Boomer dress-up is anything but novel at this point. "Kiwi" might want to be an Iggy Pop song but it also wants to be a Black Keys song—and more importantly it wants listeners to forget the existence of Jet.
Similarly, "Two Ghosts" had me replaying and replaying to figure out what its verse tune was making me think of. Then it clicked: Lady Gaga's "You and I," the 2011 country ballad that foreshadowed last year's Joanne, an album a lot more hybrid in its use of guitar music of decades gone than what's on Harry Styles. Gaga's approach of imagining the future while drawing from the past is more interesting than Styles's, but it's also, of course, more susceptible to ridicule in its risk-taking. Styles, meanwhile, has ensured his respectability by staying dutiful in his homages, and plenty of people will be pleased by that. But actual classic status will continue to elude him until he learns the most important lesson from the pathbreakers he so loves and stops playing safe.