End Times at the Met Ball
Much of the country thinks coastal elites are rich, tasteless, and out of touch—and the red carpet seemed to bear that out.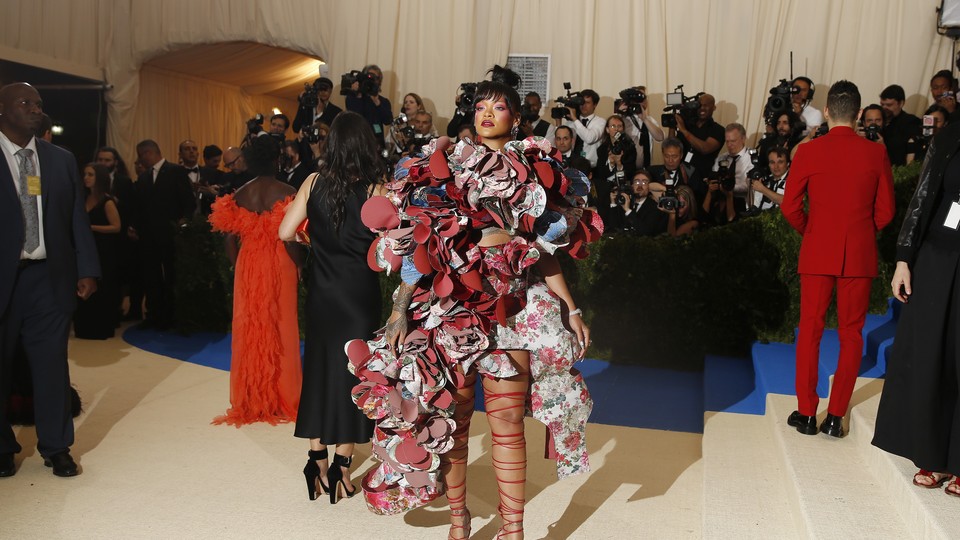 Rihanna once wore something that is now widely referred to as The Omelette Dress—so named for its broad, yellow train that looked very much like a giant, eggy concoction. And so there is certainly precedent for the outlandish, the absurd, the quite possibly awful, when it comes to the Costume Institute fundraising gala at the Metropolitan Museum of Art, better known as the Met Ball.
The Omelette Dress debuted at the 2015 ball celebrating the exhibition China: Through the Looking Glass. It was an unfortunate theme that prompted several attendees to embark on their own Pseudo-Sino Fashion Quests, with deeply troubling results. Sarah Jessica Parker, for example, arrived wearing a headpiece that looked as if she had stolen the lighting fixture hanging above a strip-mall Chinese lunch buffet. It was not a high point in American cultural appropriation or, for that matter, bilateral relations.
But this year's Met Ball—held Monday night and inspired by a Costume Institute exhibition, Art of the In-Between, showcasing the career of avant-garde Japanese designer Rei Kawakubo of Comme des Garçons—was something remarkable in the Annals of the Absurd, an explosion of frippery and shamelessness that recalled late-Weimar or mid-career Mad Hatter in its slavish devotion to peacockery in the face of complex, oftentimes brutal, reality.
In the Age of Trump, when coastal elites have been derided as divorced from the struggles and sacrifices of the rural poor and suburban blue-collar workers, the Met Ball red carpet offered a master class in wanton delusion and preening celebrity.
Rihanna, moving from breakfast-inspired fashion onto lunch stuffs, arrived in what can only be described as a giant ball of salami-like cloth discs (a Comme des Garçons design). Solange Knowles picked up Rihanna's 2015 memo on Sartorial Extensions, and opted for a Thom Browne-designed sleeping bag cocoon with a down-stuffed train that might have doubled as a Slip n' Slide later on in the evening. Priyanka Chopra apparently read the same document and arrived in a trench dress with a train that spilled down the staircase, a sort of Fantastical Inspector Gadget arriving at the scene of so much fashion crime.
Ultimately, those were the practical outfits. Pharrell Williams's wife, Helen Lasichanh, wore a red Kawakubo design that had no armholes in it, prompting comparisons to the Kool Aid Man (NB: the Kool Aid man actually had arms), while Katy Perry chose to drown herself in red tulle with a confusing chrome headpiece emblazoned with the word "Witness," that looked very much like a miniature space satellite — courtesy of Martin Margiela designer (and professed anti-Semite) John Galliano. And then there was Caroline Kennedy, also clad in Kawakubo: a tiered, floral dome that might have best been left to warming a teapot. At least it (probably) had arm holes.
Rei Kawakubo (who, it must be noted, arrived in a white shirt, black skirt and sneakers. Talk about avant garde!) is as much a theorist as a designer, someone for whom clothing is conceptual more than it is necessarily practical, and so a certain level of indulgence must be allowed regarding the sheer lunacy of some of these designs. Moreover, fashion itself is always just a little absurd—and it is not particularly revelatory to deride its more frivolous elements, given that they are, in a sense, a point of pride (that is, the tailoring on a peplum or the weight of a silk or the, uhm, fall of a dress train).
But this year's Met Ball—and indeed most Met Balls in recent history—are not really about the exhibition or the designer, or really even about the industry craft. (Condé Nast Artistic Director Anna Wintour, the chairwoman of the event, didn't even wear a Kawakubo design—instead, she chose a demure number by Chanel. When asked about the last time she wore Comme des Garçons, she responded, unapologetically, "Sometime back in the '80s.") These events are about celebrity, and gawking and hashtags and memes. In the run-up to this year's proceedings, Instagram was blanketed with photographs of celebs getting ready, hashtag #metball, sequestered in various soft-toned luxury aeries as they (or their teams) put the finishing touches on their outfits and reminisced about Met Balls Past.
This conspicuous glamour worship would probably not be so noteworthy if not for the utter hilarity of these particular results: Here was a collection of America's Most Gazed-On, solemnly strutting in a series of highly confusing, multi-thousand-dollar concoctions, apparently unaware of how foolish they looked, and indeed how foolish the proceedings appeared to onlookers beyond the fashion bubble. It was not simply that the emperor had no clothes, it was that the ones he he'd chosen were so terrible. Didn't he know better?
Amid the full body ribbon dresses and the deconstructed tuxedos, the absurdity of what was already a fairly absurd event took on a new level of delusion—coming, as it does, at a moment when the country stands as divided as it has been over matters relating to identity and culture. It is hard to imagine most Americans clicking through the red carpet photographs of the event and feeling as if society's elite was not living in a strange and unsettling alternate universe.
Moreover, many of these red carpet denizens—Katy Perry, Lena Dunham (who wore a Planned Parenthood pin underneath one of the ruffles on her dress), Kerry Washington, Amy Schumer—were the same artists and entertainers who had been on the campaign trail just months earlier, urging voters to elect a candidate who shared their values. And now, apparently, they were wearing shoulder pads on their heads. What kind of values were those, again? This was visual confirmation for skeptical voters that certain people were just not like the rest of us.
But the preening, celebrity self-consciousness on display at the 2017 Met Ball does not exist in a vacuum: America has, after all, elected its first reality-TV-star president, a man for whom social media has become an indispensable organ of statecraft, and who judges his own staff by the "ratings" they get. President Trump proposed to now-First Lady Melania at the Met Ball; the pair, although absent last night, had been regular attendees for many years. The very same voters who resent coastal elites elected a president who appears to thoroughly enjoy the red carpet of the Met gala and has (prior to the election, at least) consorted with the same celebs who are not like the rest of us.
Trump is the figurehead of a culture that has become obsessed with the gilded cage, and the men and women who have the keys to it, whether at Trump Tower or elsewhere. Perhaps there's some sort of sad unity in that reality, a tacit acknowledgment that—though they may differ on whether processed lunch meat is an appropriate sartorial inspiration—Americans mostly agree that it is reasonable to celebrate and elevate the men and women who lead lives much (literally) richer than their own.
If there was a lesson buried deep underneath all those sequins and organza at the 2017 Met Ball, perhaps it was that idolatry is infectious, and that hollow self-regard may very well be a sign of these times.