The Unpredictable Draymond Green
The Golden State Warriors forward is the likeliest candidate to offer a lackluster postseason the dose of raw drama it needs.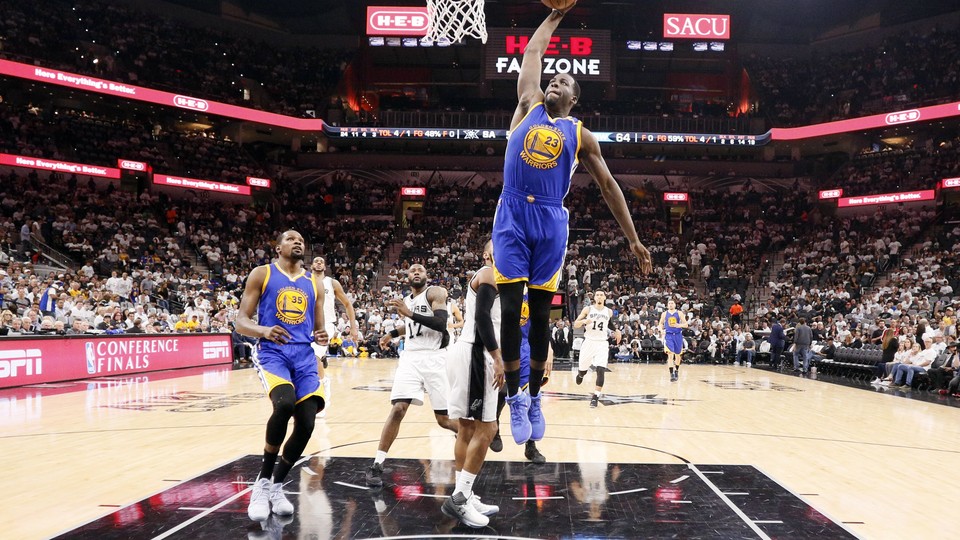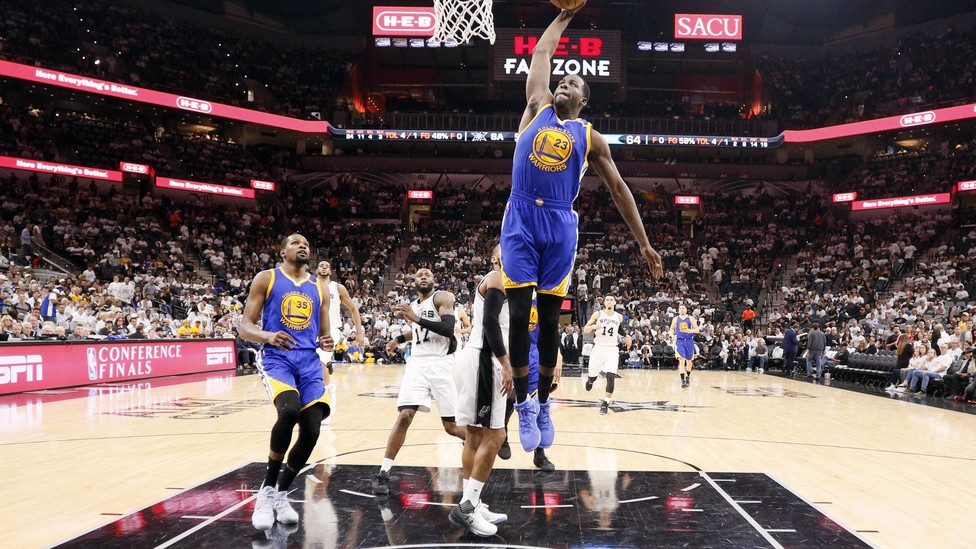 Early in one of the Golden State Warriors' conference semifinal games against the Utah Jazz, Rudy Gobert, Utah's 7'1" center, cut unimpeded toward the basket. The defense had lapsed; all the Jazz needed to do was toss the ball near the rim and let Gobert collect and dunk it. The pass was made, and the dunk was imminent—but then Golden State's Draymond Green appeared. A half-foot shorter than Gobert, with far less leaping ability, Green nevertheless timed his jump, wedged his hand between ball and cylinder, and blocked the shot. He would go on to compile a characteristically assorted stat line—21 points, seven rebounds, six assists, four steals—but that play was his statement of purpose. Even things that looked easy, for Utah, wouldn't be. Not with Green on the court.
ESPN, broadcasting that afternoon's game, had the foresight to outfit Green with a microphone. "Let's get stops and push this thing!" he hollered during one break in play, in a baritone hoarse with overuse. The phrase summarizes Green's basketball worldview. At best, he is the third most talented Warrior; the divine scorers Stephen Curry and Kevin Durant have each won Most Valuable Player awards. It is Green, though, who commands Golden State's defense and summons its urgency. He has the bearing of a bouncer and the mind of a coach; he snares rebounds, leads fastbreaks, and throws down heavy-armed jams.
Green also has what might be called—depending on who you ask—a temper, a mean streak, a case of spiritedness or volatility or downright immaturity. His taste for taunts and hard fouls has gotten him fined and suspended, and his outbursts have sometimes been directed at teammates; he recently screamed over the full length of the court at Curry for failing to get back on defense. On Thursday, the Warriors will enter their third consecutive Finals matchup with the Cleveland Cavaliers as clear favorites, and Green promises to be both the team's engine and its potential wrench. But at the end of an NBA playoff season that has so far stuck dully to script, Golden State and Cleveland breezing through their respective conferences to reach the championship round, Green also promises the unaffiliated fan something invaluable: a dose of raw drama, a version of the sport more recognizably human than the neat proficiency that will surround him.
This year's playoffs have been the most lackluster, and the least competitive, in recent memory. Golden State has not lost any of the 12 games it has played; Cleveland has dropped one of 13. The opening rounds have had the tone of an extended preamble, the Warriors' and Cavs' stars going through a month-and-a-half warm-up routine against negligible opposition. And though the Finals figure to be more closely contested, they also promise to feel familiar to anyone who has followed the last half-decade of professional basketball. Curry will catch the ball and shoot it, with uncanny accuracy, in a quarter-second. Durant will glide across the court to wherever he likes. LeBron James will reprise his role as the most commanding player since Michael Jordan.
If the series is to have an "edge," an undercurrent of hard elbows and trash talk, it will likely be up to Green to provide it. He is trained for the task. In contrast with the ordained superstars listed above, first-round draft selections all, Green dropped to the 35th of 60 picks in 2012; he was thought to be too short to play near the rim and too slow to keep up away from it. He scrabbled his way from afterthought to All-Star by way of an impenetrable self-belief. "He was a leader right away," said Mark Jackson, Green's coach for his first few seasons in the NBA. Steve Kerr, the Warriors' current coach, is more upfront about what leader means, in Green's case: "He talks shit to everybody."
Indeed, to watch Green play is to be aware of both result and process, the all-fronts expertise and the frenetic drive that brought it about. He will sneak a bounce pass through a maze of bodies—on a team of expert passers, Green may be the best and most willing—and then sneer in the faces of the defenders who failed to stop it. He will yell, with some combination of effort and victorious glee, as he pulls down a rebound. He received a technical foul earlier in the playoffs for arguing a call from the bench, after he had been substituted from the game.
Green's tendency to provoke extends beyond the sidelines. NBA players, like all professional athletes, generally shy away from conversation topics that might make headlines, but Green is a mic-happy exception. In February, after a highly publicized confrontation between the New York Knicks owner James Dolan and former player Charles Oakley, Green criticized Dolan's "slave master mentality": "Now all of a sudden when [Oakley] says something that he feels, it's a problem." In April, after hitting the injured wrist of James Harden during a game against the Rockets, Green shed some light on the usually hush-hush strain of vindictive play that runs through the sport: "He pinched me, so I punched his wrist." Following the Warriors' sweep of the Jazz in the playoffs, Green made his way over to some Utah fans who had been keeping a "Draymond Flop Count" tally—charting how many times, in their estimation, he had intentionally fallen down to try to draw a foul—and signed it for them.
Green's most infamous moment came one year ago, in the fourth game of the 2016 Finals. After he fell to the floor and James tried to step over him, Green swiped in James's direction, hitting him in the groin. It was a continuation of a pattern—Green had already kicked multiple players in the same area during the playoffs—and it earned him a one-game suspension. The Cavaliers, down 3-1 at that point to a Warriors team that had won the most regular-season games in NBA history, came back to claim the championship; Green's absence figured heavily in the turnaround.
A misstep like this might have earned other players a ticket out of town, but Green's value to Golden State is so extreme, and various, that such considerations would have been absurd. Though the Warriors lost the seventh and deciding game to the Cavaliers last June, Green reminded everyone watching of his worth, scoring 32 points, grabbing 15 rebounds, and dishing nine assists. This current season has been one long and virtuosic act of recompense, as he has sacrificed scoring to make room for the newcomer Durant while still grounding the Golden State style. Headstrong and selfless, Green issues edicts, finds open shooters, and locks down opposing All-Stars. He was a third-team All-NBA selection this year—the lowest-scoring of anybody with that honor—and he may well win the Defensive Player of the Year award.
The Warriors will need him over the coming couple of weeks, and they will endure whatever trouble he causes along the way. To the league and its fans, though, that trouble is itself a blessing. This year's Finals features a handful of the most skilled players in basketball history, each of whom plays at a genius's remove, their relationship to the court akin to that between generals and battlefields or chess grandmasters and boards. Green, on the other hand, lives for the mess and muck, the hard words and harder forearms that make up the grist of an NBA game. Those generational stars will give this championship round its strategic shape, but Green will bring it to life.