Why Remix The Birth of a Nation?
A live multimedia performance by the musician DJ Spooky considers the 1915 silent film's legacy as a pioneering document in alternative facts.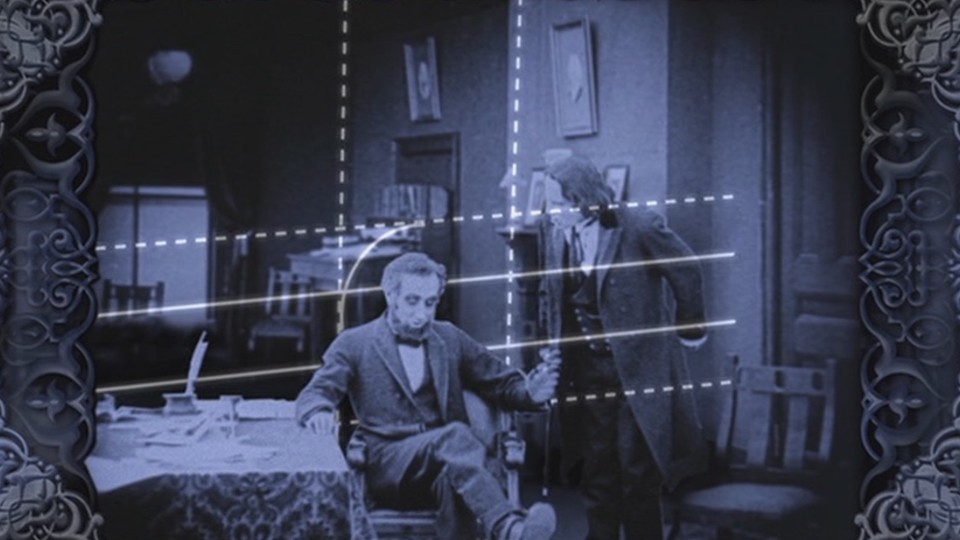 In some dark corners, The Birth of a Nation might be received as enthusiastically today as it was when it debuted in 1915. The silent dramatization of the assassination of President Abraham Lincoln and the rise of the Ku Klux Klan during Reconstruction was the first American motion picture to be screened at the White House, with President Woodrow Wilson and his cabinet in attendance. While violent racism is not tolerated so openly as it was during Wilson's day, vintage white nationalism is making a comeback in the Trump era.
Richard Spencer, the most prominent white supremacist in America, led a group of torch-bearing demonstrators last week to protest the removal of a Confederate monument in Charlottesville, Virginia. During the last month, neo-Confederate alt-right rallies have popped up in Lexington, New Orleans, and other cities, like the opening scenes of a dark reboot of D.W. Griffith's pioneering piece of propaganda. The Birth of a Nation is as relevant now as it has been at any point over the last century.
That's why, on Tuesday, the artist and musician DJ Spooky is performing his own version of The Birth of a Nation at the John F. Kennedy Center for Performing Arts. Rebirth of a Nation, his multimedia reimagining of the silent film, includes an ambitious soundtrack performed live, much as the original 1915 screenings sometimes did. It's a piece that he's staged on occasion since 2004. Now, with the renewed prominence of virulent white supremacy, the themes resonate more strongly than they did just a summer ago, when he staged the piece at Chicago's Millennium Park.
"These things are all heartbreakingly, eerily, part of the contemporary landscape," says DJ Spooky, also known as That Subliminal Kid, or by his given name, Paul D. Miller. "It's not so far in the rearview mirror."
For his performance at the Kennedy Center, the Washington, D.C., native will appear on stage with three screens. He'll be remixing the visuals, manipulating the original film, and adding snippets of touched-up or contemporary video. Miller composed an original score for Rebirth of a Nation to be performed live by two violins, viola, and cello, motifs that he samples and loops with beats to create a sonic soundscape. (Kronos Quartet recorded Rebirth of a Nation with Miller, but for the Kennedy Center performance he will be joined by a D.C. ensemble called Sound Impact.)*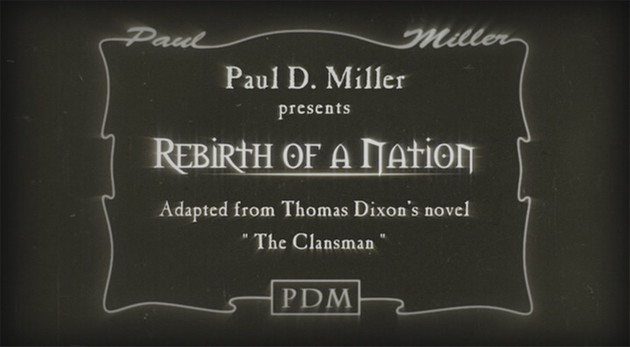 Miller tells me that he looked to Joseph Carl Breil for inspiration for the score. Breil, the son of a Prussian immigrant and one of the first composers to make music specifically for films, composed a three-hour soundtrack for the original Birth of a Nation. Miller describes it as an early, pivotal accomplishment in remix culture. Breil borrowed from both Dixieland tunes and traditional composers such as Richard Wagner for his score, combining vernacular heartland music with classical continental melodies. In fact, Miller attributes Hollywood's embrace of Wagner at least in part to Breil's popular adaptation of his themes.
"I wanted as much as possible to think about the trajectory of The Birth of a Nation through the mass-media landscape," he says. "Francis Ford Coppola uses 'Ride of the Valkyries' in Apocalypse Now. He says that he was inspired to do that by watching Birth of a Nation. You have Star Wars. George Lucas said he studied Birth of a Nation's battle scenes for inspiration for Star Wars. The Imperial March, dum, dum, dum, dut-dut-a-dum—that's an appropriation of Wagner as well."
Miller shares an academic sense of admiration for the technical artistry of the work of Griffith (and Wagner, and Breil). Rebirth of a Nation is Miller's own Gesamtkunstwerk, the Wagnerian term for "total art"—at least, in scope, it is his most ambitious multimedia project to date. He frames his performance as a protest or a piece of "counter-propaganda," but also as a project that struggles seriously with its source material. "By using their tools against themselves, you get some intriguing effects," he says.
Miller's work to adapt The Birth of a Nation led to an even broader historical project. He is the executive producer for Pioneers of African-American Cinema, a five-volume collection of digitally restored cinematic works by early black filmmakers from the 1920–40s. Released last summer and now streaming on Netflix, the collection draws on film archives from the Library of Congress, the Museum of Modern Art, the University of California Los Angeles Film & Television Archive, and other libraries. Pioneers compiles almost 20 hours of so-called "race films." Miller and other musicians, including the composer Makia Matsumura and the late drummer Max Roach, contributed new and original scores for silent works.
The Birth of a Nation was another "race film," one that was received simply as a film in its day. Miller's Rebirth of a Nation is in the simplest sense an effort to highlight how its skewed imagery still persists a century later. More critically, it's a look back at the dawn of alternative facts in a moving-pictures format. The groundbreaking film was a blockbuster hit with popular audiences, even though it was reviled by critics and led to protests by the newly formed NAACP. Its white supporters answered black protesters not with counterarguments but with violence, riots, and even murder.
"The whole idea here is that cinema deeply conditions our response to the everyday world. Everyone is watching different kinds of news. It's like multiple parallel universes, where you have no authentic engagement of facts or reality," Miller says. "Birth of a Nation was considered to be a true story."
---
* This article originally stated that the Kronos quartet frequently performs Rebirth of a Nation with Miller. We regret the error.