Celine Dion Saved the Billboard Music Awards
Singing "My Heart Will Go On" for its 20th anniversary, Dion interrupted the show's mediocrity and cemented her status as a symbol of perseverance.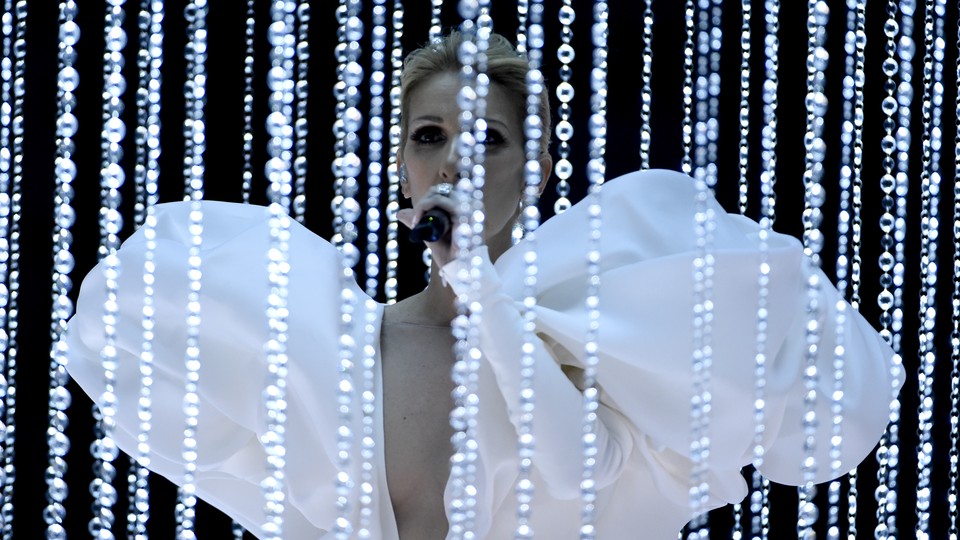 The Billboard Music Awards is where you can have all your worst suspicions about today's pop music confirmed. The biggest current stars seemed disposable as they performed in Las Vegas Sunday night: Drake let waterworks replace showmanship as he rapped in the middle of the Bellagio's fountain; Lorde took the concept of a fake karaoke bar to its least exciting conclusion; Bruno Mars and Ed Sheeran gave new meaning to "phoning it in" by just having overseas concerts simulcast on ABC. The worst set—Drew Taggart of the Chainsmokers mumbling millennial Mad Libs about premature nostalgia while climbing a staircase and then sitting down—felt like a satire on the overrating of white male mediocrity. Still, hosts Ludacris and Vanessa Hudgens pantomimed breathlessness throughout the night. Each muddled performance, we were told, was "epic."
One song actually was epic, though. And befitting various pre-made narratives about national malaise, it came from a Canadian balladeer rehashing an adult-contemporary hit of two decades ago. Celine Dion's "My Heart Will Go On" saved the Billboard Music Awards, and watching it might now save your Monday. (The full version is 1 hour and 17 minutes into ABC's telecast.)
Dion was once a divisive cultural figure, seeming to embody all of pop's sentimental excesses in one quivering human. These days, though, she's taken on elder-stateswoman vibes as a generation of stars raised on her music have loudly proclaimed her influence and critics have given her new respect. There's also the matter of personal tragedy. In January of 2016, her husband René Angélil died from cancer. Just months later she was at the Billboard Music Awards, powerfully belting Queen's "The Show Must Go On," launching her as a new icon of perseverance.
She returned to the Billboard stage on Sunday for the 20th anniversary of Titanic, and the occasion might suggest the main value of her performance would be time travel. Clips of young Leonard DiCaprio and Kate Winslet indeed played behind her—yes, including the "king of the world" moment. The now-unfashionable production choices of the original recording (those dewy keyboards!) remained in this arrangement, somewhat endearingly. But the startling thing about the performance was how arresting it was on its own terms, in the present.
Visually, we got pop opulence so well-executed that it transcends kitsch. Dion stood behind and then under a jeweled curtain hanging from an enormous chandelier (or jellyfish). Her dress from Stéphane Rolland Haute Couture was a white winged sculpture, strikingly asymmetric in its evocation of the angelic. The woodwind player performed on a darkened stage across the room, allowing for high-drama camera swoops. All of which is, of course, preposterous—as preposterous as the song itself.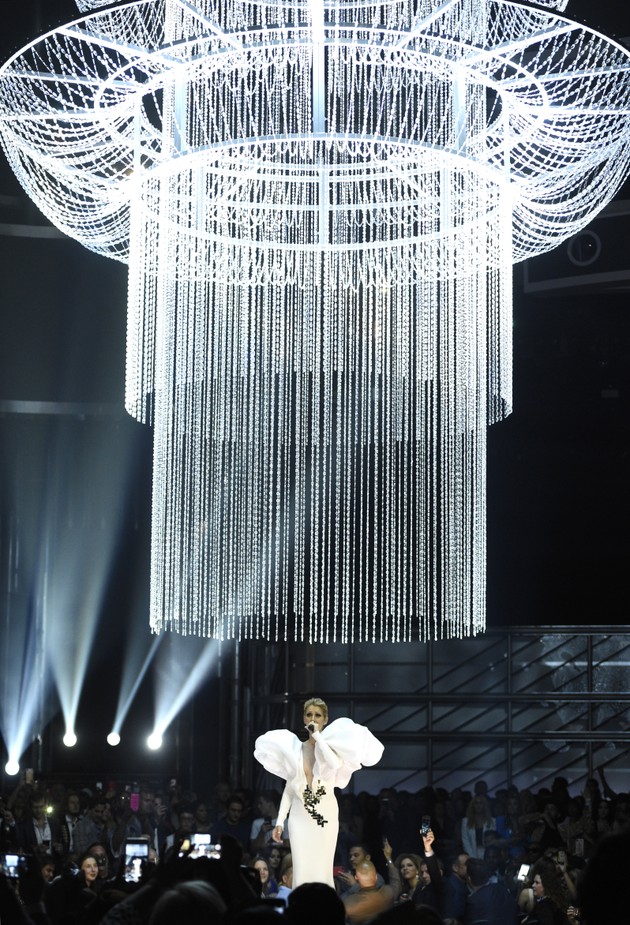 Dion mostly stood still, her vocals doing more than execute on the song's original power. The overplayed smash somehow sounded new, with her injecting into it greater quantities of her oft-imitated tics: those Québécois inflections and yodel-y way with syllables. The lyrics about everlasting love, in the context of her recent familial loss, necessarily took on new meaning (Dionheads know it was Angélil who pushed her to record the song in the first place). For the grand final chorus, the lighting changed and the room was bathed with disco-ball sparkles; Dion was on the verge of tears.
But Hudgens actually was in tears by the end. Ludacris seemed, for once in the ceremony, truly wowed as he asked for an extra round of applause. Backstage, Dion proceeded to mint another memorable moment: As Cher, recipient of the same Icon Award that Dion won last year, performed "Believe" onstage, Dion sang along in front of a crowd of reporters. In instantly viral videos of the moment, you can see the wings of her dress wiggle as she bops along to another diva-goddess giving another showcase of resilience. "My Heart Will Go On" played as solemn and this backstage vignette did not, but both stood out amid Sunday night's din for simply seeming genuine.