The Depressingly Familiar Allegations Against PWR BTTM
The duo were building a career by subverting rock and roll tropes—and then were accused of fulfilling one of the darkest ones.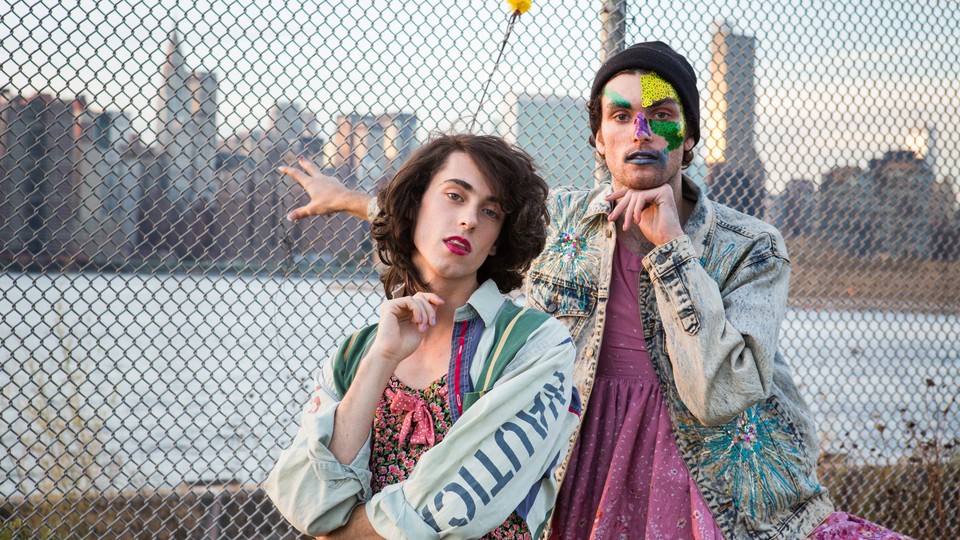 When Blink-182's Mark Hoppus sang of being 23 and still acting like a freshman in his band's 1999 smash "What's My Age Again?", he crystalized perhaps the default concern of pop punk. Rage against age—and the underlying feeling that you're not living according to expectations—has been echoed in sneering songs from Descendents to NOFX to Paramore. In the past few years, the charismatic young pop-punk(-ish) band PWR BTTM have built a promising career by, as the professors at the New York liberal-arts college where they formed might put it, queering that sensibility.
"My teenage angst will be with me well into my 30s," PWR BTTM's Liv Bruce brattishly deadpans for the recent single "Answer My Text," in which the trans singer imagines the teenage girlhood she never had. "When you are queer, you're always 19," Ben Hopkins says with a sad little yodel on the waltzing "LOL." In this, the band mined the subtext of pop punk and emo—two genres that, thanks to their frequent performance of male vulnerability, have long drawn the schoolyard taunt of "gay" from certain meathead masses. On both their 2015 debut Ugly Cherries and their new album Pageant, PWR BTTM sang of feeling out-of-step not because of vague nonconformism but because society literally doesn't recognize them.
But recent news raises the specter that PWR BTTM might accord with their influences in more troubling ways, too. One of PWR BTTM's two glitter-spackled singers, Hopkins, has been accused of sexual assault by a number of internet users—and the fallout, so far, suggests a depressingly familiar story.
The day before Pageant's release, conversation in private web groups spilled onto public social media with vague stories that, per one of the allegers, Hopkins initiated "inappropriate sexual contact with several people despite explicit 'nos' and without warning or consent." Hazel Cills at Jezebel has followed up with allegations from a pseudonymous woman saying that Hopkins had non-consensual sex with her. Hopkins has also been accused of the simple jerkishness of trash-talking other queer bands and using slurs. On Facebook, Hopkins and Bruce posted a statement saying the allegations were a shock, that they're taking them seriously, and that they don't represent "who Ben is." They created an email address for people—including accusers—to write to, and said they were seeking a mediator to help them through the situation.
Of note is that third parties—an act set to open on their tour and a touring band member—have indicated that these allegations were in fact not a shock to PWR BTTM and had been levied previously in private. Furthermore, the band's decision to respond by asking accusers to come forward has been heavily criticized for seeming to shift the onus of responsibility onto possible victims. Though the allegations are unproven, the backlash has thus far been decisive: Some stores have said they won't sell the band's records, shows have been cancelled, and the aforementioned touring-band member has quit as well as two of the band's upcoming support acts. PWR BTTM's label, Polyvinyl, hasn't yet commented.
The situation is particularly charged given what the band has stood for. If identity politics were part of PWR BTTM's art, they were also part of their marketing: One video of theirs even came emblazoned with the tag "rated Q for Queer." This defiance of traditional gender—as well as the band's association with DIY rock scenes—was wrapped up in a progressive stance on sexual consent. Hopkins, who identifies as queer and prefers to be referred to with gender-neutral plural pronouns, often took time out during concerts to talk about creating a safe space against predation. Scroll through Twitter and Tumblr chatter about the band and you'll see queer fans heartbroken given that the band had helped them embrace their own identities. The word "betrayal" has come up a lot.
But while alleged exploitation by a loudly queer and socially conscientious group may be shocking, it's less so in the larger context of rock and roll. Though anyone can violate consent, the accusations against Hopkins accord with a long history of impropriety in the music world. It's a history pop punk and emo were never exempt from, and one that's been closely tied to gender: The genres' most successful guys have often had fun defying the macho with homoeroticism, makeup, and skinny jeans—but also written blatantly misogynistic songs and, in some cases, faced allegations of predatory behavior. Following scandal surrounding a member of the band Front Porch Step in 2015, Hayley Williams of Paramore tweeted, "No more excuses for boys just 'being boys'."
Hopkins has made a career of defying the masculine tropes, but the suggestion now is that one of the most damaging old norms has not been subverted but propagated. Which brings into question PWR BTTM's entire project. Before the allegations emerged, Pageant was poised to be one of the most exciting releases of the year—varied, clever, terse, and funny. But if ever there was a case of art and artist being inseparable, it might be this one, and not merely because of the band's social-justice-minded fanbase. The Pageant opener "Silly" reclaims an insult long tossed at Hopkins for acting feminine; appreciating the tune means, as is typical in pop punk and emo, envisioning its narrator as a sensitive soul overcoming disempowerment. On "Big Beautiful Day," Hopkins takes on the role of queer-community inspirer, calling on fans to help disturb the bullies of the world with their own fabulousness. Such songs become harder to sing along to when there's unresolved suspicion that their creator might, in fact, have abused power and might, in fact, be a bully.