Why The President Show Might Just Work
The new Comedy Central parody series is a late-night talk program hosted by the comedian Anthony Atamanuik, in character as Donald Trump.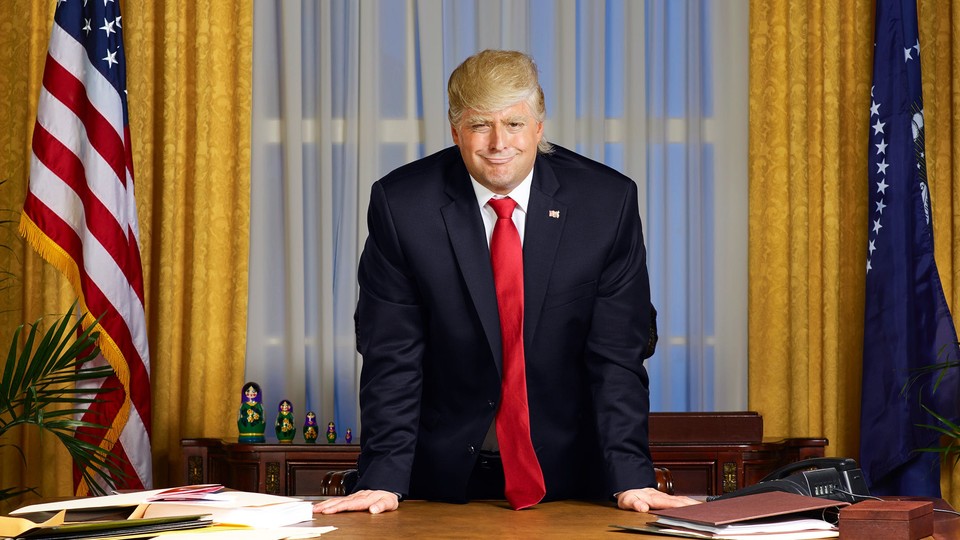 Late-night TV has seen major ratings boosts across the board because of President Donald Trump. For years disinterested in political comedy, viewers have flocked to comedians like Stephen Colbert and Seth Meyers, who make hay with topical jokes every night. Comedy Central's decision to order The President Show, then, is eminently logical—it's a weekly Daily Show-esque mix of desk segments, pre-taped bits, and interviews hosted in character by one of the best Trump impersonators in the business, Anthony Atamanuik. At the same time, much of Colbert and Meyers's appeal seems rooted in their frequent takedowns of the president. Would an entire show hosted by the president—even a broad parody of him—add to the sense that the comedy world is oversaturated Trump humor?
The first episode of any late-night show is bound to have its jitters, and The President Show's debut on Thursday was no different. But despite the program's slightly frantic presentation, it showed real potential—suggesting this high-concept idea could actually carve out a longer future for itself, rather than serving as a piece of stunt programming. The President Show works because it understands that Atamanuik's take on Trump is not a vehicle for one-liners, but a comedy character of his own, a jacked-up version of Stephen Colbert's Colbert Report host. This President Trump isn't here to make fun of himself—he's here to put on a show, and it's just as chaotic and entertaining as you might imagine.
Atamanuik, a veteran of the Upright Citizens Brigade theater, started doing his Trump impression in 2015, when the real-estate magnate first entered the Republican presidential primaries. It evolved from a UCB bit to an ongoing show in which his Trump debated Bernie Sanders (as played by comedian James Adomian); the two went on to develop their show into a comedy series for Fusion. Atamanuik has had time to hone the details, and the technical craft of his impression is wonderful—he has nailed tons of Trump's little tics, from his conductor-like hand movements to his propensity for wildly varying the pitch of his voice from sentence to sentence.
But beyond that, Atamanuik has a sense of Trump the character, a relentless self-promoter with the energy of a carnival barker and a deep well of insecurity. Alec Baldwin, the other most noted Trump impression (on Saturday Night Live), plays the president as a sort of hulking brute with much lower energy, an aggressive performance that seems inspired by the candidate's behavior on the campaign trail. Atamanuik is a little more playful, gabbing at a mile-a-minute pace as he tries to keep the live crowd of The President Show engaged.
Among the segments of his first episode were a desk bit called "Nice/Not Nice," in which Trump praised his friends (Marine Le Pen, Ivanka Trump) and decried his enemies (the nation of Germany, Sean Spicer). A remote piece saw him walk the streets of New York after attempting, and failing, to visit his wife Melania at Trump Tower. This is the bit where Atamanuik thrived, using his improvisational skills to interact with stunned-looking bystanders and rant from the middle of Times Square (his manic excitement at the sight of a truck going by, a reference to a widely shared picture of the President, was a particular highlight).
The show was light on traditional monologue-style jokes. Trump isn't coming out to recap and undermine his last week as the President; it wouldn't make sense for him to outright mock himself. Instead, Atamanuik has turned the entire half-hour into a monument to Trump's ego, which he then delights in undercutting throughout. It's the same trick The Colbert Report (which, like this series, aired in the 11:30 p.m. slot after The Daily Show) pulled, but to a much greater extent. The President Show even included a muted Peter Grosz (one of its writers) as Mike Pence, acting as a hilariously bland sidekick to his grandstanding boss.
The President Show will, of course, struggle to shake the idea that it's a stunt. It appears almost purpose-built to attract a response from the actual Donald Trump, who is no stranger to criticizing late-night parodies of himself. And despite the ongoing ratings boom for political humor, it's hard to imagine that such a specific parody can sustain itself for weeks on end without veering further into surrealism. But considering the gimmick factor, The President Show looks to be a surprisingly robust, well-produced work with ambitions greater than scoring cheap hits.