When Baseball Players Were Vaudeville Stars
For decades, the professional athletes made so little at their sport that many took to performing gigs to make ends meet and capitalize on their fame.
In the days before television and radio, two forces in entertainment dominated much of America's free time: baseball and vaudeville. But the late 19th and early 20th century pastimes were nowhere near as lucrative and glamorous as their modern-day equivalents: Both athletes and vaudevillians endured long hours, grueling travel, poor accommodations, and often didn't have much money to show for it all. Since baseball players only committed to playing part of the year, many had to find ways to supplement their income. For some—given that they were among the most popular public figures at the time—the natural choice was to capitalize on that fame and join the vaudeville circuit.
Which is to say there's some truth to the plot of the 1949 musical Take Me Out to the Ballgame, where Gene Kelly and Frank Sinatra star as baseball players who sing and dance during the off-season. As the 2017 baseball season kicks off this week, it's hard to imagine Francisco Lindor or Ben Zobrist having to hustle off the field to pay the bills. But until the late 1950s, this was a fairly standard arrangement for pro athletes. While football players and boxers could be found working the vaudeville circuit, it was most common to see baseball players sharing a stage with slapstick-comedy duos and human curiosities. Vaudeville, with its bills full of family-friendly acts, was an ideal showcase for athletes, whose appearance onstage was enough of a novelty to be a draw in lieu of other performing talent.
Despite baseball's growing popularity at the end of the 1800s, players weren't yet earning significant salaries. And unlike today, salaries fluctuated greatly from year to year. For example, according to the Society for American Baseball Research, the highest paid player in 1874 made $2,800, which went down to $1,800 in 1879 (equivalent to about $57,000 and $42,000 in 2017, respectively). In 1889, the highest paid player made $5,000 (around $126,000 today), before that number dropped back down to $1,800 in 1899 (around $50,000 today). After the playing season, which was much shorter then than it is now, many athletes took to the vaudeville stage rather than returning to their hometowns and getting blue-collar jobs. Catchers were especially sought out for vaudeville, because they had a reputation as raconteurs and were known for their banter with batters during games, David Soren, the Regents' Professor of Anthropology and Classics at the University of Arizona, told me.
Soren is a former vaudevillian himself. Although he never worked with professional baseball players, he was as an opening act for the Philadelphia Eagles football team in the early 1950s. From the age of nine, Soren sang, danced, and did impressions as part of a children's repertory company for CBS, performing on a show called The Horn and Hardart Children's Hour on Sundays and then touring with different vaudeville units the rest of the week. He ultimately left show business in order to study archaeology at Harvard University. Today, Soren works on the extensive digital collection of the University of Arizona's American Vaudeville Museum Archive, and teaches courses on forgotten vaudeville stars.
Starting as early as the 1860s, Soren said, baseball players started moonlighting as stage performers, telling amusing anecdotes and answering questions about their time in the big leagues, as well as doing skill demonstrations. If they had even the slightest bit of musical talent, they'd be brought onstage to sing, dance, or play a little piano—one of the most famous examples being Babe Ruth's little ditty where he lists various baseball words while swinging his arms, accompanied by a band. Occasionally, promoters would hire joke writers for the players to keep the act sharp, but they were primarily left to their own devices in order to keep costs down. In one example, the eccentric pitcher Rube Waddell, who played in the majors between 1897 and 1910, also toured with the vaudeville melodrama The Stain of Guilt and wrestled with alligators during the Philadelphia Athletics' 1903 spring training in Jacksonville.
Cap Anson—infamous for helping to establish racial segregation in baseball in the 1880s—also ended up on the stage when he wasn't playing 27 consecutive seasons for teams like the Chicago White Stockings and Colts. He started acting during the 1888 off-season, making his stage debut in Charles Hale Hoyt's play A Parlor Match, then appearing as himself in an 1895 Broadway play called A Runaway Colt. Anson retired from the game in 1897 and made his vaudeville debut in 1913, performing recitations, skits, and a short dance number, sometimes alongside his two daughters. He even went so far as to have personalized stationary printed with the inscription "A Greater Actor Than Any Ballplayer, a Greater Ballplayer Than Any Actor," according to the book Cap Anson: The Grand Old Man of Baseball by David Fleitz.
Sometimes even well-off baseball players turned to performing as a way to make the most of their sports success. In 1910, the New York Giants pitcher Christy Mathewson was one of the highest paid players in baseball, earning $10,000 a year, but spent 17 weeks during the off-season earning $1,000 a week on the vaudeville circuit. Two years later, John McGraw—who became the manager of the New York Giants at the age of 29—earned more than anyone else in the sport that year. He went on to do a 15-week stint on the vaudeville circuit, telling tales about his baseball career and earning $3,000 a week (equivalent to around $73,000 a week in 2017), wrote Larry D. Mansch in his book Rube Marquard: The Life and Times of a Baseball Hall of Famer.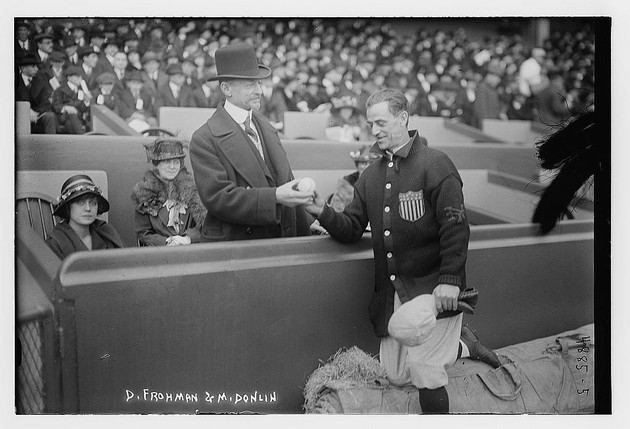 The early 20th century also saw the beginning of high-profile relationships between athletes and starlets, paving the way for modern pairings like Alex Rodriguez and Jennifer Lopez. Mike Donlin—an outfielder for the New York Giants known for both his confident strut and flamboyant fashion—met the vaudeville comedian Mabel Hite at a dinner party hosted by McGraw, fell for the performer, and married her in 1906. Two years later, they wrote and starred in a baseball-themed one-act play called Stealing Home, which enjoyed critical and commercial success and ran for three years. After Hite died in 1912, Donlin continued to perform, teaming up with comedians like Tom Lewis, until he retired from vaudeville in 1915. (He went on to appear in numerous films over the next couple decades, including two with his friend, the famed actor John Barrymore.)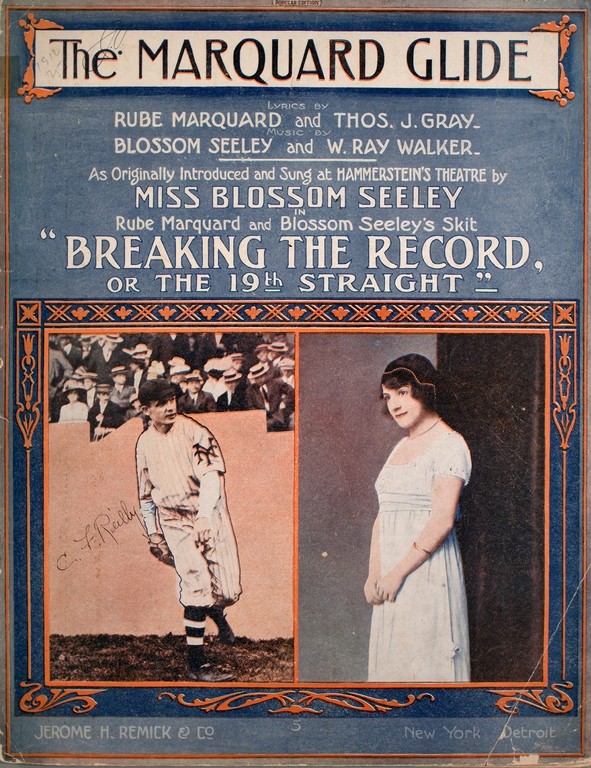 Possibly because of their location at the center of the entertainment industry, other members of the New York Giants—in addition to Mathewson, McGraw, and Donlin—ended up swapping their cleats for dancing shoes. In 1912, the Giants pitcher Rube Marquard made history by winning 19 games in a row, an achievement that immediately catapulted him to celebrity status. Blossom Seeley, one of vaudeville's top performers at the time, met Marquard and hired him to be part of her act. They co-wrote, performed, and released a ragtime song called "The Marquard Glide." Their onstage chemistry and flirtation resulted in the then-married Seeley having an affair with Marquard, whom she wed after divorcing her husband in 1913. Following a few mediocre seasons on and off the baseball field, their marriage ended in 1920.
Other baseball players made the transition from the field to the stage and then to a career in broadcasting. For Waite Hoyt, who started playing professionally in 1915 at the age of 15, performing vaudeville ran in the family: His father Addison was a popular vaudevillian, minstrel, and show-business manager. Hoyt made stage appearances during the off-season throughout the 1920s before starting a radio-broadcasting career in 1939, which lasted for the next 24 years.
Many factors contributed to the gradual shift away from off-season performing, including the fact that before 1970, players' contracts were not guaranteed. This meant team owners could void the remainder of a contract with 10 days' notice, fostering a feeling of instability and the need to always have a backup plan. But Soren emphasized that much of the credit for the change goes to the legendary Cardinals centerfielder Curt Flood. Though Flood's landmark 1972 lawsuit against Major League Baseball destroyed his career, it ultimately led to an overhaul of the business of baseball, permitting players to negotiate as free agents and bargain collectively.
"Curt Flood decided to demand a lot of money and confront the owners about the fact that the owners were taking all the money, but the players were taking all the risk," Soren told me. "He gave up his career in order to get the money for the athletes that put an end to this."
Once free agency took off, players' salaries did as well. In 1967, the average MLB player made $19,000; for the 2017 season, that number was $4.47 million. Or, as Forbes put it, "Baseball salaries have risen 16 times faster than the U.S. as a whole." And although financial necessity isn't as much of a driving factor anymore, there continues to be a place in popular culture for athletes who perform.
"Today, we have sports figures today who might guest host Saturday Night Live," Soren said, noting a few examples, including Shaquille O'Neill and LeBron James, who also stole scenes from Amy Schumer and Bill Hader in 2015's Trainwreck. "But they're not really purporting to be show people; they don't usually try to make a career out of it anymore."
When athletes do appear in television and movies today, it's typically within the context of a cameo where they play a version of themselves—like Mike Tyson in The Hangover, Billie Jean King in Fresh Off the Boat, and Derek Jeter in The Other Guys. Instead of committing to 17-week engagements and learning to tap dance, these gigs likely won't involve more than a few days of filming and tend to be more about personal branding than about earning a much needed extra buck. And yet today, seeing an athlete in a fish-out-of-water situation as an entertainer can be as much of a novelty as it was when Babe Ruth tried to sing.