Why Wall Street's Charging Bull Sculptor Has No Real Case Against Fearless Girl
An argument based on the Visual Artists Rights Act is unlikely to hold up in the courts.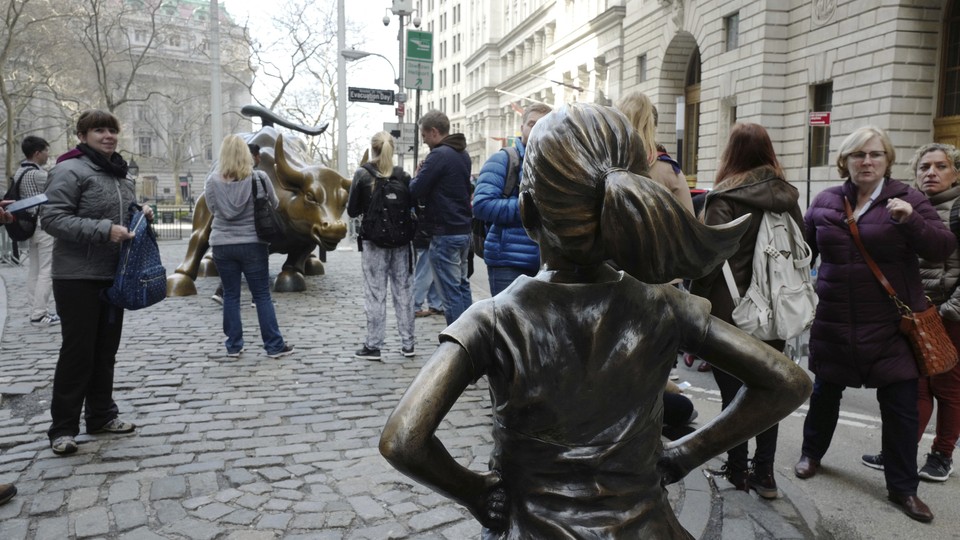 Wall Street's Charging Bull sculpture is on the rampage this week. But there's no reason to expect his new adversary, Fearless Girl, to back down.
Arturo Di Modica, the sculptor responsible for the famous bovine bronze, challenged city officials this week over Fearless Girl, on the grounds that this new neighboring sculpture infringes on his copyright. Charging Bull has been a New York landmark since 1989, when Di Modica surprised the city by installing the three-and-a-half ton beast outside the New York Stock Exchange overnight, guerrilla style. It was moved to Bowling Green, where it remains a (longterm) temporary artwork. But since early March, the bull has had to share the spotlight with a diminutive four-foot-tall bronze girl, the work of Kristen Visbal.
Thousands of people have taken selfies with Fearless Girl and signed petitions asking the city to make the temporary artwork a permanent one. That isn't sitting too well with Di Modica, apparently. But his argument, that Visbal's work infringes on his own, is unlikely to hold sway, under recent readings of the Visual Artists Rights Act.
The 1990 law was the first copyright act to grant protection for the moral rights of artists: a right to attribution, a right to the integrity of the work, and the right to prevent destruction for notable works. This was an extraordinary extension to the economic rights of artists conferred by Congress in the Copyright Act of 1976. Under the new dispensation, a change affecting the context of an artwork—in this case, a girl placed in the path of a charging bull—could be construed as a modification of the artist's intent.
VARA was enacted after Charging Bull was born. The law does not extend rights retroactively to infringements of attribution and integrity occurring before June 1, 1991. But since Di Modica still owns the title—although he has put the sculpture up for sale before—he may be able to apply for VARA protections, as the alleged modification (the erection of Fearless Girl) occurred in March.
Deepak Gupta, the founding principal of the law firm Gupta Wessler, has argued one of the handful of cases to test the boundaries of VARA. He represented Katherine Craig, the painter responsible for The Illuminated Mural in Detroit, in her suit earlier this year against a developer that planned to turn the nine-story building into lofts. This week, the parties announced a settlement that will preserve the 125-foot-tall mural, suggesting that common ground can be found in the contested territory between artists and developers.
Gupta, who is a friend of this author, says that Di Modica's ostensible challenge raises squirrelly questions about site-specificity in art. Removing Robert Smithson's Spiral Jetty from the Great Salt Lake, for example, would destroy his masterpiece, even if it were placed in a similar body of water. "If you take something like Earth Art and you move it, you've really done violence to the work," Gupta said. "Courts have trouble with that notion. [Charging Bull] seems one step removed from that"—meaning that it is an unlikely sculpture to win an appeal via its environmental context, an argument for which precedent is shaky anyway.
The First Circuit Court of Appeals addressed this very issue in Phillips v. Pembroke Real Estate, Inc., in 2006, ruling that VARA doesn't apply to site-specific art at all. The next year, in Kelley v. Chicago Park District, the Seventh Circuit Court of Appeals affirmed Phillips in a similar case, involving alterations to a noted artwork in a public park. Those cases dealt a blow to artists hoping for protections for artworks that respond to their (frequently changing) surroundings.
"As Phillips and Kelley clearly indicate, the position of the law as to site-specific works of art and VARA today is that a finding of site-specificity is sufficient to completely remove the work of art from the moral rights protection of the statute," Lauren Ruth Spotts wrote, in 2009, for the Journal of Intellectual Property Law.
No site-specific artists thus far have met the high bar under VARA, and Di Modica's case is weaker than those brought by David Phillips or Chapman Kelley. Since Charging Bull was first installed outside the New York Stock Exchange but moved days later to Bowling Green, it would not seem to be specific to any site except Wall Street more broadly.
Note that Di Modica has not filed any suit; his attorney has requested city documents regarding the commission of Fearless Girl. He could potentially file a case on copyright infringement: After all, Fearless Girl works in the context of the bull, making Charging Bull an essential part of Visbal's work. Under VARA, though, Di Modica's case would be "very cutting-edge, at the outer edges of VARA protections," Gupta said. "It might depend on whether you can consider the area immediately surrounding the sculpture—if the work is the sculpture and a certain number of feet around the work—and whether interrupting the space modifies the work."
The argument that Fearless Girl modifies or destroys Charging Bull by blocking its path would represent a leap that courts have been reluctant to take even in clearer cases. Some critics of the courts' reading of VARA might welcome an opportunity to bring the matter of site-specificity back to the courtroom, in hopes of a different reading on the law. But Fearless Girl, on that front, at least, has little to fear. The merits of Di Modica's frustration notwithstanding, moral rights for artists just don't extend that far.