Unforgettable Is the Opposite of Its Title
The female-stalker movie starring Rosario Dawson and Katherine Heigl is just going through the motions.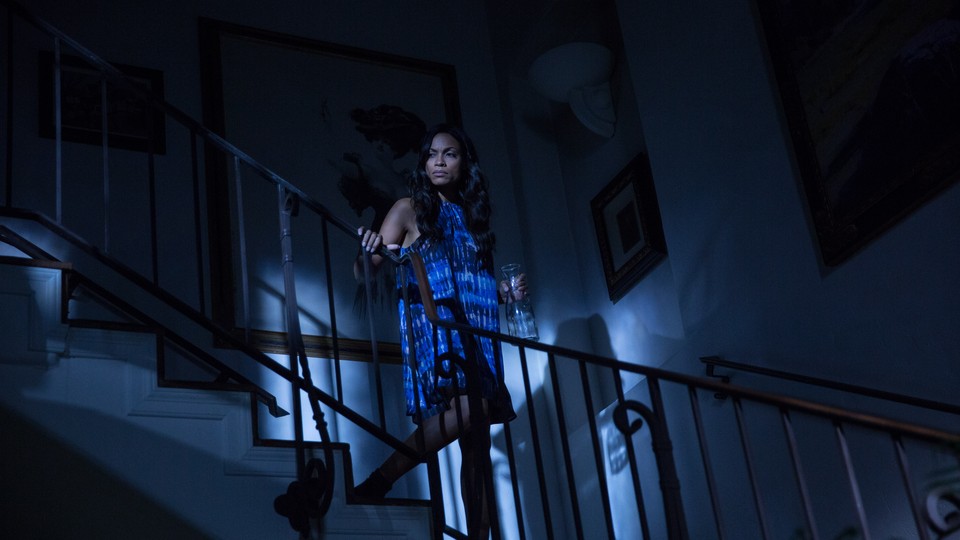 Among the less-noted cardinal rules of cinema is that any movie that takes the title Unforgettable will prove to be anything but. Do you remember the 1996 Unforgettable, in which Ray Liotta tried to solve his wife's murder with the help of a memory-enhancement drug? Of course you don't. I doubt even Liotta does. How about the 1997 romance starring Faith Roberts? Or the 2014 Bollywood drama? At least four different South Korean movies have been released with the English title Unforgettable, and I certainly don't recall any of them. A TV police procedural by the same name proved unmemorable enough that CBS and A&E cancelled it three times between them.
The streak is in no danger from the latest entrant in this particular microcategory, the new "erotic thriller" (it fulfills neither promise) Unforgettable, starring Rosario Dawson and Katherine Heigl. The premise is a simple one: Julia (Dawson) is engaged to be married to David (Geoff Stults). But David's ex-wife, Tessa (Heigl), still dreams of a reconciliation and insinuates herself into Julia's life in escalatingly psychotic ways. Throw in an adorable child from the first marriage (Isabella Rice) and a dark secret from Julia's past, and the movie practically writes itself.
I could go into further detail, but there's little point. This is a film that gives away virtually every plot twist in the trailer. And why not? It's not as though any of them comes as a meaningful surprise.
As a cinematic subgenre, the woman-stalker thriller is hardly among the most elevated, though it has had its moments of cultural relevance, from Play Misty for Me (1971) to Fatal Attraction (1987) to Single White Female (1992). But Unforgettable scarcely aspires to that level, content to go through the same tired motions as the spate of second-rate, post-Attraction knockoffs from the early 1990s—Poison Ivy, The Crush, Mother's Boys, and The Hand That Rocks the Cradle among them. Worse, it uses domestic abuse and assault as a cheap narrative "device," a decision that looks even worse after the way the subject was deftly handled by the HBO series Big Little Lies.
First-time director Denise Di Novi has been a successful producer for decades, but her work here is utterly perfunctory—except, that is, when she turns the soundtrack's vibrato-throb up to 11 in an effort to generate suspense that has not been earned by anything taking place onscreen. And while Dawson and Heigl are both fine, neither offers anything creative or unexpected: a wink, a flash of sly charm, a hint of deeper, theatrical malevolence. Just because this was never going to be more than a B-movie doesn't mean it had to coast its way to a C-minus.
It doesn't help matters that neither female lead has any noticeable chemistry with David, the theoretical object of both women's desperate ardor. As played by Stults, he's dull, self-absorbed, and mildly testy, a former broker for Merrill Lynch who seems to believe everyone in his life should be happy taking a back seat to his boyhood dream of launching his own brewery. He's like a walking MacGuffin, or perhaps an advertisement for the fantasy that any man, regardless of inherent appeal, might luck his way into marriage with not one but two movie-star beauties.
Are there worse movies out there? Sure. Unforgettable has its occasional guilty-pleasure moments—more than a couple of them supplied by Cheryl Ladd, who plays the psycho-perfect mom responsible for making Tessa herself so psycho-perfect. But this movie is strictly late-night cable fare, not anything worth dragging oneself to the multiplex for. Title notwithstanding, it's forgettable in every way, and—to paraphrase the great Nat King Cole, who got us into this mess in the first place—forevermore that's how it'll stay.