The Podcast Spreading the Love of Cowboy Culture
A new audio series aims to connect a vibrant community of western poets, singers, and storytellers with a wider audience.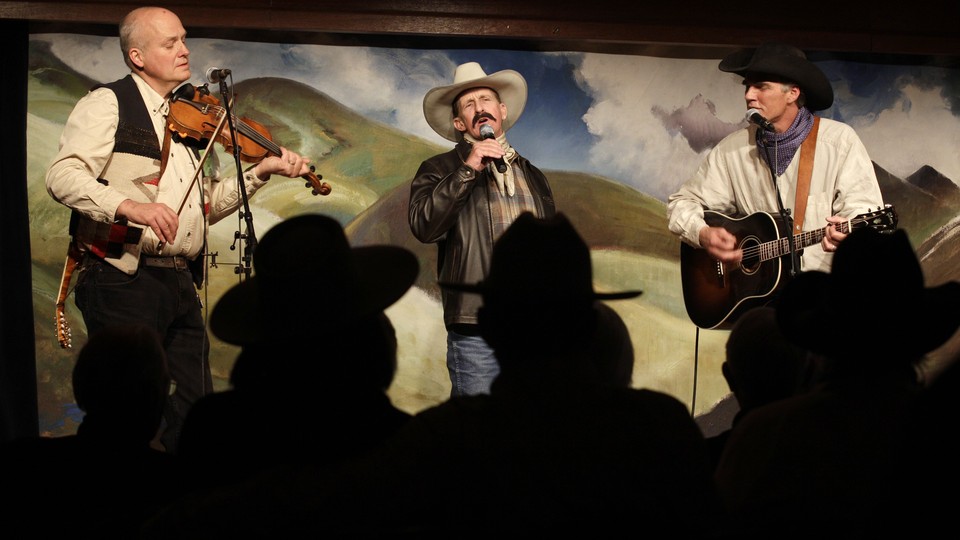 In the first two decades after the Civil War, more than 10 million cattle were driven north from Texas to railheads in Kansas, where they could be shipped to larger markets in the east. Fighting boredom on the trail, cowboys would often improvise poems and songs. They'd sing on horseback and around the campfire, collectively writing verse, adding a new line or amending an old one, usually in the form of an English ballad. Thus cowboy poetry was born.
While the cattle-drive era has long since passed, the poetry hasn't stopped. In the early 1980s, a small group of folklorists, having stumbled upon this underground genre, sought out cowboy poets from all over the west. In 1985, the Western Folklife Center hosted the results at the inaugural Cowboy Poetry Gathering in Elko, Nevada. This year, the center hosted its 33rd gathering, a weeklong event that now annually attracts thousands, urban and rural alike. The national event has spawned a tight-knit community of poets and musicians, among them Andy Hedges. The 36-year-old cowboy poet and singer is also the host and creator of the new podcast Cowboy Crossroads, a refreshingly diplomatic effort to connect today's vibrant cowboy culture with a world only vaguely aware of its existence.
Cowboy Crossroads explores the genre's ongoing evolution—and initiates newcomers—through its interview-driven episodes. Each approximately half-hour segment features a special guest, usually an artist. In the first eight episodes, Hedges has chatted with the cowboy poets Ross Knox and Waddie Mitchell, and the musicians Michael Martin Murphey, Ramblin' Jack Elliott, and Noel McKay. Upcoming episodes will include the singer-songwriter Martha Scanlon, and Dom Flemons, the founder of the band Carolina Chocolate Drops, who is currently recording an album of songs by and about black cowboys.
Influenced by the alt-country musician Otis Gibbs's popular podcast Thanks for Giving a Damn, Hedges says that as a host he aims to start the conversation, not steer it. Too often on podcasts, he says, the interviewer "seems to have an agenda," ushering guests down a predetermined lane. But Hedges isn't a journalist—he's a fan and, often, a friend. He's not looking for the story; he's looking for any story. This gather-round attitude—and Hedges's basic love for storytelling—is part of the Cowboy Crossroads charm, part of what makes these episodes feel so intimate and relaxed. "I let them take it whatever direction they want," he says of his guests. "I don't feel there's very many opportunities for that."
These aren't your silent, stoic Hollywood cowboys. Because Hedges shares such a rapport with his guests, it frequently takes just two or three questions to fill a whole episode with story. In the first two installments, for example, Mitchell meanders from talking about his life as a buckaroo to eating the flesh of a maggot-infested cow to co-founding the National Cowboy Poetry Gathering to his multiple appearances on The Tonight Show with "a feller named Johnny Carson," whom he'd never heard of before his invite, having lived so remotely in northeast Nevada. "I see my job as trying to capture those stories and present them to people and try to stay out of the way as much as I can," Hedges says.
In one episode, Murphey, a multiple Grammy nominee, discusses his love for authentic cowboy music and his involvement in the Civil Rights Movement in Dallas. In another, the cowboy poet Knox talks about packing mules in the Grand Canyon for 16 years—"when things go bad, they go really bad," he says—and writing music with the Canadian songwriter Ian Tyson. And the folk singer Ramblin' Jack Elliott, who inspired everyone from Bob Dylan to Mick Jagger, well—he rambles, drifting from his Brooklyn childhood to his European tour with Woody Guthrie.
As a host, Hedges takes an intentionally laissez faire approach. Beyond his introduction, he surfaces only to narrate the segues between his guests' shifting memories, or occasionally to pose a quiet follow-up question off mic (the latter a reminder that the podcast is as of yet unsponsored—a labor of love—and Hedges is still refining his craft). But these initial remarks are crucial to the western aesthetic of the podcast. Compared to, say, Terry Gross's formulaic biographical notes on NPR's Fresh Air, Hedges's preludes feel more personal and meticulously crafted. He often tells heartfelt stories detailing his own relationship to the guests—how he met them, what he admires, how they cemented their status in cowboy culture.
Of course, if peeling back the curtain on cowboy arts and culture is an implicit goal, Hedges will need to diversify the podcast's (mostly white) lineup. Nearly a third of the cowboys in the cattle-drive era were Mexican, African American, and Native American, and that diversity hasn't disappeared today. To avoid whitewashing cowboy culture, as so many Hollywood westerns have, and to stay relevant beyond the sometimes-insular community of cowboy poetry and song, Hedges should invite guests of different backgrounds—something he says is a goal. "The biggest concern to me is just wanting to interview people whose work rises to the top and who I find interesting and have connections with," he says. "There are a lot of white guys in this world I find myself in. But I have plans for other people. And I plan to be doing this for a very long time, so I hope to cover a lot of ground."
That Hedges has provided an aural platform for this community is certainly a boon to the poets, whose books typically underperform and lack the vitality of a live performance. If there is any hope for popularizing cowboy poetry, it lies in the stage and on the airwaves, mediums much more conducive to the genre's oral tradition. Hedges often leads the episode with a recitation of another poet's work, always memorized before recording and delivered in his earnest country twang. Though he may not strike it rich performing at cowboy-poetry gatherings—nobody yet has—his animated recitations usher the listener seamlessly into the interviews. "I think we're all ambassadors for the things we're passionate about," he says. "I've just loved this stuff since I was a kid, I really have."
Hedges's own introduction to cowboy culture came when he was 13 years old. His family had just moved to a small town in central Texas when they rented some PBS documentaries about working cowboys from the local video store. Today, he remembers just one of the tapes with remarkable clarity: an Austin City Limits concert called "A Salute to the Cowboy." In it, Mitchell performed "A Story With a Moral," a droll tale about accidentally drinking water downstream from the bloated, rotten corpse of a cow. It was the first time Hedges heard a cowboy poem. "I sought out Waddie's records as quickly as I could," Hedges explains on the podcast's first episode. "I listened to those records so many times that I memorized some of his poems without even trying."
Though rooted in the American West, the stories in Cowboy Crossroads are not ideological. They're personal—less stump speech than bonfire retrospection. Since the election of Donald Trump, media—including many podcasts—have focused on the urban-rural divide, on the "forgotten" middle America, suddenly awake to the fact that not all values are shared, that all those voices between New York and Los Angeles amount to something much greater than previously acknowledged.
But storytelling offers another, perhaps more nuanced way forward, says Hedges. "If you sing a protest song that's got a political agenda, then you're just kind of singing to the choir," he told Vice last month. "People disagree, bow up, and feel uncomfortable. If you tell a story, it just helps people understand, and I think that's what can really change things and change people and change their perspective."
One could argue the notion is naïve, especially when it comes to breaching political divides. But Cowboy Crossroads isn't about uniting left and right; it's about exposing the intersection between Hedges's world of cowboy culture and the world beyond. If the uninitiated find themselves laughing at one of Mitchell's stories from the range, or get even a line of cowboy poetry stuck in their head—if they find a connection between something they love and something beloved in the West—a small step toward reconciliation may be a happy byproduct. "I didn't know what to expect when I first started this [podcast]—and still don't—as far as how popular it would be or what kind of feedback I would get. But I certainly have been pleased," Hedges says. "I really feel that for listeners who are not as familiar with the guests as I am ... [Cowboy Crossroads] can be the kind of thing that causes them to fall into that world without even realizing it."