The United States of Billy Joel
The Piano Man hasn't released a new pop album since 1993. How does he continue to sell out stadiums?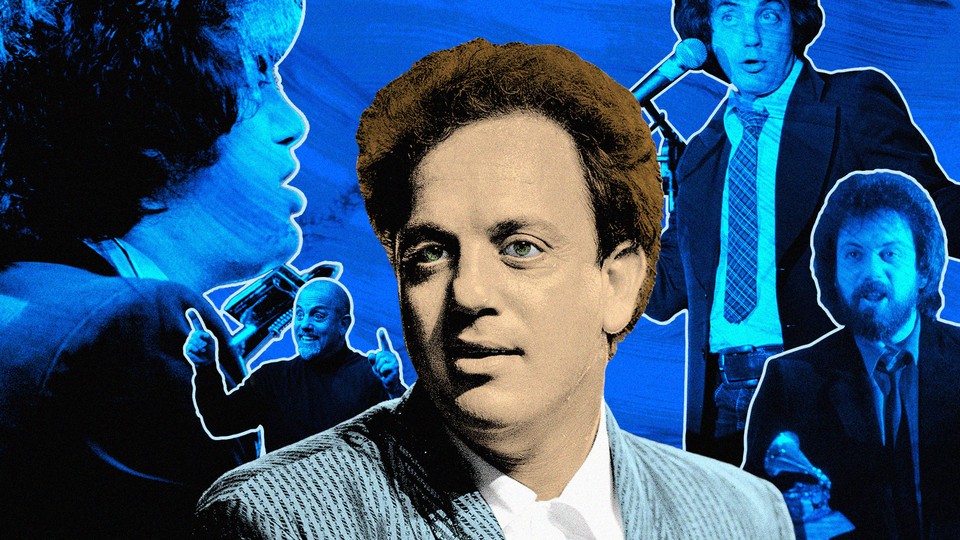 For those of you who are sick of wondering, this is what happens at a Billy Joel concert: A mother tries to cajole her reluctant young son to twist with her to "Only the Good Die Young." A 45-year-old man in a Billy Joel-themed softball jersey, sitting third row and visible to all, hoists aloft a New Jersey vanity license plate that reads "Joel FN" and uses it to air-drum to "Pressure." Three 20-somethings on a ladies' night out shoot a Boomerang of themselves swaying to "Scenes From an Italian Restaurant." A sexagenarian in business attire uses a lull during Joel's Perestroika-era ditty "Leningrad" to crush some work emails on his BlackBerry Priv. A 19,000-strong congregation—carpenter jeans and Cartier watches, Yankee caps and yarmulkes, generationally diffuse and racially homogenous—all dance, terribly and euphorically, to "Uptown Girl."
For more than two years now, Joel has held a "residency" at Madison Square Garden, performing monthly gigs that are slated to last, in Joel's words, "as long as there is demand." What drew me out to a recent MSG show is the staggering breadth of the current demand for Billy Joel. Since launching the residency in 2014, The Piano Man has sold out the Garden 40 times with performances already scheduled into July.
Some of this has to do with the venue. After all, The Garden is fitted atop Penn Station—the busiest transportation hub in the entire Western Hemisphere—with subways and bus routes and seven different tunnels that fling Joel's faithful base out to Hackensack on New Jersey Transit and Oyster Bay on the Long Island Railroad. But Joel's dominance doesn't end at the terminus of the Hudson River Line. The MSG residency, with help from a methodical regimen of packed stadium shows across the United States and beyond, has turned Joel, who was all but retired just a few years ago, into the music industry's fourth-highest paid performer in 2014 and 2015 (the most recent years for which data is available). Another way of putting it: Despite having not released a new pop album since 1993, Billy Joel is outearning the likes of U2 and Adele.
These successes undoubtedly must irk his many critics, who have over the years derided Joel in extremely personal terms: as a would-be "Irving Berlin of narcissistic alienation" (1973), "the worst pop singer ever" (2009), and more recently, "the great American nightmare" (2017). While Joel has scored twice as many Top 40 hits as his friend and fellow tri-state institution Bruce Springsteen, he's received comparatively little of The Boss's critical acclaim. Springsteen, for example, has been awarded 20 non-honorary Grammys compared with Joel's five. Joel's work, steadily dismissed as middlebrow and ersatz pastiche, hardly seemed destined for a decades-long afterlife. So how is Billy Joel pulling this off?
In 1998, in the era before big data, a brand researcher describing the effect of nostalgia on the palate brought up the orange juice test in an interview with The New York Times. "If you do blind taste tests in New York," he explained, "Tropicana will win every time. If you do it in California, Minute Maid wins every time." The reasoning was simple: "That's the taste you grew up with."
While I didn't grow up in an orange juice household, like millions of Americans born in the 1980s, my required intake of concentrated saccharine did involve the music of Billy Joel.
His 1980 album Glass Houses, Joel's melodic incursion into the punk-rock era ("You May Be Right," "It's Still Rock 'N Roll to Me") was in semi-constant rotation in my dad's car. My older sister and I spent hours faithfully recreating the excessive shoulder-shimmying from Joel's staggering string of hit music videos from his 1983 doo-wop-themed An Innocent Man ("Tell Her About It," "Uptown Girl," "An Innocent Man," "Keeping the Faith"). And my first true live concert—with my parents in tow, no doubt—was Joel's stop at The Summit in Houston in support of his middling 1989 album Storm Front ("We Didn't Start the Fire," "I Go to Extremes").
If there were one standout in our household, it was probably Joel's 1978 jazz-themed album 52nd Street, which, in addition to being one of his few critically acclaimed records, is one of his strangest. The album kicks off with "Big Shot," the petulant first of three straight massive singles, before zigging into the schmaltzy "Honesty," and then zagging back to the defiant "My Life." But for my piggy bank, the pathos-filled second half is where the truffles are. "Zanzibar," the story of a drunk in a sports bar, has two jazz-trumpet solos. "Rosalinda's Eyes," Joel's tribute to his mother, features vibes, marimba, and a 21-second recorder interlude. The album's pièce de résistance is the Righteous Brothers-inspired "Until the Night," whose first five schlocky minutes are eclipsed by the song's sax-besotted, 90-second coda. (Bill Medley of the Righteous Brothers accepted Joel's compliment by recording a cover of "Until the Night" in 1980, one year after Czech chanteuse Helena Vondráčková did a note-for-note homage in German.)
A survey of American culture suggests my indoctrination, while severe, isn't so abnormal. A YouTube search of "Just the Way You Are" will yield a gallery of first-dance wedding videos. It seems both unfortunate and true that any a cappella group angling to prove its salt still must perform a rendition of "The Longest Time." "She's Got a Way," a song Joel wrote in 1971 when he was 22, remains endlessly covered in soul, country, pop, and ukulele stylings. Meanwhile, the internet is an ever-growing pool of content featuring updated and parodied lyrics to one of Joel's bigger regrets, the rocker-cum-history-lesson "We Didn't Start the Fire." (Here is The Simpsons' version.)
What helps explain Billy Joel's recent feats (and makes them all the more impressive) is the fact that he has managed to become a commercial juggernaut in two different eras of the music industry; first, when record sales determined everything and later, as tour earnings supplanted sales as the biggest lever of an artist's financial success. As Christopher Bonanos observed in 2015, of Joel's 121 recorded songs over a quarter of them (33!) became Top 40 hits. Billy Joel has, believe it or not, sold more records in the United States than either Michael Jackson or Madonna.
And in spite of his years-long abstinence from making pop music, Billy Joel has never truly gone away. He was inducted into the Rock and Roll Hall of Fame in 1999, honored by the Kennedy Center in 2013, awarded the Gershwin Prize for Popular Song in 2014, and is one of only two singers to perform the national anthem twice at the Super Bowl, 18 years apart. Noting its "cultural, historic, or artistic significance," the Library of Congress designated the already ubiquitous "Piano Man" for preservation in 2016, alongside recordings of Wilt Chamberlain's 100-point game and Gustav Mahler's Ninth Symphony. Not bad for someone who spent part of the 1970s opening for Olivia Newton-John, Yes, and Captain Beefheart.
Of course, nowhere is the brunt of Joel's inescapability felt more strongly than in New York, where his music is a codified part of the life cycle. Before Shea Stadium met with the wrecking ball in 2009, its final events were a pair of Billy Joel concerts; both sold out in less than an hour. When Long Island's Nassau Coliseum reopened earlier this month, it did so with a Billy Joel concert. One of his best and initially overlooked songs, "Miami 2017 (Seen the Lights Go Out on Broadway)," which was written in the mid-1970s as a snarling retort to the dread and financial decay of New York City as it teetering on the brink of bankruptcy, has twice been repurposed into post-disaster anthems: Joel has performed it, along with "New York State of Mind," at benefits for 9/11 and Hurricane Sandy.
There may be no one who better understands the strange staying power of Billy Joel better than Mike DelGuidice. The singer, pianist, and guitarist was living in a trailer on Long Island when he came up with the idea to create Big Shot, a Billy Joel cover band. Nearly 18 years later, Big Shot not only gigs, but tours nationally. "His music speaks to generations," DelGuidice told me last week. "His songs bring you to places you remember being a kid when you first heard them. They always seem to take you to a place where you were and I think that's why it's spanning generations. We see grandparents with their kids with their kids' kids … and I think that's gonna keep happening, more so than with any artist ever, I would say. Even The Beatles have sort of faded for this generation, but Billy hasn't. Billy's still cranking."
Four years ago, DelGuidice got the Long Islander's version of a September call-up; Billy Joel, upon hearing him perform at a rehearsal, asked DelGuidice to join him and the band on tour as a permanent fixture. "Musically, spiritually," DelGuidice told me, "it was one of the best moments of my life." At 67, Joel's voice has impressively kept its brawn, but DelGuidice now backs him up, hitting high notes he'd otherwise leave behind. And, with his boss's blessing, DelGuidice still gigs with Big Shot when Joel is off the road.
DelGuidice, from his themed cover band and his Nassau County-inflected patter to his vocal seizing of the Joel mantle, seems to embody a remarkable continuity of Billy Joel as a concept, one that improbably survives through the generations. Fittingly, back at Madison Square Garden, DelGuidice took the spotlight near the end of the first set to sing "Nessun Dorma" from Puccini's opera Turandot. In recent years, Joel has used the song, which could be described as the "Piano Man" of arias, as the lead-in to his classic "Scenes from an Italian Restaurant." It's the kind of clunky flourish that would enrage an objection-seeking critic, but that completely delighted the crowd, particularly as DelGuidice scattered his voice across three octaves.
This gesture at erudition is just one part of a well-honed formula that keeps the stadiums full, particularly for an act without the lure of new material. Another component involves more nakedly obvious pandering to local audiences. At a show in Houston, for example, a Billy Joel setlist will offer covers of Texas favorites Buddy Holly, Roy Orbison, and ZZ Top, often inserted in the middle of his own hits. In San Francisco, it's Jefferson Airplane and the Mamas and the Papas. In Memphis, it's Elvis Presley and Chuck Berry. At a Wrigley Field show, it's the Chicago-themed "My Kind of Town" and "Take Me Out to the Ballgame."
Then, there are the optics of a good time had. In a masterful 2014 profile, The New Yorker's Nick Paumgarten detailed Joel's longstanding practice of cultivating excitement at arena shows by reserving seats in the first two rows at every concert—tickets typically snapped up by wealthier, sometimes more indifferent concertgoers—and dispensing them to unsuspecting fans instead. (In 1999, I was actually one of those lucky fans. Coordinating over AOL Instant Messenger, two friends and I conspired to buy $20 nosebleed tickets to see Billy Joel in Houston and when we arrived early to scout out better seats we were approached by members of his crew who offered us second-row seats if we promised to be enthusiastic during the show and pledged to do three acts of kindness. We agreed, but squandered all the goodwill of the moment by gloating to friends and their parents as we passed them on the way down to the floor.)
For those who don't make it to the front rows, another time-honored enticement is the crowdsourcing of the playlist. For decades now, a few times during every concert, Joel offers a choice between two songs and lets the popular vote decide the winner. These results can often surprise; in a match-up between "Keeping the Faith," one of the best songs written by Joel or anyone else in the 1980s, the Garden crowd overwhelmingly preferred "The Downeaster 'Alexa'," a drearier concern song about the plight of commercial fishermen on Long Island.
The song was, tellingly, notably, shockingly, the only moment of the entire night where even the slightest scintilla of politics seemed detectable. (It seems noteworthy in 2017 that Joel, perhaps in an effort to preserve his broad appeal, has shrewdly maintained a Michael Jordan-esque aversion to partisan politics. "Who cares about the political opinions of a piano player?" he sighed in May 2016, after Donald Trump construed an in-concert dedication of "The Entertainer" to the Trump campaign as a compliment. Joel did eventually endorse Hillary Clinton for president.) In a climate where even soda ads can't help but fizz with factional messaging, finding oneself in a politically agnostic mega-event halfway between Zuccotti Park and Trump Tower is both a bit disorienting and reassuring.
When I suggested to DelGuidice that "The Downeaster 'Alexa'" had benefitted from the bias of a local crowd, he dismissed it, explaining that it was just one song that had recently become popular again among fans everywhere. A better example, he offered, was "Vienna," a slow-moving B-side from Joel's breakthrough 1977 album The Stranger, that has recently enjoyed a second life as cover fodder for Ariana Grande and on shows like Smash and American Idol. "We've put that song against almost every hit song in concert and the crowd picks 'Vienna,' he explained. "And that was an album cut, that wasn't even a hit. I could attribute it to how good the song is, that's one of those that takes you to a place … We usually have to change guitars for different songs. Whenever 'Vienna' is against something, I just keep the 'Vienna' guitar on."
Indeed, at the Madison Square Garden show, the vote between "Vienna" and "Summer, Highland Falls," another older, mellow, relatively darkhorse track, wasn't even close. But as the song started to play, the crowd's attention quickly drifted from the stage to the fourth row where a throng of fans was unfurling a banner. In front of the banner, a young suitor dropped to a knee to propose marriage to his girlfriend.
DelGuidice stretched a little bit to remember this episode when I reminded him of it. Apparently, proposals of marriage are not only common at Billy Joel concerts ("Happens a lot!"), but even pretty frequent at Billy Joel cover band gigs. "Over the last 18 years, it's happened probably a good 15 times [at Big Shot shows], which is a lot," he offered. "If you average it out, that's almost once a year, sometimes twice a year, it depends."
Back at the Garden, the newly betrothed couple now appeared on the Jumbotron, slow-dancing to applause. Billy Joel, sensing the moment and an opportunity, chimed in: "I still do weddings!"