The Bizarre Spectacle of Casting JonBenét
Netflix's new documentary takes a look at the infamous 1996 murder case through the eyes of actors trying to audition for a fictional film about it.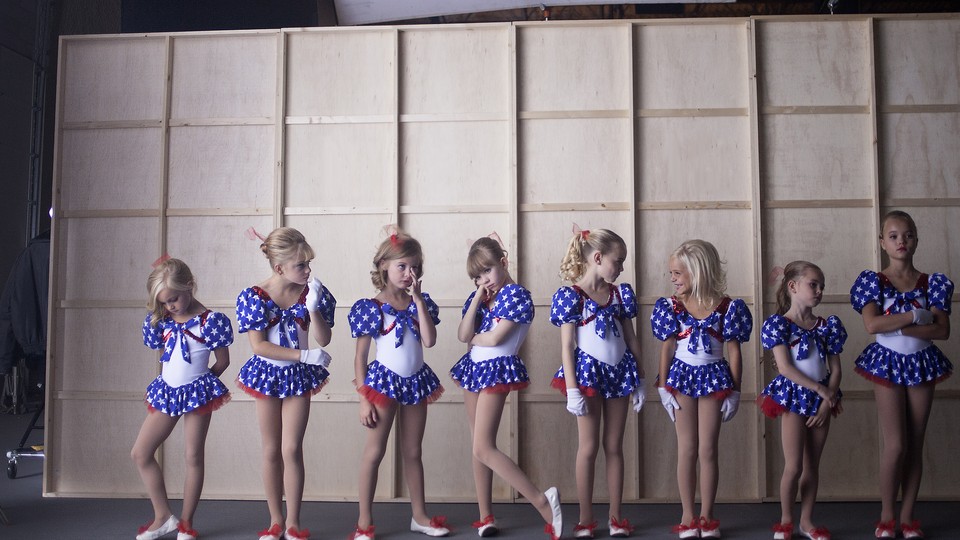 The documentary film is often a space for confession, or interrogation—a public forum that's both intimate and private, where people can spill their life stories into a camera without thinking about who might one day watch the results. In Kitty Green's new movie Casting JonBenét, which premieres April 28 on Netflix, a whole ensemble of aspiring actors share their thoughts and memories, some startlingly personal and others mundane, with a disarming willingness, as if trying to win the viewer over with their tragedies. It's a distressing idea, but it's one baked into Casting JonBenét, whose premise is hard to describe in a way that doesn't feel somewhat uncomfortable.
The film functions as a casting call for an unnamed, non-existent fiction movie about the 1996 murder of JonBenét Ramsey, the shocking unsolved killing of a 6-year-old that captured America's imagination for years (and has never quite vanished from the public consciousness). Green is auditioning local residents of Boulder, Colorado, where JonBenét lived and died, for various roles—her mother Patsy, her father John, her brother Burke, the local police chief, and, of course, JonBenét herself. The film begins with the compelling, if unsettling sight of a gaggle of children, in stars-and-stripes-themed pageant wear, sitting on a row of chairs and waiting for their turn in front of the camera. It only gets weirder.
That's because Green isn't really interested in the actors' performances (although she does include some test footage). She cares more about their opinions on the case, their recollections of the media fracas that ensued at the time, and their theories on who might have killed JonBenét and why. Beyond that, she's also curious about the actors themselves, and why they might relate to the parts they're looking to play (particularly the Ramsey parents, whom some suspected of killing their daughter).
Green herself isn't an actual character in Casting JonBenét. So there's no explanation for her film's strange premise, no voice heard from offscreen asking questions of the interviewees, no attempt by her to recap the details of the murder case itself. That's left entirely to the actors, all of whom have something to say, and the audience, who can piece together the rest of the context pretty easily. This confessional device draws some fascinating digressions from its subjects, while filtering their words through the prism of a national tragedy every American of a certain age likely remembers.
Casting JonBenét takes sad stock of a country, perhaps without meaning to. Its central idea is unavoidably disturbing: that the best way to get these ordinary people to reflect on their lives is by getting them to relate to one of the most infamous murders of recent decades. But, of course, that's something people do all the time—we're often pulled into macabre true-crime stories, perhaps because they offer a glimpse into a world we don't understand, or because we recognize something from our past, or ourselves, in them.
Some of the actors auditioning to play Patsy Ramsey paint her as guilty of murder, or recall being disturbed by her perceived lack of emotion at the time. The women, almost all of them clad in a red outfit Patsy was identified with, speculate on her motivations—anger at JonBenét's bedwetting, jealousy over her daughter's success as a beauty-pageant star—while pondering when they get angriest at their own children. One boils with rage at the idea that Patsy felt murderous anxiety simply because she had turned 40; Green then slyly cuts to another actress advancing that theory with the utmost seriousness.
The film's point is clear: When it comes to crimes of the century, any bystander can turn into a speculative monster. There's something almost endearing about everyone's keen awareness of the details of the case, as though they're obsessives of a science-fiction series. But the death of JonBenét  is, of course, jarringly real. Green sometimes hits the laugh lines too hard, but in general does well to maintain the rhythm between the silly and the serious, especially as the actors think about their own lives, and summon stories of abuse, depression, and family strife, in an effort to connect with the characters they might want to play.
The actor-as-documentarian approach is not dissimilar from the trick pulled by Kate Plays Christine, a 2016 quasi-documentary about the on-air suicide of the newscaster Christine Chubbuck that was more focused on the process of playing a real-life person. Casting JonBenét doesn't care as much about the acting process, even though it's the nominal motivation for these people to open up. For this film, acting out the aftermath of JonBenét's death is just a way of hearing these mesmerizing confessionals, a piece of set dressing rather than a transformational experience.
Casting JonBenét is certainly involving, both as a recap of the case itself and as a series of tiny case studies about a group of people who manage to speak so candidly in the few minutes they spend on camera. But in its closing minutes, the movie tries to turn these anecdotes and memories into a crescendo of tragedy, putting all of the performers onstage at once and having them act out the fateful night of JonBenét's death as some abstract, operatic tableau. It doesn't land, and the film's attempts at digging up a deeper, more profound angle on the case fall short. Casting JonBenét is a curiosity, but an arresting one—an uncomfortable 80 minutes spent with strangers who are undeniably difficult to look away from.