Should Acting Prizes Be Gender-Neutral?
The MTV Movie & TV Awards will no longer hand out separate trophies for best male and female performers. Will bigger ceremonies follow suit?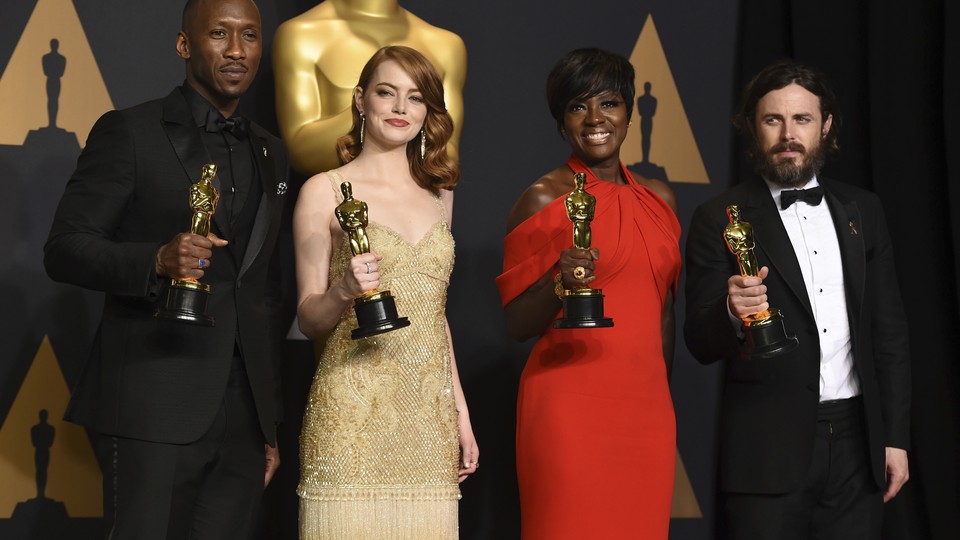 This year's MTV Movie & TV Awards will feature a whole host of unusual categories. Online voters will decide the "Best Kiss," as they always have, and the "Best On-Screen Duo," but they'll also weigh in on the "Best Fight Against the System" (Get Out, Loving, and Mr. Robot are among the options) and the "Best American Story" (where contenders include Transparent and Moonlight). Still, the most newsworthy change for this year's awards comes in the most routine category: the acting trophies, which will no longer be split up on the basis of gender, but simply given to the "Best Actor in a Movie" and "Best Actor in a Show."
"We have to constantly be pushing ourselves to not only respond to culture but lead it," said MTV President Chris McCarthy in a CNN interview announcing the change. "If we're going to do an award show that celebrates content, why would we not modernize what that looks like?" Though some might raise an eyebrow at the reduction of television and film to "content," McCarthy said he was listening to MTV's young audience in making the switch. "They don't see those lines in the way that generations in the past have," he said. "So we wanted to take those down. They felt really antiquated."
It's a question that has come up for bigger awards ceremonies, too. The Billions star Asia Kate Dillon, who identifies as gender non-binary, recently sent a letter to the Television Academy questioning the gender-specific designations of the Emmys' acting categories, unsure of whether to submit in Best Supporting Actor or Best Supporting Actress. The Academy immediately responded, noting that any actor can submit themselves in either category for any reason, and assuring Dillon that the Emmys do not enforce or investigate that choice in any way.
"What I learned through my research is that the word 'actor,' specifically in reference to those who performed in plays, came about in the late 1500s as a non-gendered word," Dillon said in an interview with Variety. "It applied to all people, regardless of anatomical sex or gender identity," while "actress," in origin, specifically refers to female performers. Though Dillon expressed great satisfaction at the Television Academy's prompt response, the question of what "Best Actor" should mean in the 21st century remains a pertinent one.
It's fairly easy for the MTV Movie & TV Awards to do away with gender designations, because those nominees are decided by the show's producers (though fans vote on the winners). This year's movie category is equally balanced between male and female performers, with three apiece, while the TV category has four women and two men nominated (in "Best Comedic Performance," however, five out of seven nominees are male, while there's only one woman—and one Demogorgon—nominated as "Best Villain").
But what would be the impact if the Emmys, or the Academy Awards, totally did away with gender distinctions for its acting prizes (which, in both cases, have existed since their inception)? The Grammys long ago dropped this distinction (in 2011), but are helped by the fact that they hand out trophies to performers in 84 different categories. The Oscars only have four acting awards (lead and supporting, male and female), with five nominees for each category. In an industry still rife with institutional sexism, where male stars still dominate the amount of lead roles available, it's easy to imagine wild gender imbalances from year to year, even if the lead and supporting categories were expanded to 10 nominees.
Since the Oscars don't provide statistics on votes for their nominees every year, there are few examples to go off. The Screen Actors Guild Awards do not use the term "actress," but are still gendered, instead awarding trophies to the "Best Male Actor" and "Best Female Actor" in leading and supporting roles. A more useful example is the Television Critics Association, which gives awards for "individual achievement" in drama and comedy to one actor every year.
The TCAs started handing out acting trophies in 1997, when Andre Braugher and David Hyde Pierce won for Homicide (drama) and Frasier (comedy) respectively. Since then, 15 of the 20 drama awards have gone to men (Edie Falco, Julianna Margulies, Claire Danes, Tatiana Maslany, and Sarah Paulson being the exceptions). The comedy category has been slightly more balanced, with only 13 out of 20 going to men. There have been signs of improvement in recent years—women have won three out of the last five drama and comedy awards—but the disparity is hard to ignore.
The chances that the Oscars or Emmys would do away with gendered categories in the near future seem extremely remote. When handing your nominees to a large group of anonymous voters, it's tough to exert much control over the outcome, and there's the very real possibility that men would end up dominating the slates. If so, separate acting categories could perpetuate the simplistic idea that male performers are simply better than their female counterparts. But some might argue that gender-neutral categories could be worth unbalanced nomination lists if they shed more light on Hollywood's deeper systemic problems—including far fewer speaking roles for actresses and the dearth of female directors. Whatever the big ceremonies decide to do, MTV's rules change and critiques like Dillon's suggest the issue will at least demand wider attention in coming years.