Saturday Night Live's Sincere Ode to Sectional Couches
The latest episode's host Louis C.K. starred in a sketch that initially seemed like a typical fake commercial—and turned out to be anything but.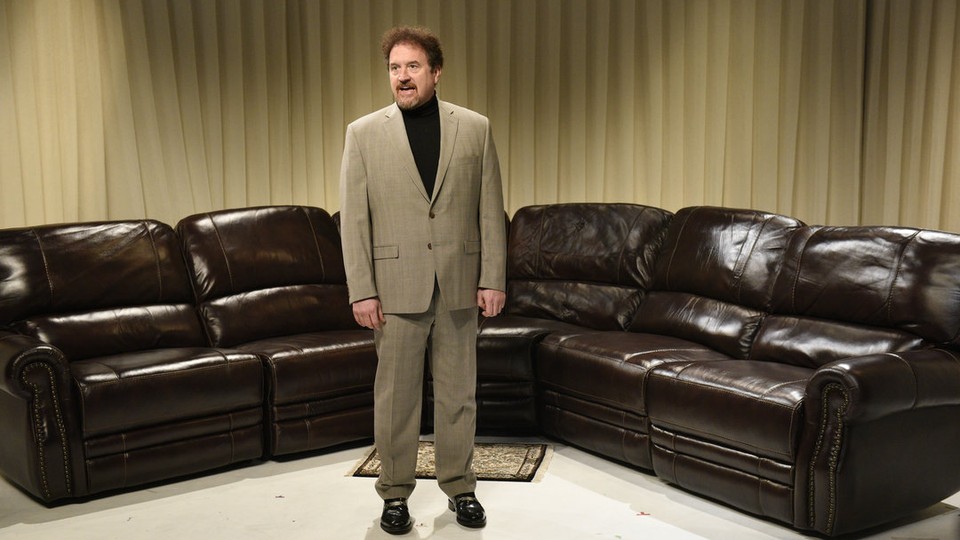 "When I was a little boy my grandmother bought me a new couch, and I looked at it, and I said, 'Where's the rest of it?'" our host asks, turning to the camera derisively. "That is the first of many stories you're going to hear." So begins "Sectionals," Saturday Night Live's recent ode to that most American of furniture: the tackily opulent sectional couch, the longer and more defiant of Euclidian geometry the better. Last weekend's Louis C.K.-hosted episode largely lacked the topical punch that has earned Saturday Night Live record ratings this season, with its political sketches feeling especially forgettable, despite the presence of Alec Baldwin in multiple roles.
But the show's individual sketch-writing, which has struggled at times this season, really shone in the latest episode, and most brightly in "Sectionals," which was exactly the kind of weird end-of-the-night entry I love to revisit. Unlike the David S. Pumpkins sketch, it didn't become an immediate viral sensation. But it was a standout example of one of SNL's most hallowed traditions: the fake commercial, made with public access–level production values, and delivered in the jarring manner you might expect from one of the local ads that actually runs with SNL around 1 a.m. Or rather it seemed that way—until the sketch turned out not to be an advertisement at all.
No, the ultimate gag of "Sectionals" was that it was a warning, one that felt beamed from the mind of its curious narrator (played by Louis C.K.), to keep away from the warehouse he lived in full of sectional couches. It was a fake-fake commercial, an appreciably strange addendum to an episode that also featured a sketch where C.K. played a lawyer with long eyelashes, and one where C.K. obviously cracked up on camera because he had said "my wife" in the same way as the comedy character Borat. With "Sectionals," what seemed like a sister sketch to the parody advertisement for Swarvoski Crystals instead proved to be a rant from a peculiar person, like the great "Darrell's House" sketch starring Zach Galifianakis.
"Sectionals" was a paean to the multi-seat, modular comfort furniture of suburbia; it featured weird zooms and pans across stock images of couches that seemed (hilariously) hastily assembled, while C.K. yelled adjectives like "kingly!" To him, the sectional is the prime example of the customer always being right. Why accept a couch when it could be bigger? Why sit in a straight line when you can bend? The sketch recalled Adult Swim's legendary series Tim and Eric Awesome Show, Great Job!, which often functioned like a broadcast from the darkest corners of American consumer culture. No, it wasn't quite as disturbing as that show's creators Tim Heidecker and Eric Wareheim can be at their best, but anytime SNL even brushes up against that territory, it's notable.
"This one's called The Gathering!" C.K. cried as a misshapen gray monstrosity dominated the screen. "It looks like elephants gathered for an important reason ... if you don't have this, may I ask you one question? What are you doing? These are all made on Earth," he pronounced. Later, he sat in the middle of a sectional and crowned his position "the nexus," before swerving straight to, "I used to have a family."
It helps that C.K. has become an excellent sketch actor. Though it's where he got his TV start (working on shows like Late Night with Conan O'Brien and the short-lived Dana Carvey Show), he was a slightly nervous host his first go-around on SNL. By his fourth appearance he had clearly become a pro,  and he was the standout of wonderful sketches that featured experienced hands like Kate McKinnon and Bobby Moynihan. It's not every host that gets handed a sketch that essentially consists of a five-minute monologue, delivered in character (and in a funny voice), straight at the screen.
I have sometimes bemoaned SNL's comparatively weak non-political sketch writing in recent years. With the last cast, performers like Bill Hader and Andy Samberg delighted in the outlandish, but in recent years, an odd triumph like "Sectionals" has felt like a rarity. This season has shown plenty of improvement, though, from the aforementioned Mr. Pumpkins to the clever, often melancholy work of the new writing hire Julio Torres (who created "Wells for Boys," another fantastic fake commercial). In 2017, political humor may seem of utmost importance, but—as SNL knows—equally worthy of embrace is surrealism.