Kendrick Lamar and the Sin of Swagger
Damn sees the rapper reconcile the vices inherent to pop success with a higher spiritual purpose.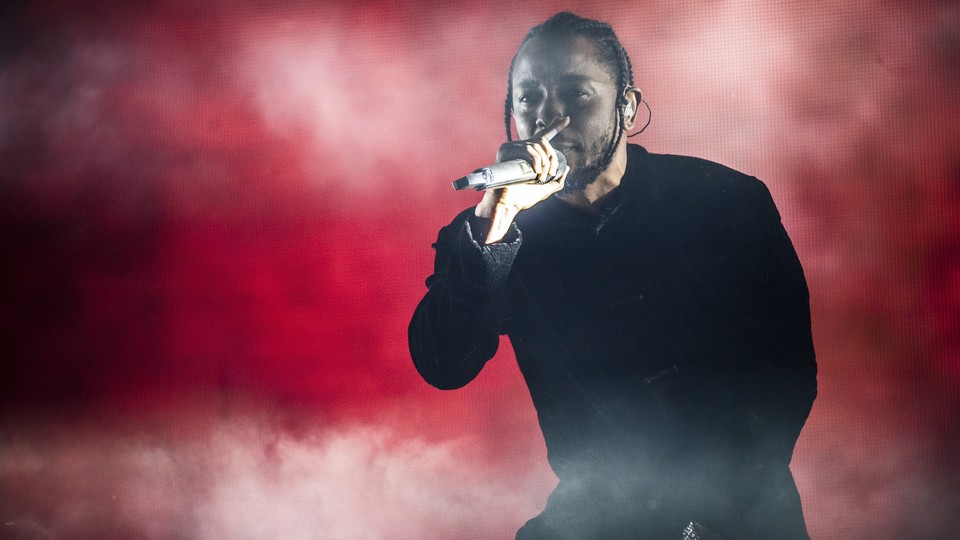 The last time Kendrick Lamar released a set of songs, it was an untitled, unmastered, and mostly unfriendly collection in which Lamar argued to God that rap can be righteous so long as it's difficult. "I made To Pimp a Butterfly, for you told me to use my vocals to save mankind for you," he raged to the almighty, referencing his thorny and acclaimed 2015 album. "… I tithed for you, I pushed the club to the side for you."
Lamar's suspicion that serving God means rejecting "the club"—by making music that, the implication goes, sates the soul before the body—explains one of the most fascinating dynamics in his fascinating career. The man doesn't smoke or drink; when his lyrics mention the kind of partying and sex and violence that many of his contemporaries rap about, it's with a sense of leering and reproach, not glamor. Musically, he has an on-again-off-again relationship with fun, recording a dozen topsy-turvy jazz-fusion confessions for every breezy Taylor Swift or even Big Sean track he features on. And yet he's a superstar with enormous cachet in a popular culture he often portrays as debased—because he keeps finding ways to reconcile the inherent vice of entertainment with the salving possibilities of art.
He's taken a few approaches to doing so. To indulge in superheroic rap swagger, he has positioned it as a momentary fantasy ("Backseat Freestyle") or rewritten its clichés with a fresh vocabulary of racial pride ("King Kunta"). For the popular "Swimming Pools (Drank)," he turned hedonism into a horror story. Butterfly's first single, "i," was a statement of self-love so extreme that some fans worried Lamar was selling out (an impression forgotten once the song was heard amid the emotional storm of Butterfly). After that knotty album finally arrived, the more enduring hit that emerged was "Alright," a rare example of Lamar doing what a career counselor—or pastor—might suggest would be his obvious path forward: channel pop's energy to deliver an uplifting message while smuggling complexity and gloom into the verses.
Now for his fourth proper full-length, Damn, he's found another way to excel at rap stardom while subverting it. Sin is not only the big theme of the thumping, compulsively listenable album but also its stylistic inspiration; he indulges in wrath and lust self-reflexively, portraying himself as an agent of wickedness who he can then, gratifyingly, ether. As noted widely, the album title carries a few meanings. You might say "damn" after he takes a savage shot at some rival—and he's then damned for not turning the other cheek. You might say "damn" when he lands a vivid boast about wealth or success—and then he'll fret about how his accomplishments have only cemented his damnation.
Lamar announced the latest phase of his career in March with a non-album track "The Heart Part 4," on which he rapped, "My fans can't wait for me to son ya punk-ass." This read as a reference to the hyped-up feuds that dominate hip-hop discourse these days—some of which Lamar has, in the past, encouraged. The first proper Damn single, "Humble," also came across as a collection of delicious schoolyard taunts for the likes of Drake and Big Sean. But as with "i," the context of the album changes the song. Coming right after a track entitled "Pride" and two tracks after he and Rihanna commiserated "It's so hard to be humble / lord knows I'm trying," the chorus kick-off of "Humble"—"It's levels to it / you and I know / bitch, be humble"—is transformed. There are levels to it: The you, the I, and the bitch may well be the same person.
The freedom that Lamar feels to stunt, diss, and seduce has an intoxicating effect on his music. For the explosive "DNA," he works a cyclical, repetitive cadence to pack in syllables about excellence—"I just win again / then win again / like Wimbledon, I serve." When the beat changes to a slower, shuddering pace, he uses a different sort of intense flow while his thematic focus spirals out: "Peace to the world, let it rotate / Sex, money, murder—our DNA." The notion of sin as intrinsic to humans is another one of Lamar's multi-level concepts: at times it seems the album is making a very specific (and theologically rooted) argument about racial identity, and at others he's speaking about original sin in more universal terms.
In either case, as he makes clear, it's tough to be sanctified. "In a perfect world, I'll choose faith over riches / I'll choose work over bitches, I'll make schools out of prison," he raps through the funk mist of "Pride." But alas, "a perfect world is never perfect, only filled with lies." He gets more specific on "XXX," a haunting indictment of American cycles of bloodshed: "Ain't no Black Power when your baby killed by a coward / I can't even keep the peace, don't you fuck with one of ours." The sound of a police siren accompanies Lamar's admission that, if faced with extreme enough circumstances, he would murder an enemy who was on their way out of church. It's a thrill to hear Lamar so menacing, so unhinged. But in case you don't pick up on the note of tragedy here, he interrupts his violent fantasy with a small skit in which he gives a speech on gun control to some students. Hypocrisy continues to be his great muse.
Elsewhere, the fun and angst come from materialism. For the radiant anthem "God," he semi-blasphemously imagines the high of career success as "what god feels like." Earlier, the lackadaisical "Lust" sees Lamar portray some party-hard lifestyles—"Go to the club, have you some fun, make that ass bounce"—with a distinct sense of exhaustion. The stories he tells on the track are all cyclical, including one about sleeping in late while on tour despite repeatedly vowing not to, and another about activism turning to apathy after Donald Trump's election. The problem, as he sees it, is short-term thinking: lust. One of the album's mantras is "what happens on earth stays on earth," and the implication is that when people disregard an afterlife they waste their present life.
For now, though, Lamar has given denizens of this present life a killer soundtrack to their damnation. There are a few strong pop hooks here, more head-nodding beats, and most importantly, Lamar rapping with an ear for little turns of phrase and of melody that will stick in the brain. The interludes, too, are surprisingly musical—there's no need to pass over even the spoken-word intro, the kind of thing that one typically skips after spinning any given album twice. Yet Lamar hasn't lost his sense for musical adventure, either: Tempos make surprising shifts, disorienting backward loops intrude in, and the production itself does a lot of the work of conveying the album's split approach to sin. I already mentioned one of Damn's most moving moments—the one where Lamar goes from rage to gun control on "XXX"—but what really nails the heartbreak of that pivot is a sample of his voice saying "pray for me" in the background. Listeners should, by that point, be happy to oblige.