Kendrick Lamar's Complicated Political Score-Settling
The rapper's album Damn takes aim at Fox News and mourns Trump's election—but its larger target is inescapable human sin.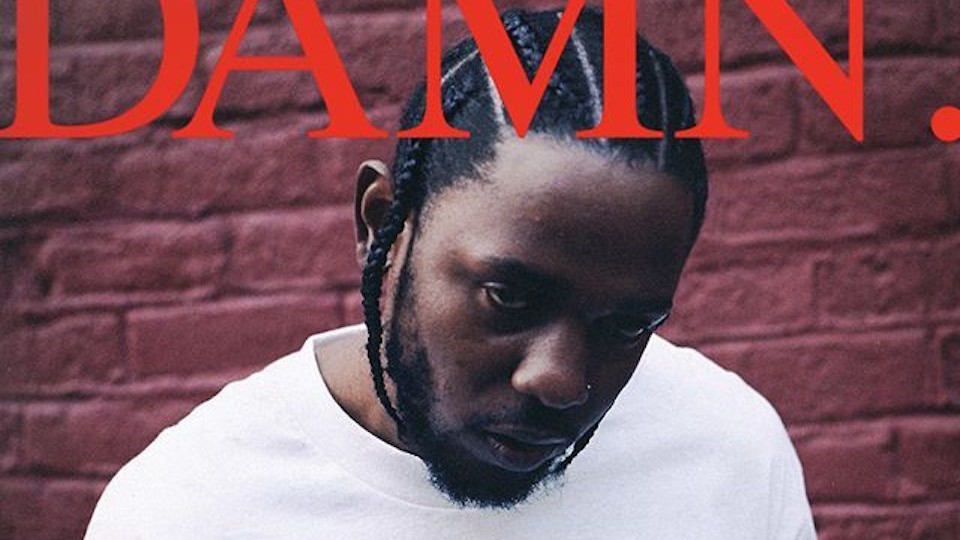 "Hip hop has done more damage to young African Americans than racism in recent years," the Fox news pundit Geraldo Rivera said in 2015. He was commenting at the time on Kendrick Lamar's performance of his protest song "Alright" atop a police car at that year's BET Awards. Now Lamar has a reply, and he doesn't so much debunk Rivera's dubious statement as use it for kindling on his explosive new album Damn. The newsman's voice threads through the roiling chorus for the tracklist's first proper banger "DNA," and then Lamar lays it out: "You mothafuckas can't tell me nothin' / I'd rather die than to listen to you / My DNA not for imitation / Your DNA an abomination."
Damn is the blazingly talented rapper's fourth proper album, following up the sprawling jazz catharsis of 2015's To Pimp a Butterfly with a set of songs that, as hinted by its terse title and no-fuss artwork, makes a virtue of straightforwardness. Washed-out '70s soul textures provide atmosphere, but many of the beats drive and whir with the tense energy of vogueish trap music. Some of these choruses, especially one from Rihanna and one from the singer Zacari, seem written with an ear for radio play—a rarity in Lamar's career. But his words make no capitulations.
He's here to indict America, himself, his community, and more than anything, human sinfulness (possible thesis quote: "I feel like I'm boxin' demons, monsters, false prophets, schemin' sponsors, industry promises, niggas, bitches, honkies, crackers, Compton, Church, religion, token blacks, and bondage, lawsuit visits, subpoena served in concert, fuck your feelings, I mean this for imposters"). As listeners pick apart the album over the weekend, the first round of fighting in the broader media landscape may be about the overt politics of the album. Lamar's pushback to conservative commentators and his Donald Trump references should, but likely won't, be evaluated in the context of the rapper's larger message about human nature.
In the very first track, "Blood," Lamar puts a clip of Fox News recoiling at the "Alright" line "we hate popo, wanna kill us dead in the street fo' sho'"—"Oh please, ugh, I don't like it," we hear the pundit Kimberly Guilfoyle saying. At the time the Fox segment aired, Lamar told TMZ, "How can you take a song that's about hope and turn it into hatred? The overall message is 'we're gonna be alright.' It's not the message of 'I wanna kill people.'" In "Blood," the Fox sample comes after a spoken-word tale about Lamar going to help a blind woman in the street only to be shot by her. That parable is possibly about black Americans finding the promise of blind justice to be false, or it's possibly more generally about the precariousness of life. Either way, the notion that Lamar might stop addressing the reality of black death because it unsettles some people on TV is quickly dismissed.
As always with Lamar, though, his scorn is not simplistic. The towering late-album cut "XXX," which improbably features Bono doing his least cloying croon, catalogs how the world makes it seems impossible to live up to the Christian imperative of forgiveness. A friend of his calls Lamar after his son is murdered asking for spiritual counsel; "I can't sugar coat the answer for you," Lamar replies. "If somebody kill my son / That mean somebody's gettin' killed." A verse later, he's describing "the great American flag" "wrapped and dragged with explosives," mentioning "barricaded blocks and borders," and saying that "Donald Trump's in office, we lost Barack and promised to never doubt him again," all capped with a question: "Is America honest, or do we bask in sin?"
The rest of the album seems to offer a clear, if bleak, answer; its title is meant both figuratively and literally. The spooky "Lust" offers a fascinating take on original sin, implying that the problem with lust isn't that it can cause harm but that it encourages complacency, a quality that lets Lamar's characters spend every day getting high. It also has political ramifications. He mentions the shock of election night spurring him and his neighbors to "parade the streets with your voice proudly." But then: "Time passin', things change / Revertin' back to our daily programs / Stuck in our ways / Lust." A change isn't going to come.
I'm only a few listens in—a fuller review may come next week—but if there's a turn towards redemption from human cycles of recrimination and apathy and indulgence here, it's hard to find. In any case, the right-wing media isn't helping. On "Yah," he's incensed about how his success, fame, and lyrical point of view can be so easily exploited for controversy: "Fox News wanna use my name for percentage," he raps, later addressing Rivera directly and saying, "I'm not a politician, I'm not 'bout a religion / I'm a Israelite, don't call me black no mo.'"  This is one of a few references Lamar makes to the black Hebrew Israelite theology, which says the people of Africa are descendants of Israel cursed for ancient heresy. To hear him tell it, America's history may well be part of a curse too, as may be its present and future.