Dimension 404 Promises Sci-Fi With a Twist
But despite an array of recognizable actors, the Hulu show is less Black Mirror and more Are You Afraid of the Dark?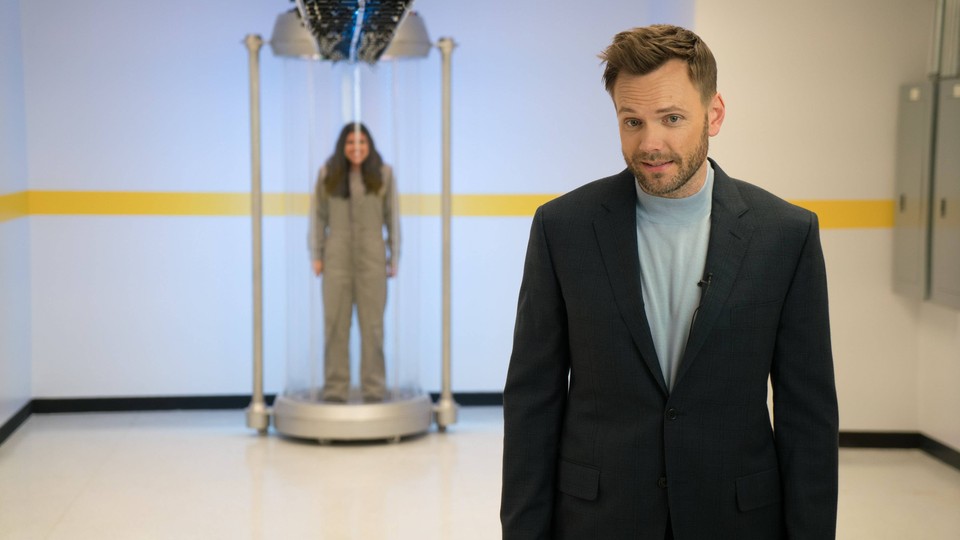 Before its release, the new Hulu show Dimension 404 was broadly likened to the speculative anthology series Black Mirror, which, it turns out, is a bit like comparing The Twilight Zone to Are You Afraid of the Dark? Yes, like the Channel 4/Netflix show, Dimension 404 consists of individual stories loosely inspired by technology. But while Black Mirror is steeped in a fingernail-gnawing sense of foreboding, Dimension 404 is jauntily light-hearted and stuffed full of special effects and recognizable faces. This isn't television born out of anxiety about the internet so much as high-gloss content born from the internet itself, chock full of nostalgia, splashy visual tricks, and affirmation.
That's largely because Dimension 404 is created by RocketJump, a production company co-founded by the gamer and VFX artist Freddie Wong, and best known for the web series Video Game High School. That it was able to attract the kind of ensemble cast that it has—Modern Family's Sarah Hyland, Glee's Lea Michele, and Community's Joel McHale, among others—is due to its concept, which is terrific, if wholly unoriginal. The zany, retro opening credits (narrated by none other than Mark Hamill) announce the show's terrain: an alternate reality located "in the darkest depths of cyberspace … home to wonders unseen and terrors unspeakable." A technologically savvy and inventive Twilight Zone could be a winner, but Dimension 404 isn't interested in the psychological machinations that make other works of speculative science fiction so engrossing.
The episode "Matchmakers," which stars Robert Buckley as Adam, a young music writer entering the world of online dating, seems most directly inspired by Black Mirror's distorted realities. MakeaMatch, the service Adam signs up for, has the requisite bland TV ads featuring testimonials by its telegenic creator (McHale). It provides Adam with his perfect match, Amanda (Michele), right down to her taste in music and geometric bird tattoo. But there's a twist, revealed early in the episode, which flips the conceit on its head. It's entertaining, and "Matchmakers" exudes enthusiasm as it lurches into fantastical territory, but it doesn't seem particularly interested in probing deeply for moral conflict or real-world parallels.
Not every show has to angstily mull the consequences of modernity, but given the richness of the conceit, to not do so seems like a wasted opportunity. In "Cinethrax," for instance, Dimension 404 demonstrates how valuable writing and direction are to full-length TV episodes, dragging out what should be a 10-minute short film into a plodding 42 minutes. Dusty (Patton Oswalt) is a 40-something uncle meeting his niece Chloe (Hyland) for a movie date. He laments the fact that she wants to see a popular teen drama rather than a cult indie hit, and she expresses dismay that he doesn't know what emojis are. The twist, a kind of Josie and the Pussycats-inspired riff on brands and teenage conformity, is a clunker—an excuse for RocketJump to play around with monsters rather than delve into the dark side of mass entertainment.
The third of the three episodes made available to critics, "Chronos," is the weakest, starring Ashley Rickards as Sue, a quantum physics student who grew up watching an animated children's show about a time-traveling superhero. What could be an ingenious parable about the insidious appeal of nostalgia turns into an after-school special on the importance of finishing your homework on time. Again, the visual effects are remarkable, but there's little else to be entranced by.
The web series model can translate well to TV—shows including Broad City, Drunk History, and High Maintenance have successfully made the leap—but consistency is key. Dimension 404 has an admirable roster of talent (an episode released this week stars Megan Mullally and Constance Wu), a deep well of visual tricks, and a distinctively perky id, but it doesn't seem fully committed to its "darkest depths of cyberspace" pitch. It's admirable how much of a laugh the creators seem to be having making it, but as a viewer you might find yourself wishing some of that fun could be shared.