The Trouble With Homeland's Political Realism
The sixth season revealed a TV show trying desperately to keep up with the news, and sacrificing coherence as a result.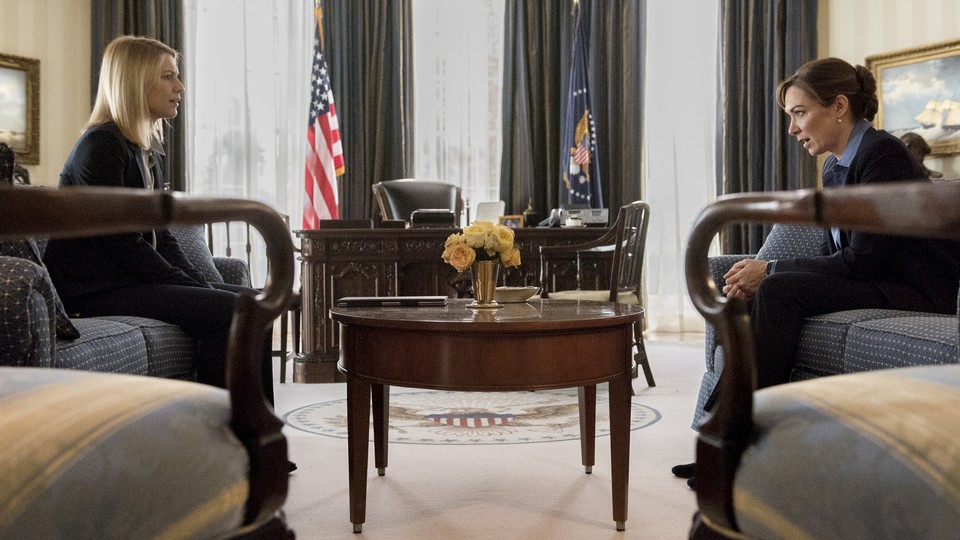 One of the subtler side effects of the Peak TV era is that good television has come to be understood as allegory as much as entertainment. It's why the HBO show Veep, which started out as satire, has more recently been praised for its realism. And why critics including Vulture's Jen Chaney and The Boston Globe's Matthew Gilbert (no relation) have recently considered the shadow of President Donald Trump that seems to loom over popular culture. But for Homeland, whose sixth-season finale aired on Sunday night, the show's geopolitical bona fides have been in its DNA since the beginning, when President Obama declared himself a fan of the gripping first season, and after which the show's producers and stars bragged widely about kicking off each new season with a field trip to Langley.
So to watch the sixth season play out, with the first episode premiering the week before the inauguration, has been to witness a show grappling with the strangeness of current events on something like a three-month tape delay. Although nothing could be done about the fact that the fictional universe of Homeland had apparently elected a female president from New York, the show's other real-world parallels were amped up and exaggerated: a crusading politician's war with intelligence agencies, an epidemic of fake news, the increasing polarization of the American electorate. The end result was a patchy and incoherent story that was salvaged by Lesli Linka Glatter's taut direction of the suspenseful finale. But it points to the roadblocks for TV shows that anchor themselves to real events, since (as the last six months have proven) truth has the capacity to be vastly, unpredictably stranger than fiction.
Part of the issue, too, is that Homeland is always waging an internal war between the erudite political drama it aspires to be and the extravagantly ludicrous and enjoyable thriller it actually is, where bombs explode with Chekhovian inevitability all over the domestic United States (three in the sixth season alone). The culmination of the most recent batch of episodes was the reveal that a rogue general, a rogue CIA operative, a rogue senator, and a rogue broadcaster had been working together to turn public opinion against the president-elect before she even took office, but unbeknownst to the CIA operative, the other three had secretly decided to go extra-rogue and assassinate her. The deep state hatching a plot to murder the leader of the free world is so flagrantly paranoid that not even the fictional fake-news peddler Brett O'Keefe (Jake Weber) could have dreamed it up, and yet here it was, being earnestly presented as plot by a show whose executive producer consistently maintains how rooted in the real world it is.
Homeland's roots, of course, are in the Fox counterterrorism show 24 (Howard Gordon and Alex Gansa, Homeland's creators, were executive producers), and to some extent the Showtime drama has always followed a similarly prescriptive model, where each season leads up to a potential attack that has to be thwarted. Carrie Mathison (Claire Danes), like Jack Bauer, is a capable but troubled agent who frequently seems to be the only person capable of saving the nation, even as her job wreaks havoc on her personal life. In 2012, shortly before the show won its first Emmy for best drama, Danes said to The Hollywood Reporter, "I don't think it's a particularly political show. It's a psychological thriller that tackles big ideas." But the acclaim the first season received seemed to spark an expectation that Homeland would function as informative political commentary as well as entertainment, and the show has been doomed to some extent ever since.
In previous seasons, the stars have aligned when it comes to predicting which real-world events would dominate the news. Season five, which dealt with terror plots in Europe and Russian infiltration of U.S. intelligence, was extraordinarily prescient, while season three ended with an Iranian nuclear deal being signed, almost 18 months before such an agreement was finalized in reality. "If there were a special Emmy for prescience and conspicuous valor in truth-telling," Vanity Fair's James Wolcott wrote in 2015, " … it would have to be presented to the brooding minds behind Showtime's Homeland." This conception of the show as something beyond entertainment, as "a crucial dark mirror for our times," has demanded that Homeland be not just insightful when it comes to the news, but almost oracular, even though the show clearly has more fun with outrageous fantasy (consider the trippy Tower of David interlude in Caracas, or Carrie's drug-induced visions of Brody in Islamabad).
Season 6 was the most self-consciously political to date, choosing to zero in on the build-up to the inauguration of a new president, and delay its own timing to coincide with the same events in the U.S. And it seems to have put the show under absurd pressure to be timely. This isn't to say that television can't critique or illuminate real world events, or even influence them (if Steve Bannon loses his lofty perch in the West Wing, there's an argument to be made that Saturday Night Live helped). But trying to knit together fiction and nonfiction seamlessly means sacrificing something from either category. As artists begin to think critically about the Trump administration, in books, films, and movies, it might help to remember that keeping up with the 21st-century political news cycle is an impossible ask.