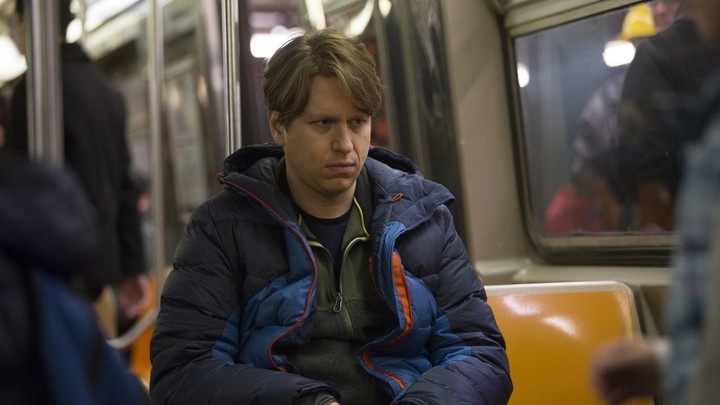 For a show about the slow, slow rise of a stand-up comedian, Sunday's season finale of Crashing was an odd one. It took place largely at an adult baptism, featured zero scenes of stand-up comedy, and pointedly had very little to do with the emotional development of its lead character Pete (as played by real-life comedian Pete Holmes). It ended with Pete having barely progressed since hitting rock bottom in the first episode—still broke, essentially homeless, without any meaningful career prospects, and entirely on the outs with his ex-wife Jessica (Lauren Lapkus).
It was a confounding approach to take considering a TV season usually depicts a grand arc of some sort. If considered briefly, Crashing is certainly in the mold of many a television show or film before it—in which an established stand-up comedian plays a thinly fictionalized version of himself. But in its first year, Crashing has taken an unusual approach to depicting the life of an up-and-coming comic—giving him a stutter-step series of big breaks and public calamities, a whirlwind of celebrity guest stars that often end up being as troublesome as they are helpful. The final episode eschewed comedy but kept hold of its main theme: that Pete, and so many comedians like him, is just a confused soul looking for a grander purpose.
What makes Pete different from most of the New York stand-ups he works alongside is that he's a devout Christian—as straight-laced a twenty-something as one might find doing open mics in the Village at one in the morning. The show follows him in the wake of the revelation that his wife, whom he married right out of college, has been having a months-long affair and wants a divorce. Over eight episodes he's wrestled with the dissolution of his marriage, his ex-wife's valid complaints about his lack of emotional maturity, and the growing realization that his pursuit of a comedy career is the kind of pride-swallowing siege that requires as strong a faith in the unknown as any religion.
After all, Pete's stand-up career is mostly unpaid and consists of him "barking" (passing out flyers on a street corner) in exchange for stage time. Any friend he makes in the comedy world is either a potential rival (if they're of similar status to him) or a peerless celebrity he can only idolize. Throughout the first season of Crashing, Pete would talk to other comedians about the role stand-up plays in their lives, with stars like Artie Lange, Sarah Silverman, and T.J. Miller (all playing themselves) comparing it to a sort of belief system, a code with various unwritten rules that has to be followed but has no guarantee of success.
Embedded in that is the strange hospitality they all offer, letting Pete crash on their couches as he bounces around New York (Silverman maintains an apartment that's seemingly permanently occupied by struggling comedians). Though they're all baffled by Pete in some way, it's only because of his cheerful demeanor and general disinterest in "working blue." As a stand-up interested in performing "clean" comedy, Pete's a comparative rarity. But as a young guy trying to navigate New York without any job or prospects, and with a burning desire to get up on stage and tell jokes to largely empty rooms, he's just another in a long line of aspirants.
Holmes (who created the show and produces it with Judd Apatow) is now an extremely successful stand-up, of course, but the New York comedy world he plugged away in years ago (alongside contemporaries like John Mulaney, Kumail Nanjiani, and Hannibal Buress) hasn't changed much. It's a confusing slog of a career that remains very difficult to break into, no matter who you know. Whereas most shows would likely depict Pete's ascent as rapid and continuous, simply to move the story along, Holmes seems devoted to giving it a proper shot of realism.
In the pilot episode, after learning that his wife has cheated on him, Pete takes the stage at a club and launches into the story of finding her in bed with another man, perhaps hoping to tap into the sort of raw, exposed, confessional comedy that serves many stand-up stars. Instead, he bombs horribly, unable to translate the material into proper jokes and drawing awkward stares as he haltingly recounts the recent trauma of his personal life. Later, when Pete's Christian parents visit him in the city, they watch him perform. His mother lambasts him for sticking to strictly observational comedy, saying he has no unique voice in his material, and admiring his (far filthier) contemporaries for baring their souls onstage.
Holmes manages to be critical of his fictional alter-ego without seeming self-flagellating. He's as interested in the development of a comedian's personal voice onstage as he is with the celebrity cameos and the rise-and-fall narratives of the business. Pete briefly gets a job as a warm-up comedian on Rachael Ray's talk show but loses it just as fast. He quits barking out of frustration with his stagnant career, then resumes it when he realizes there's no other way to get stage time. While his celebrity buddy Lange is successful and well-ensconced in a nice apartment, he's also ravaged by substance-abuse problems and apparently unable to make any significant emotional progress in his life.
Though the road to success in Crashing is neither paved with glory nor easily navigable, Holmes still cares about his characters' personal development. After his marriage falls apart, Pete doesn't suddenly start drinking like a maniac or having sex with strangers, but he does slowly expand his horizons and experiments with rebellion (which, given that he's in his late 20s, is a hilarious sight). The series wisely keeps up with Jessica throughout the season rather than dismissing her as a cheating spouse. It shows how difficult it would have been for her to continue supporting an unemployed comedian, and looks at her affair (and subsequent rocky romance with hippie art teacher Lief) as her own exploration of the limits of her Christian faith.
Like many shows these days, Crashing is sometimes too languorous for its own good (as I said, there's really been little actual plot development this season). But that's largely in service of a story about comedy that feels more grounded than most, with an episodic structure that gives Holmes and his guest stars the chance to analyze the value of their industry from radically different perspectives. Crashing is coming back for a second season, and it seems primed for a long, interesting run—one that, hopefully, will continue to defy every expectation of hackneyed storytelling.
We want to hear what you think about this article. Submit a letter to the editor or write to letters@theatlantic.com.
David Sims
is a staff writer at
The Atlantic
, where he covers culture.