What Does a Girlboss Look Like?
Two new television shows from 30 Rock alums tackle the subject of female ambition.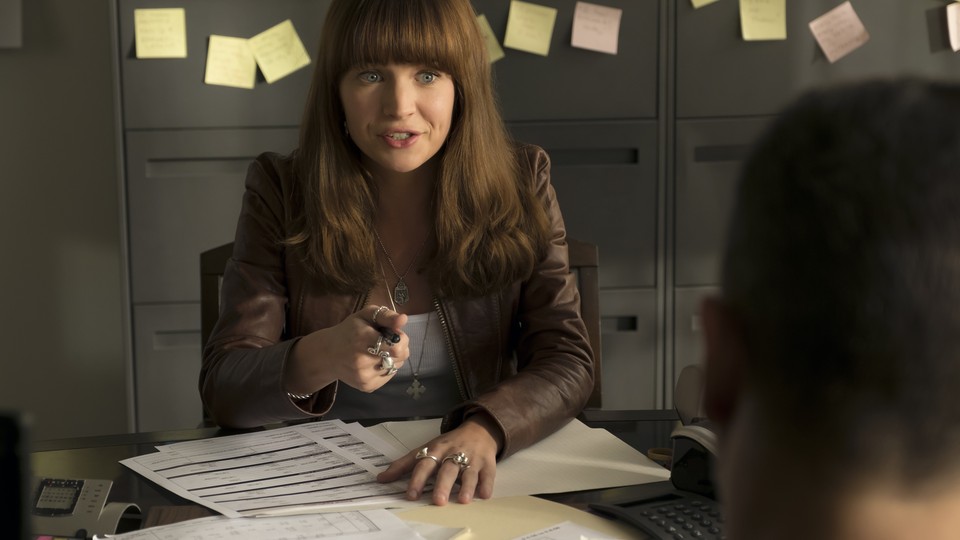 Sophia (Britt Robertson), the heroine of the new Netflix show Girlboss, is a fierce 20-something living in San Francisco, raiding vintage stores for her glam-rock wardrobe and telling anyone who'll listen that adulthood is where dreams go to die and conformity is a prison. Carol (Andrea Martin), the standout star of the new NBC series Great News, is a 60-year-old mom from New Jersey whose entire wardrobe consists of three-quarter-length pants from Chico's, and whose defining trait is getting along with everybody. Sophia dumpster-dives for snacks and steals with abandon; Carol clips coupons and hoards off-brand toothpaste. One is a self-proclaimed badass and rebel; the other confesses in the first episode that she once cleaned barf out of the tape deck of a Teddy Ruxpin.
Girlboss presents a rags-to-IPO-ready-riches story of success that's familiar by now: An outlandish misfit converts her personal passion project into a thriving business, enabled by an abrasive amount of go-getterness and the fairy dust of the early-aughts internet. Still, you may find yourself more compelled by the story of Carol, who decides one day that it's not too late to live her dream, and gets an internship at the same New Jersey cable-news show where her daughter works as a producer. Both Great News and Girlboss are half-hour shows created by alums from the long-running NBC comedy 30 Rock. But if Girlboss knows exactly what empowerment looks like (rolling on a bed strewn with dollar bills while dressed for Coachella), Great News is more imaginative. Carol may be a mom with no professional experience who appends all her Google searches with, "Sincerely, Carol Wendelsohn," but she won't let any of that limit her goals.
Girlboss is loosely based on the behashtagged memoir of the same name by the fashion entrepreneur Sophia Amoruso, who created Nasty Gal, a vintage eBay store, at the age of 23, before channelling its online fame into a clothing label that at its height had annual revenue of $24 million. In #Girlboss, published in 2014, Amoruso presents the story of her life, and how, in eight years, she went from "a broke, anarchist 'freegan' dead set on smashing the system to a millionaire businesswoman who today is as at home in the boardroom as she is in the dressing room." In the first episode of the show, the fictional Sophia—so young, scrappy, and hungry that she eats her boss's sandwich then sneeringly calls her a middle-manager—gets fired from her job at a shoe store. Broke and under threat of eviction, she buys a leather jacket from a thrift store for $9 and sells it on eBay for several hundred dollars, which leads her to realize she can channel her eye for clothing into a viable source of income.
Robertson is quirkily charming as Sophia, and the show, written in large part by its creator Kay Cannon (Pitch Perfect), includes both a convincing arc toward maturity for the character and some ingenious lines (Sophia's friend tells her she's a working girl with "a head for business and a bod for teen-catalog modeling"). But it's hampered in the first ten episodes by the fact that Sophia is so awful. Selfish, stubborn, arrogant, and entitled, she steals profusely (a sandwich, a book, and a Persian rug in the first two episodes alone), tells her boss that his job is a soul-crushing joke and her boyfriend that he's a glorified errand boy, and refuses to include her best friend in her business ("Everything you do could be done by an intern," she spits over IM). Robertson's interpretation of the character is part-Juno MacGuff, part-Jesse Pinkman ("This is delicious, yo," she enthuses about bowtie pasta with butter), but Sophia's actions feel far more aligned with Jordan Belfort. For a former anarchist freegan, she has a depressingly unimaginative view of what happiness might mean to her: "a dream house, a Corvette, a fucking jacuzzi … really, everything that Barbie has."
The primary difference between Girlboss and Great News is that the first fetishizes success while the second finds its best punchlines in failure. (This may change where Girlboss is concerned: Nasty Gal filed for bankruptcy last year, and Cannon has stated that the development might be incorporated into future seasons.) Great News was created by Tracey Wigfield and executive produced by Tina Fey, who mentored Wigfield in her rise from writer's assistant to staff writer on 30 Rock. Its pilot, which is notably weaker than the rest of the show, introduces Katie (Briga Heelan), an ambitious 30-year-old news producer trying to persuade her male bosses that she's capable of tackling hard stories. She's appalled when her mother is somehow hired as an intern on the very same show she works for, but the development turns out to be a boon: Carol is exactly what the team needs, using her motherly instincts to fuss over the show's vain anchor (John Michael Higgins) and to push Katie out of her comfort zone.
Heelan's Katie is endearingly awkward, but considerably less so than her ultimate foremother, Liz Lemon. She's competent as a producer, and clued-in enough to her own desires to reject her mother's insistence that she chase an on-camera job. Great News also gently rebuffs the kind of self-promotional verve that drives Sophia with the character of Portia (Nicole Richie), a news anchor who's also a social-media influencer, a young-adult author, and the star of a fictional upcoming "NBC live musical event." But even Portia, who boasts about getting career advice from "my mentor, Roger Ailes," and tells Katie that sleeping with bosses is actually empowering, is professionally adept. If anything, Great News appears to have an amount of respect for her entrepreneurial spirit.
It might seem unfair to compare the two shows, since both are welcome exceptions to the male-dominated creative teams of television (Girlboss's executive producers, who include the actress Charlize Theron, are all women, while Great News's writers' room is majority-female). By the end of Girlboss, Sophia has evolved enough to know that her success isn't down to her efforts alone, and that real empowerment means lifting others along with you. But getting to that point involves an exhausting amount of narcissism and a distorted view of the world. When Sophia is seen in flashback, locked up by stadium security for wrenching a baseball out of the hands of a five-year-old at a Giants game, her new friend Annie (Ellie Reed) offers her a makeover. "You're so beautiful," Annie says, "and you're hiding it from the world. I guarantee that if you weren't, no one would have been mad that you stole a ball from a kid."
That kind of sentiment—that if you're young and you look just right, you can get away with the kind of behavior that might seem intolerable coming from someone less impeccably styled, or less confident—feels of a piece with the era the show is set in (2006). But the definition of empowerment has shifted since then. Carol, with her "Bombay Thanksgiving" perfume and her defiantly mom-ish outfits, might be the antithesis of a Nasty Gal shopper ("I refuse to stand here and be lectured to by someone who can only afford three quarters of a pant," the huffy owner of the network tells her). But she's bold enough to envision her desires, even in her 60s, and savvy enough to know how her natural skills can elevate the lives of the people around her. "I don't want to believe that dreams have expiration dates," she confesses at one point—the kind of attitude that arguably makes her the most boss-ish girl of all.