Gorillaz's Drab Doomsday Dance Party
Damon Albarn's many contributors seemed boxed in for Humanz, which dubiously imagines a dystopian blow-out.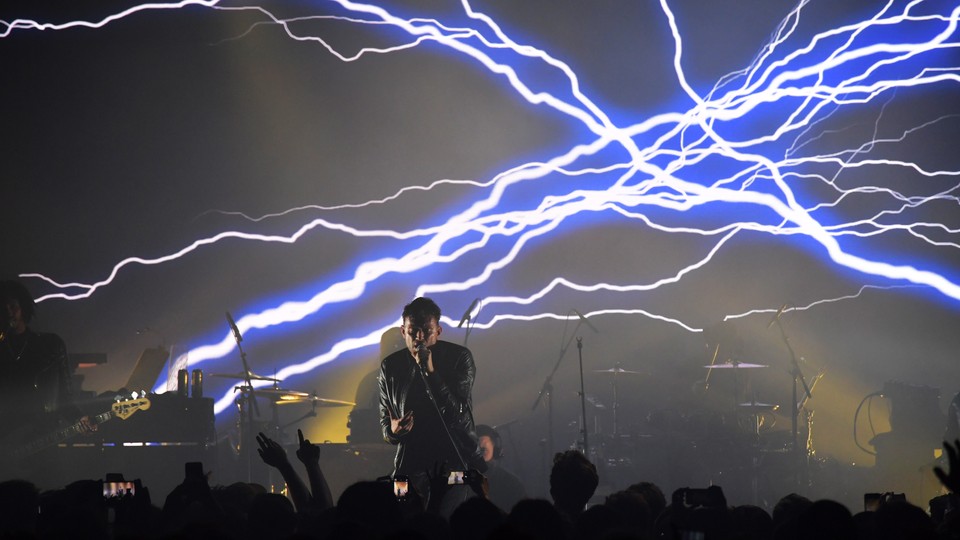 The most successful singles of Damon Albarn's bands Blur and Gorillaz have been the meta ones—the ones that warn of pop music as an opiate for the masses while themselves serving as pretty excellent opiates for the masses. Radio listeners headbanged to the woo-hoos in "Song 2" meant to mock their tastes; "Coffee and TV" pleasantly diagnosed a society of full ears and empty brains; Gorillaz's two smashes, "Clint Eastwood" and "Feel Good Inc.," sarcastically serenaded mass-produced pleasure and "sunshine in a bag." Albarn has said he writes all of his pop in a minor key, which seems apt given his apparent determination that a party is more memorable when you've got a knot in your gut.
The theme of the fourth album by Gorillaz, Albarn's "virtual" band with visual artist Jamie Hewlett, is determined—perhaps overdetermined—to keep the zombie-disco theme going. Publicity around the effort has largely centered on the apparent fact that Albarn told his collaborators a year ago to imagine a world in which Donald Trump had won the presidential election. The prompt was more sci-fi than predictive, meant to conjure a near future of Matrix Reloaded raves charged by fears of imminent doomsday. Now that Trump is actually in office, though, something about the concept seems off. Is the nation actually dancing differently now? Or is it just spending even more time on Twitter? The Matrix Reloaded drummer performed at the inauguration, after all.
In any case, Humanz is an unwittingly dreary listen, evoking the kind of plastered-on grins that earlier Gorillaz songs satirized but didn't quite embody. It's tempting to call the effort a misread of the moment, or an over-reliance on political narratives. The more likely, if more humdrum, analysis of why Humanz doesn't connect is that Albarn's approach to producing and writing hip-hop-inflected pop has lost its zest, and his extreme reliance on collaborators this time made for a musical muddle.
There are a whopping 16 featured artists in the 20-song standard-edition tracklist, including titans like Grace Jones and Mavis Staples and exciting young rap and R&B talents such as D.R.A.M., Danny Brown, and Kelela. A few other artists show up but aren't prominently credited, including Oasis's Noel Gallagher, whose backing vocals figure in mostly, it seems, for the publicity earned by two Britpop rivals uniting. Rather than all of these voices creating a diversity of sounds, though, the sheen of the Gorillaz universe—big obvious beats, haunted-house synths, Albarn as the fictional singer 2-D moaning through a telephone—is so monotone here that many of these contributions get flattened.
Some of the guests make an admirable effort to break through, though. The Long Beach rapper Vince Staples attacks the opener "Ascension" with the most literal, and cleverest, take on the album's concept. Like a bartender combining the ingredients of a highball, he mixes boastful raunch with political speech: "All these liberated women sitting in my lap / I'm finna catch a body like I got a gun and badge." Producers Albarn, The Twilite Tone, and Remi Kabaka cheer him on with a fast-clicking beat and snippets of crowd roars; it's a remarkable rush, but it remains to be seen whether it'll stick on dance floors.
Pusha T picks up the political rapping thread later on for "Let Me Out," but Albarn has made the odd decision to put the sound of car horns where the words "Trump" and "Obama" would be. Albarn said this was so as to not give the biggest attention-seeker in the world more attention, but the effect is to garble a pretty straightforward message from the rapper; the implication is that the words don't matter. Even so, the song nearly achieves genuine anguish thanks to Mavis Staples bellowing the chorus. But the setting in which these two vocal talents perform, as in many spots on Humanz, ends up boxing in their power.
The better songs are the weirder ones, and often the ones where Albarn can't simply slot collaborators into a familiar template. "She's My Collar" is a noir-ish shuffle about romance and dependency, showcasing a tightly coiled melody by Albarn. The spacey and mostly solo ballad "Busted and Blue" similarly stands out with sad singing inspired by Plato's allegory of the cave, a fitting reference given Albarn's obsession with entertainment as a social pacifier.
Later, the poet Benjamin Clementine anchors the bizarre "Hallelujah Money," a loose send-up of Trumpian mentality, rambling about "Walls like unicorns / In full glory and galore." The music and Clementine's delivery have a tense, repressed energy and evoke both drunken despair and mania. And then there's the closer, "We Got the Power," in which Jehnny Beth of the rock band Savages does a punk incantation over high-energy beats. The sloganeering choruses—"we got the power to be loving each other!"—could be the theme song for a cartoon about world-saving superheroes. It's an odd moment of outright optimism on an album that seems to constantly be stepping on its own fun.
Maybe the problem is just that the music sounds dated. Rap production has only been getting more intricate and ineffable, moving past easily identifiable sounds for the kind of near-shocking density you hear on, say, Future's recent work. Meanwhile, Albarn's vision of the dystopian hip-hop future remains rooted in blocky beats and retro-sci-fi keyboards of the sort he's been using since 2001. He should be taking inspiration from Hewlett, who's been revamping his drawing style for each Gorillaz album with greater levels of photorealism and dimensionality. Humanz likely also suffers from a basic conceptual error, though. Partying in the face of headline-induced anxiety, it may turn out, isn't actually better than partying without it.