What Was Missing From the Girls Finale
The HBO show's last episode lost sight of a difficult character's greatest strengths.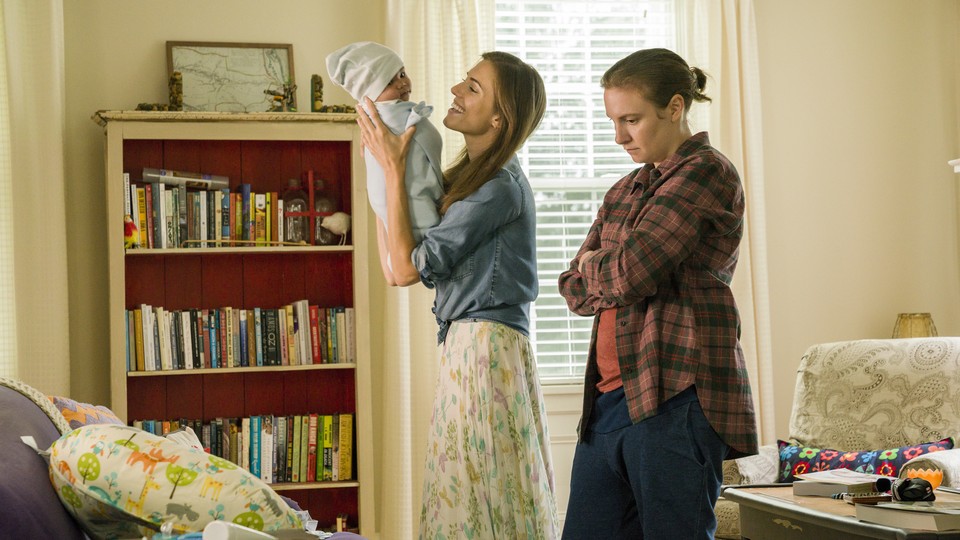 How should a show end, when it's as groundbreaking, contrarian, and frequently infuriating as Girls has been for six seasons? With a wedding? With a flash forward to 50-something Hannah ranting peevishly about how inconvenient Brooklyn's emergency climate-change evacuations are for her schedule? With a brunch reunion, in homage to Sex and the City, followed by a montage of all four main characters (or five, since all non-Hannah scenes essentially became The Elijah Show in season six) living out their truths?
The ending Lena Dunham, Jenni Konner, and Judd Apatow eventually landed on was none of these things, although it did leap ahead to a few months after the events of "Goodbye Tour," where Hannah, Shosh, Jessa, and Marnie agreed by default that their friendship was over. Rather, "Latching" felt like one of the show's frequent Hannah-centric interludes, which have been abundant in Season 6, between "All I Ever Wanted" and "American Bitch." But something vital was missing. Whether or not you're a fan of Hannah, it's become apparent by now that her creative instincts are her most redeeming quality as a character. She might be lethargic, slovenly, and self-centered to the point of absurdity, but she's an astute observer of people, an apparently gifted writer and storyteller, and an oddly incisive moralist. "American Bitch" was fascinating as an episode because it allowed Hannah to showcase all of these strengths and more.
So what made "Latching" so unsatisfactory was seeing Hannah reduced to her worst qualities, in a lazily conceived episode that seemed to exist only to echo the show's consistent two-steps-back-one-step-forward model of maturity. There was a jump in time to a moment set a few months after Hannah had given birth to Grover and was now co-parenting with Marnie in her improbably lovely house in upstate New York. Marnie, whose arrival in said house was announced by a tracking shot of her body spooning Hannah's in bed (in a symmetrical callback to the very first episode), had taken to aunthood and country life like a sustainably farmed fish to water. But Hannah was struggling, interpreting her failure to breastfeed Grover as a sign that the two weren't compatible.
Much has been made of the fact that "Goodbye Tour" functioned well as a series finale, with its nod to friendships past, and its final scenes of Hannah moving triumphantly into her Hudson Valley house. So the question is, why bother with an episode like "Latching" at all? Konner told The Hollywood Reporter that the flash-forward was Apatow's idea, and that the writing team struggled with it. Hannah's conversation with the bratty, pants-less teenager (a thumpingly obvious Ghost of Hannah Past) was apparently one of "maybe 14 different moments" the writers drafted to force Hannah into some kind of acceptance of her new role as a mother, and it showed.
For one thing, the show had offered a sense throughout Season 6 that its finale would be characteristically original. In "What Will We Do This Time About Adam?" Girls showed the happy ending it could have manufactured, with Adam and Hannah raising Grover together in connubial hipster bliss. The decision to have Hannah's story end with motherhood felt like such a predictable turn of events for a defiantly unpredictable show that it was tempting to see it as a feint for Girls to do something truly daring. But, in the end, that was it. Hannah had a baby, moved to the suburbs, and threw an extravagant tantrum about her emotional pain as a new mother, after which a convenient stranger ex machina (another reliable trope for the show) showed her how ridiculous she was being.
In this sense, Girls was being truthful: Stories tend to demand tidy resolution, while life has a maddening habit of continuing, until it doesn't. And the episode was studded with the show's brilliantly weird one-liners. ("Every time you say 'nipple,' a fairy dies.") "Latching" also offered an oddly gratifying end for Marnie, overcoming her narcissism to help a friend in trouble, having phone sex with a very nice personal trainer from Weehawken, indulging her love for music and fine cheeses at jazz night, and considering law school. Loreen's description of her friend Judge Patricia DiMango, who she says goes on five Christian Mingle dates a week and has a spray tan and a big diamond in her upper-ear cartilage, felt like as apt a vision of Future Marnie as we'll ever get. (I particularly loved Marnie's change of outfit from lingerie to Victorian full-length pajamas after Loreen caught her indulging in erotic role-playing.)
But when it came to Hannah, who'd been the focus of so much of Season 6, the finale was a letdown. Both the show and the character seem to have really believed all this time that Hannah might be a compelling voice for her generation, despite continual roadblocks, professional failures, and naysayers bringing her down. And as this last season progressed, thanks to Hannah's insightful conversation with Chuck Palmer, it was even something viewers could start to buy into. So to end with Hannah's most petulant self on display, capped by a totally grandfathered-in come-to-Jesus moment that found her making peace with motherhood, feels like short change for one of television's most influential characters. In the end, Girls just couldn't manufacture a conclusion that did this strange and frequently glorious show justice.