Francisco Lindor Is Baseball's Future
As the sport struggles to attract a new generation of fans, the Cleveland Indians shortstop shows how the game might be able to draw classicists and young viewers alike.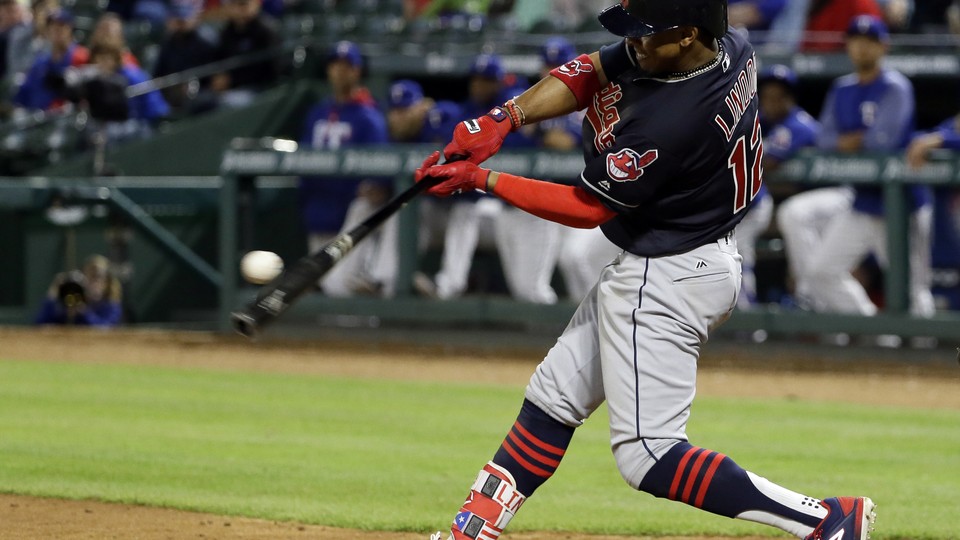 Baseball season has returned, and with it the now perennial questions about its health. Even as local-television revenues and player contracts swell to sizes unprecedented in the Major Leagues and unmatched in other American sports, the game seems forever susceptible to rumors of irrelevance. The talk of the winter concerned rule changes designed to speed up the nightly three-hour affairs, which have been criticized as bloated. And the discussion around the World Baseball Classic, a quadrennial spring preseason tournament, centered on the welcome loosening of so-called "unwritten rules," mores that discourage tossing a bat after a home run or even pumping a fist after a strikeout in favor of a more workmanlike manner.
The assumption underpinning both conversations was that baseball needs to change, to become faster or more overtly celebratory in order to attract a younger generation. (As of 2015, the average baseball fan was 53—older than any other major sport.) The deeper premise was that the sport's core audience—primarily white-haired (and white) men with decades-old caps on their heads and portable radios on their hips—is necessarily at odds with the 18-to-34s it now courts. In almost every telling in recent years, baseball now stands at a crossroads, weighing tradition and propriety against the thrills and gif-ability that may help it win fans in a new era.
Turn on a game featuring last year's American League champion, the Cleveland Indians, though, and there you'll see someone who explodes the either/ors. Francisco Lindor, a 23-year-old Puerto Rican shortstop with a permanent smile and hands as quick as a camera-flash, is an excellent player by any measure, and prodigious considering his age. He bats second and shepherds the infield; he plucks grounders and laces doubles from both sides of the plate. He is cool and clutch, and given the option to start a team with any player, general managers might select only two or three ahead of him. To the greater institution of baseball, though, Lindor is something even more than a nascent superstar. He is a possible blueprint for an inclusive future, one that satisfies the classicists and kids alike.
"When you're thinking about players that can be marketed to both sell the game and grow the game, Fransisco Lindor's got to be on the short list," Dan Shulman, ESPN's lead baseball play-by-play announcer, said during the Indians' season opener against the Texas Rangers last week. "Absolutely," the analyst Jessica Mendoza agreed. "The smile, the energy he brings along with the talent? That, to me, is what makes him so dynamic."
Lindor was only doing what every ballplayer does four or five times a night, stepping into the batter's box and going through his routine of helmet-nudges and cleat-digs before raising his bat to his shoulder. But he was shot through with a palpable magnetism, of the same sort that draws eyes to the NBA's Stephen Curry or the NFL's Aaron Rodgers. The smile was just part of it. Wiry and wide-eyed, glancing around, Lindor projects not dominance but a blend of curiosity and eagerness. The game remains a challenge for him, the viewer senses, albeit a very fun one.
Cleveland won that night, with Lindor going hitless but playing his usual expert defense. Two evenings later, though, would come his first heroic turn of the year. With the Indians trailing the Rangers by two runs in the sixth inning—a rare Lindor error had contributed to the deficit—he hit a right-handed home run to pull them within one. In the ninth, behind by the same margin but with the bases loaded, Lindor homered again, left-handed this time, moving his bat in a perfect arc and buzzing the pitch over the rightfield wall. Rounding the bases, Lindor pumped his fists, shouted, and nearly made off with the hands of the first- and third-base coaches as he shook them. The Indians' broadcast booth went ecstatic: "His first career grand slam, and what a time to hit it!"
A sense of timing permeates Lindor's young career. He is not the best player in baseball, yet, but he is the one most obviously touched by fortune. Mike Trout, a bulky and bullet-fast hitting machine, remains the game's consensus finest, but he is stuck in Anaheim, playing for a team that has reached the postseason only once during his time in the Majors. Bryce Harper, who at 16 had a Sports Illustrated cover to his credit and at 23 added an MVP award, seems alternately energized and burdened by his celebrity. Lindor's trajectory, by comparison, has been a steady rise. He placed second in Rookie of the Year voting in his first season, played for a World Series runner-up in his second, and now, in his third, enjoys the comfort of experience with none of the anxiety of too-soon fame. He helps an excellent team instead of carrying a middling one. He would likely not trade his lot for that of any of his peers.
The right-place-right-time feeling extends beyond Lindor's on-field play. If Trout and Harper are two of MLB's leading lights, they also define its PR conundrum. Trout moves with the comportment of a baseball robot, all tuned expertise, while Harper flips his hair after homers and slams his bat down following strikeouts. Each embodies the sport's culture war, with rote professionalism on one side and raw, maybe overdone exuberance on the other.
Lindor, meanwhile, has arrived at a moment of need with a grace that transcends the arguments. His foot- and glove-work fielding a double-play ball are stately enough to get old-timers nodding in approval, but the celebrations that follow acknowledge the changing times. He points and shouts at his fellow infielders in congratulations—watching on television, you get the unaccountable sensation of having accomplished something yourself—and his airborne high-five routines at the end of wins are already iconic in Cleveland. The smile stays in place, as fixed as Michael Jordan's extended tongue. Lindor is fun and sound in equal measure, and, most importantly, he proves that one need not come at the expense of the other.
In baseball, change remains in the air. The commissioner's office is still considering clocks that time pitchers' tempo and souped-up extra-innings rules that might, the thinking goes, attract millennials. The only thing keeping such experimentation in check, at this point, might be the MLB's bureaucracy, the back-and-forth between ownership and players' union, with its natural slowing effect.
Almost against its will, then, the sport has held off on doing anything too drastic to this point, and while it has waited, Francisco Lindor has arrived. Lindor is not the only remarkable young talent—Baltimore's wizard of a third baseman, Manny Machado, comes to mind, as does the Dodgers' shortstop Corey Seager—but he is the one that most fully and easily embodies the game's breadth. He is an expert who has a blast, a huge grin atop studied limbs. He does more than any speed-up tactic ever could to enliven an evening at the park. He reminds yawning fans and handwringing executives alike that baseball is plenty good as it is, when the right players come along.