Feist's Pleasure Reworks the Passage of Time
The Canadian singer's challenging but beautiful fifth album considers nostalgia, the future, and loneliness.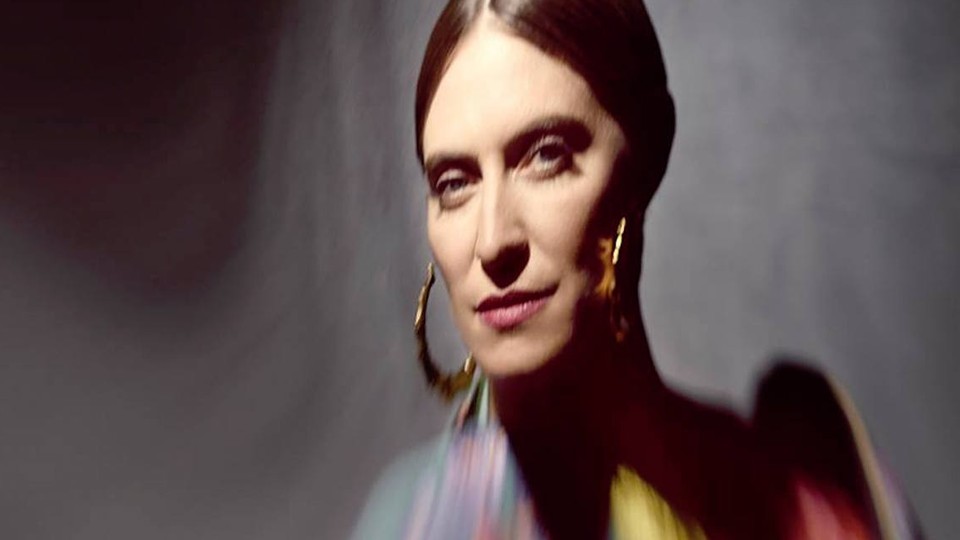 Feist's stormy and great new single "Century" is the kind of song that doesn't let you tune out while you listen. The drums wallop in a sharp, jerky pattern that's like a cop banging on a door. Leslie Feist's trademark style—melting her words into high, fleeting tones—appears here with unusual urgency. Midway through, the arrangement disappears and builds back up as Pulp's Jarvis Cocker whispers about the number of seconds, minutes, and hours that make up a 100-year span. It's "almost as long as one of those endless dark nights of the soul," Cocker says, "… a single second feels like a century." When the song abruptly ends mid-chorus, you might check whether your speaker's been suddenly unplugged. You also might have very little sense of how much time has passed in listening.
The notion of a second that feels like a century, or a century that's collapsed to a second, is at the core of Feist's fifth album, Pleasure. The Canadian singer is now a decade out from when "1234" and a few other graceful pop singles from her 2007 album The Reminder brought her fame she never quite adjusted to. In the years since, she told The New York Times, her goal "was to just very carefully descend the ladder with dignity, and go back to the altitude that I can breathe at." Now she's released a spare and strange collection that contemplates how time and expectations and life all relate, and the music reflects the theme by treating songwriting as a delivery system for discrete, powerful moments—and surprises.
The video for the title track and album opener speaks a lot to Pleasure's approach. In it, the 41-year-old Broken Social Scene contributor sings and dances and air-guitars by herself, but the camera distorts her—sometimes acting as a fun-house mirror, sometimes as a dirty lens. The image of a solo singer/songwriter twisted into unusual shapes is an oddly apt summation of Pleasure, on which songs keep mutating from abandoned-cottage quiet to banquet-hall full, and from structurally recognizable to baffling. The track "Pleasure" mostly subsists on a guitar figure that flickers to near silence, flares with distortion, then dies down again. Feist sings of lives as links in an intergenerational chain, of youth hitched to age, of every connection forged by the pursuit of desire ("we became our needs," "built by what we got built for," "it's my pleasure and your pleasure").
Feist telescopes out temporally in this manner frequently. "Get Not High, Get Not Low," she has said, "is direct instructions to 71-year-old Leslie," and the instructions are to keep emotional peaks and valleys in perspective. It's a lovely and bizarre amalgam: onto a laid-back verse of quiet guitar-noodling and a loping drum beat she plops a loud, glowing chorus that seems rhythmically and tonally out of step. In that chorus, as in many of the most indelible moments of the album, she's multi-tracked and filtered, sounding like a swarm of Feists counseling to a single one. But in the fantastic climax of "A Man Is Not His Song," she brings in a crowd of other voices; the bar-room call-and-response is reassuring on an album otherwise shot through with loneliness.
That loneliness gets its fullest airing on the standout "I Wish I Didn't Miss You," a desolate acoustic ballad with a strong melody and an unusually lucid lyrical approach. "You called me baby, I called you one too / until you spoke to me with another voice," she sings before laying on a heap of reverb for a devastating turn: "You sent in spiders to fight for you / I was so disappointed I didn't know what to do." Time's power is the subject here as well; she sings of being "mystified" long after the breakup that her ex hadn't died: "How could I live if you're still alive?"
The flip side of that heartbreak appears in the most forceful rock-and-roll anthem of the album, "Any Party," whose big, knotty strums are equal parts Broken Social Scene and Dio. Yet the tone is wistful and diaristic as she describes mingling at a party with her mind somewhere else—or rather, her mind on someone else, who she's planning on meeting up with later. She brings in yet another drunken-sounding chorus of voices at one point, to moving effect. The song finishes with a collage of found sounds: crickets, distant chatter, music muffled as if emanating from passing cars. Anyone who has happily headed out from a barbecue on a summer night will recognize the feeling she's evoking, one of being in the moment while recognizing the nostalgia you will eventually have for it. Living in the now, understanding eternity—perhaps that's a good definition of pleasure.